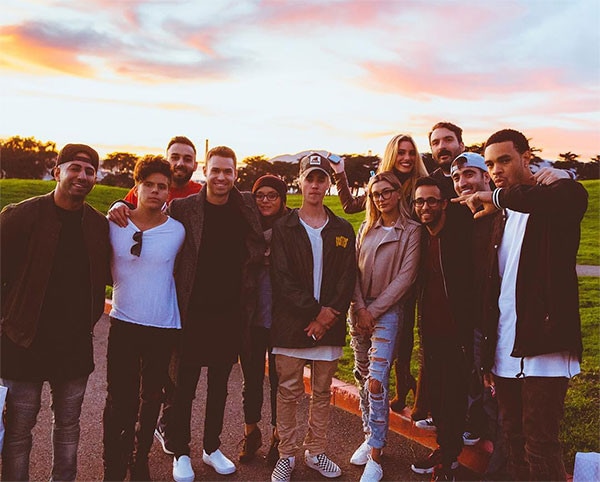 Instagram
Justin Bieber and Hailey Baldwin are still hanging out, a month after getting cozy in the Caribbean.
The 21-year-old singer and 19-year-old model were spotted with several other people, mostly guys, at Fort Mason National Park in San Francisco Saturday, a day before the Carolina Panthers take on the Denver Broncos at Super Bowl 50, which will be held at Levi's Stadium near the city. Bieber posted a group photo on his Instagram page.
"She loving the crew," he wrote.
Bieber sported a white T-shirt, dark jacket and khakis, which he wore low to show off the top of his Calvin Klein underwear. The singer is a spokesmodel for the brand. Baldwin was also dressed casually, wearing a white T-shirt that she knotted in the front to show off her midriff, ripped light blue jeans and glasses.
 At some point while hanging out at the park, Bieber took off his shirt.
He and Baldwin have sparked romance rumors several times over the past year and have not commented on the status of their relationship. Bieber and Baldwin had last month stirred fresh speculation when they vacationed in Anguilla and St. Barts, where they were seen looking mighty cozy. The pop singer posted a photo showing him kissing the model while ringing in the New Year.
A source had told E! News at the time the pair's relationship is "more of a just a fling" and that "They have a lot of fun together but don't know what will happen now."
Another source said Bieber considers Hailey to be "one of his best friends" and that the two "also have a strong attraction towards each other."