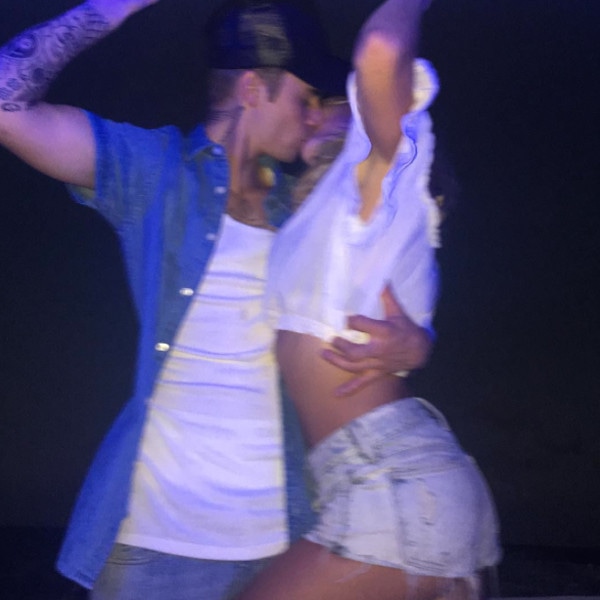 Instagram
Oh baby, this friendship just got a lot spicier!
After much speculation, we're pretty sure Justin Bieber and Hailey Baldwin proved they are more than just friends thanks to a few PDA pictures on Instagram.
On Sunday evening, the "Sorry" singer freaked Beliebers out when he posted a picture of himself kissing a blond on the lips. While he didn't write a caption, Justin was able to tag Hailey in the shot leaving no question unanswered.
If that wasn't enough, the 21-year-old later shared a picture of the two all dressed up for what appears to be a romantic night out.
In recent days, the twosome has been enjoying the New Year's holiday in both Anguilla and St. Barts. And while some pictures show the pair much happier than others, one thing is clear: These two are staying extra close to each other.
Just this weekend alone, Hailey has been flaunting her bikini body by the ocean blue water. In addition, the model has also been enjoying a few water sports with Justin's younger siblings. 
While things definitely appear to be heating up, rumors of a possible romance between these two young Hollywood stars have circulated for months and we mean months.
"We're just friends. I've known him for a very long time, since I was about 13," Stephen Baldwin's daughter shared with E! News all the way back in Feb of 2015. "But any male in his place, any girl that's around him they automatically assume. That's the world we live in. I'm just trying to be there for him and support him as a friend."
Richard Corkery/NY Daily News Archives via Getty Images
More than a year ago, Justin also took to Instagram where he clarified his relationship with Hailey.
"People are crazy," he wrote while smiling for the camera. "I'm super single and this is my good friend u would know otherwise."
Something tells us we haven't seen or heard the last from these two. Besides, the Biebs made it clear that there's more than meets the eye on some occasions.
"Don't waste your time picking apart this photo. What you do shouldn't be decided by someone else's decisions," he wrote on Instagram this past Saturday. "Spend more time focusing on who people are, and less on what they do unless it's directly affecting you!"