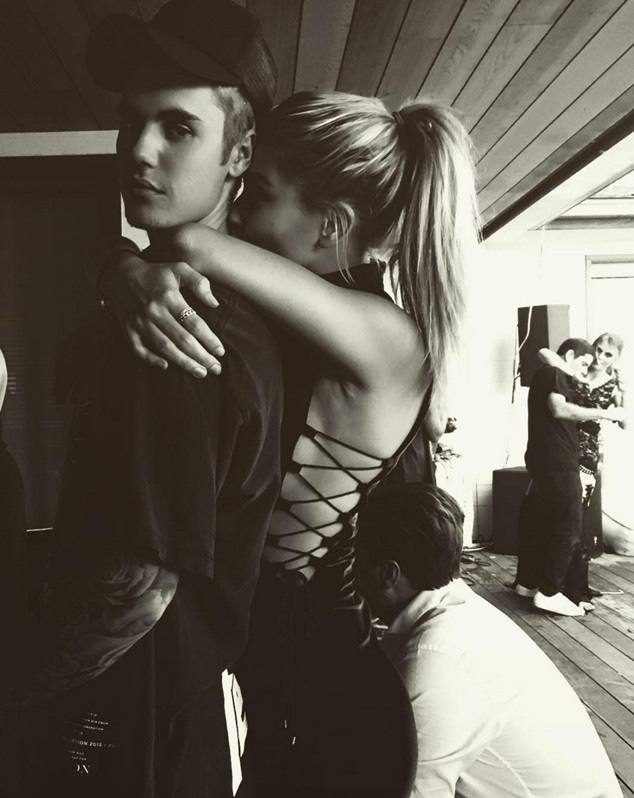 Instagram
Alright, seriously, what is going on with Justin Bieber and Hailey Baldwin?
The 21-year-old pop star and the 19-year-old model and daughter of actor Stephen Baldwin have sparked romance rumors several times over the past year. In February, Hailey told E! News she and Bieber were just friends.
Earlier this week, the two jetted off to Anguilla, where Kendall Jenner and Harry Styles are also vacationing, with his family.
On New Year's Eve, Hailey posted on her Instagram page a black and white photo of her and Bieber looking particularly cozy. They are pictured at what appears to be a party on a wooden landing. Hailey is standing behind Bieber with her arms wrapped around his neck and her face touching it, possibly kissing it, while the singer stared straight into the lens.
Wait, this scenario looks familiar? Where have we seen such a public display of affection before?
Ah yes. That would be Bieber's black and white photo with then-girlfriend Selena Gomez, posted in October 2014.
He and the 23-year-old singer broke up weeks later. They reunited in November for one night, during which Bieber serenaded Selena at a hotel bar.
Bieber also posted on his Instagram page earlier this week photos and a video showing him with Hailey. In the clip, he gives her a wet willy.
While the two have not commented on the status of their relationship, fans have already given the them a couple's nickname: "Jailey."
Watch:
Hailey Baldwin Slams Justin Bieber Dating Rumors