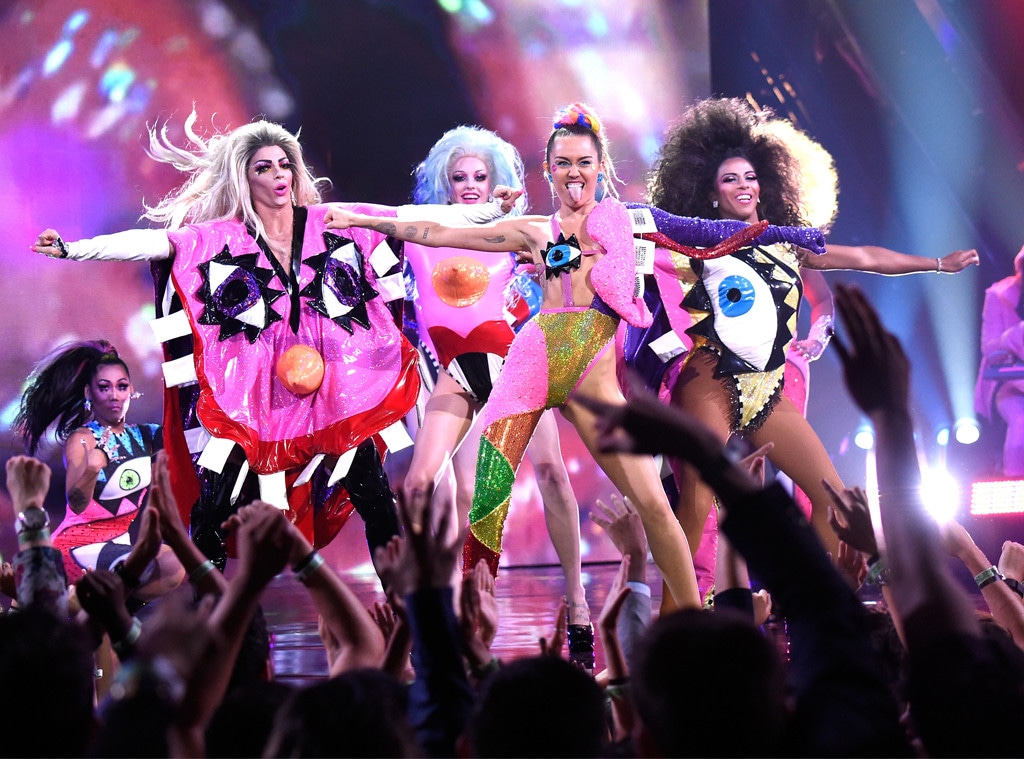 Kevin Mazur/MTV1415/WireImage
You saw Miley Cyrus rock some rather outrageous—and barely-there—outfits. You watched Kanye West give a head-scratching acceptance speech. And Nicky Minaj and Taylor Swift showed you that there is definitely no bad blood between them.
But what did you miss that the cameras didn't catch at the 2015 MTV Video Music Awards?
A lot!
From Jared Leto to Taylor's amazingly gorgeous squad, here I give you five things you didn't see last night on TV…
1. Commando Host: Miley really wasn't wearing underwear during the show. At least she wasn't when she wore that white mini-dress decorated with pom-poms. "I knew I should have worn underwear tonight," she said to the fans that were apparently getting an eyeful from the stage front pit area. Even her dad, Billy Ray Cyrus, told me before the show, "Expect the unexpected."
2. Fashion Roadkill: Miley almost landed flat on her pretty face when she tripped on her floor-length coat while walking down the stars of the side stage. Fortunately, she regained her balance before going splat!
Frazer Harrison/Getty Images
3. Bathroom Break?: Selena Gomez was not in the theater when her ex Justin Bieber hit the stage. She and the rest of Taylor's squad took off at the commercial break just before his performance. They didn't return until the Biebs was done.
4. Cover Up: While Miley may not have worried about showing too much of her vajayjay, Chrissy Teigen couldn't help but cover her crotch with her hand when a pal gushed over her beautiful, yet revealing, gown.
5. Joker's Wild: Jared Leto had a front row seat at the show, but he did make sure to say hello to some friends during commercial breaks. He gave designer Jeremy Scott a big hug. He did the same with Kris Jenner.