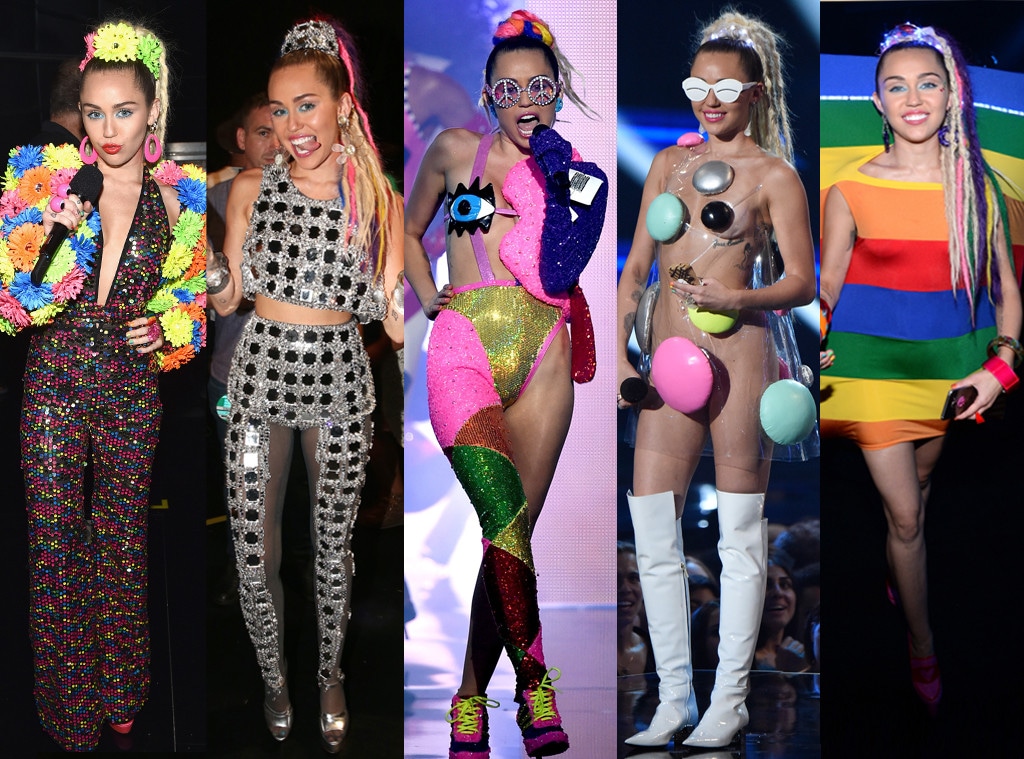 Kevin Winter/MTV1415/Getty Images For MTV
So that's what a Miley Cyrus-hosted awards show looks like.
No doubt about it, hosting the 2015 MTV Video Music Awards proved one of Miley's most (if not the most) outrageous gigs yet. There was an on-stage tiff with Nicki Minaj, an attempt to out-do Ellen DeGeneres' famous Oscars selfie, a few references to peace and pot, several near-miss nip slips followed by an actual nip slip and many, many more unforgettable moments. Which were all valid jaw-droppers, but paled in comparison to the shocking display that was Miley's VMAs wardrobe.
Thought Miley's scandalous chandelier-meets-suspenders outfit (brought to you by Versace) was shocking? Think again. The 22-year-old whipped up no less than nine theatrical ensembles that captured her, errr, wild child spirit. We saw Miley in a prismatic polka-dot jumpsuit adorned with colorful daisy embellishments, and then flashy mirrored two-piece set complete with a matching scrunchie.
Kevin Winter/MTV1415/Getty Images For MTV
Moving into pop art territory, the "Wrecking Ball" songstress slipped on a colorful sequined, one-legged jumpsuit with a bodice composed of bright pink lips and an eye. But before anyone could absorb the artsy outfit she, brought forth something of a shower-curtain-meets-Twister design with—what else?—bright white go-go boots. Then, there came a rectangular rainbow bodysuit.
Pause and take a breather—there are four more looks to discuss. Ready? Miley's bright pink strapped bra and glossy pants certainly turned a few heads, followed by her very cutout white mini (which also saw the return of the go-go boots). Next came a shiny fringed coat, replete with a sparkling silver bodysuit, followed by a batting eye-lashed bra and pink lipped bottoms with her go-to go-go boots.
Frazer Harrison/Getty Images
Now, a normal performer would've been pleased with this vast array of wild styles. But bear in mind, Miley is no average performer. Which is why she ended the evening in an inflatable pink "Do It" dress and a pig-inspired bow post-show. Wowza!
We'll give her this one—no one is going to outdo this wacky set of costume changes anytime soon.
What do you think of Miley's 2015 MTV VMAs looks?
Don't miss the highly-anticipated return of Fashion Police this Monday for the VMA special at 8/7c featuring hosts Melissa Rivers, Giuliana Rancic, Brad Goreski with special guests NeNe Leakes and Margaret Cho!