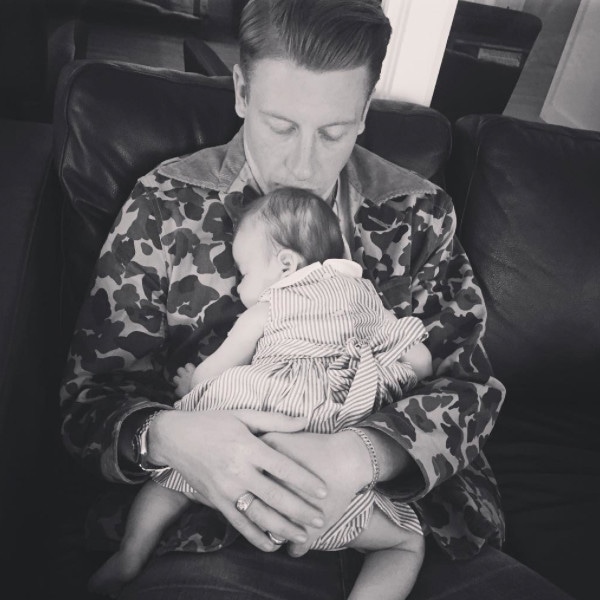 Instagram
So much has been going on in the house of Macklemore...yes, the rapper is now a dad and also, he's married! And his child with wife Tricia Davis has received a special gift.
The 32-year-old rapper revealed on Wednesday that Davis gave birth to a daughter, their first child, in late May. Davis posted on her Instagram page a photo of the proud dad with their baby, Sloane Ava Simone Haggerty, and revealed that she and the rapper tied the knot a month after their little girl was born, following a more than two-year engagement.
"Got married on June 27th once the Supreme Court ruled same sex couples could too..." she wrote. "And now new music. Thank you all for being patient, this year has been incredible so far, we love you."
Macklemore, who had posted a cryptic tweet about marriage on that date, and music partner Ryan Lewis have released a new song dedicated to the baby, "Growing Up (Sloane's Song)," which features Ed Sheeran. The child appears on the track cover with her dad, who is wearing a gold wedding ring.
Feels like a good day to get married :)

? Macklemore (@macklemore) June 27, 2015
"Our daughter, Sloane Ava Simone Haggerty, was born 2 months ago on May 29th," Macklemore wrote in an emotional post published on his website. "There is nothing like the joy and happiness that comes from bringing a baby into this universe. She has filled my heart in ways that I never knew possible. She is the love of my life. This song is for her."
Macklemore, whose real name is Ben Haggerty, and Davis announced her pregnancy in January with a heartwarming, emotional video produced by Lewis. They did not reveal the sex but did say the child was due in May. In June, they remained mum on her arrival, even after a fan Instagrammed a photo of the rapper carrying a newborn baby in a carrier.
Last week, Complex magazine published an interview with Macklemore, who made no mention of the child's birth. The rapper, who has battled substance abuse, revealed that in 2014, after a Grammy-winning year of success with singles such as "Can't Hold Us," "Same Love" and "Thrift Shop," he relapsed and started taking pills and smoking marijuana after feeling stressed and burnt out.
He told the outlet he struggled to quit that summer adding, "I have to keep myself on point and be the best version of myself for this child to be the best version of itself."
In his emotional post today, Macklemore talked about the initial reaction he had to Davis' pregnancy: fear.
"I think back to that night: praying on the floor at 2 a.m. as Tricia went to the bathroom to take a pregnancy test I'd just purchased from Walgreens," Macklemore wrote. "I was scared. Scared to start working on new music. Scared of trying again and failing. Scared of the process of staring at myself through a page and seeing someone that I wasn't proud of. Someone that I didn't like. Someone that wasn't ready to be a dad."
"When Tricia walked out of the bathroom, I knew...I had to change," he added.
He said that five months later, he and Lewis recorded "Growing Up," half of which consists of "advice about growing up," while the other half is "trying to figure out how to grow up myself."
A rep for Macklemore told E! News that while the song marks the first new music from the rapper and Lewis since their 2012 debut album The Heist, it is not an official lead single, but rather "a personal moment of expression from Ben & Ryan for their fans."
Watch:
Step Inside Macklemore's Home