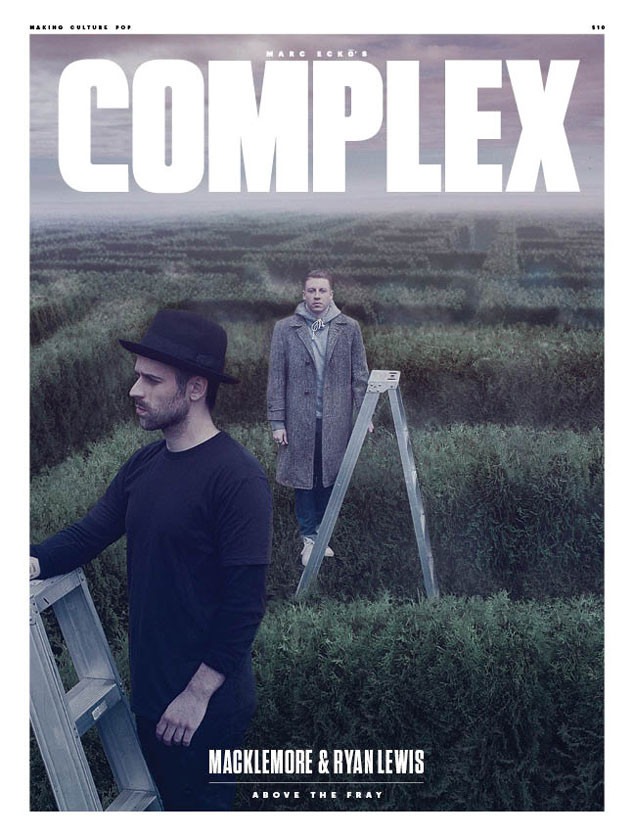 TIMOTHY SACCENTI/Complex
Macklemore is revealing he relapsed with drugs last year.
In a candid new interview with Complex, the "Can't Hold Us" singer (real name Ben Haggerty) says he had a lapse in his sobriety last year during a whirlwind year of success and fame.
"I held it together for a while. But, eventually, I stopped going to my 12-step meetings," the Grammy winner tells the mag. "I was burnt out. I was super-stressed. We weren't sleeping—doing a show every day, zigzagging all over the country. In terms of the media I was getting put into a box that I never saw for myself. The pressure and the fame—everything. All the clichés, man—like not being able to walk around, having no privacy, and from this TV appearance to this TV appearance, and the criticism, and the lack of connection, and the lack of meetings—all of that put into one pie was just...I just wanted to escape."
Macklemore first started using sleeping pills then moved on to marijuana. "I sat in a car, a hot boxed car—I thought that was a good idea—and got high," he says. "And then the next day it was like, What's up with the weed? And once I'm there, it's over."
Macklemore says he struggled to quit throughout summer 2014. "You know, like, Monday, I'ma stop...OK. Tuesday, I'ma stop...OK, f--k it, I might as well go on to the weekend. Sunday, I'm done. But after this bag of weed," he revealed. "I'm in meetings with management with sunglasses on and I'm rolling around like a 15-year-old trying not to get caught smoking weed in my car. Straight up, driving all around here, like I was 15 years ago. Same s--t. I felt so dumb. I felt like I'm just wasting time. What am I escaping here?"
Macklemore says finally got sober when his fiancée Tricia Davis got pregnant with their first child.
"The sobriety was the wake-up call that I needed. And, as it always works, the minute that I start actively seeking recovery—not just sobriety, but recovery—music is there...I get grateful again," the 32-year-old said. "I have to keep myself on point and be the best version of myself for this child to be the best version of itself...I don't feel like I'm grown up. I feel like I'm a kid. I feel like I'm the 15-year-old kid down the street, trying to escape, get out of class, smoke weed in the street, and kick it. And that's a version of myself that I don't feel that far removed from."
"I've been trying to grow up this year," Macklemore added. "Since I heard that Tricia was pregnant, I was like, I need to grow up right now...I've gotten back to what makes me happy."