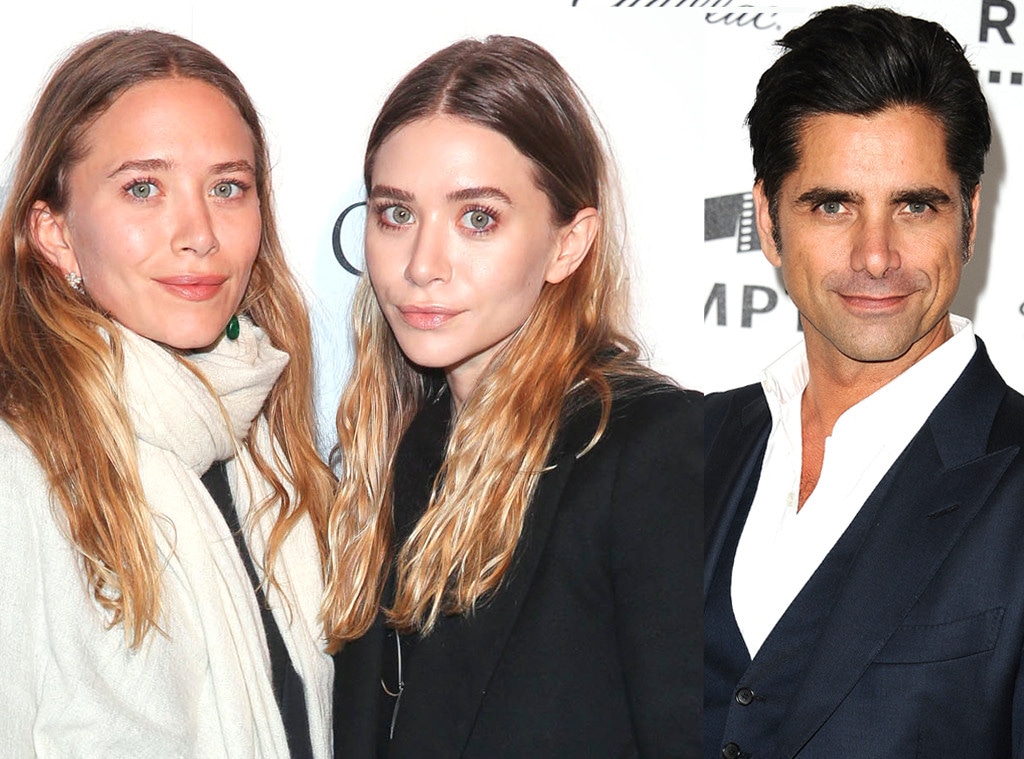 Rob Kim/Getty Images/Jason LaVeris/FilmMagic
John Stamos is not very happy with Mary-Kate Olsen and Ashley Olsen.
The 51-year-old actor took to Twitter on Friday to say he was "heartbroken" by the recent news that the Olsen twins will not be reprising their role as Michelle Tanner in the anticipated Full House cast reunion series, set to premiere on Netflix. Stamos, who serves as a producer on the show and played her Uncle Jesse on the original '80s and '90s sitcom, is one of several actors who are returning.
Mary-Kate and Ashley, 28, have not commented on his remarks.
"I understand they're in a different place and I wish them the best," Stamos tweeted. "I promise you will not be disappointed with our reunion and spin off!!"
He also retweeted a fan, who wrote, "@JohnStamos respectfully, do they realize they wouldn't have a career if not for that show?"
The Olsen twins were infants when Full House premiered and the series made them popular child stars. After it ended in 1995 after eight seasons, they continued acting for about 15 years, even starring in their own branded movies, before put acting aside to concentrate on their fashion empire.
"Although Ashley and Mary-Kate will not be a part of Fuller House, I know how much Full House has meant to them and they are still very much considered family," Executive Producer Robert L. Boyett said in a statement. "It has been exciting to see how they have built their professional careers, and I support their choice to focus on their fashion brands and various business endeavors. I appreciate their support and good wishes towards Fuller House."
An hour later, Stamos continued to express his disappointment on Facebook.
"Just so you reporters know—this is not a money gig for any of us—quite the opposite," Stamos wrote. "We want to give the fans what they deserve for supporting us for so many years—we all just want to have fun...do it in a classy way on Netflix and have a good time."
"Sad that a few don't share the rest of the cast's opinion," he added. "I can only wish them the best - JS."
Netflix and Stamos had announced plans about Fuller House in April. Mary-Kate later told Women's Wear Daily they just found out about the project, adding, "I'm shocked I haven't heard from John [Stamos]." Stamos then retweeted a link and said, "I call bulls--t." Days later, he tweeted that he and the actress had had "a sweet talk," fueling speculation that the Olsen twins would opt to join the new show.
Full House, one of the most popular sitcoms of all time, centered around the Tanner family, headed by widowed dad Danny Tanner, played by comedian and actor Bob Saget, now 59. Uncle Jesse and a family friend, Joey, played by Dave Coulier, 55, move in to help raise his three daughters. Jesse also later marries Becky, played by Lori Loughlin, 50, and they have twin boys.
Fuller House focuses on his eldest daughter, D.J. Tanner-Fuller, played by Candace Cameron Bure, now 39. The other main cast members are Jodie Sweetin, 33, who reprises her role as her and Michelle's sister Stephanie Tanner (known for her catchphrase, "How rude!") and Andrea Barber, 38, who returns as D.J.'s BFF Kimmy Gibler.
"In Fuller House, the adventures that began in 1987 on Full House continue, with veterinarian D.J. Tanner-Fuller (Cameron-Bure) pregnant and recently widowed, living in San Francisco. D.J.'s younger sister/aspiring musician Stephanie Tanner (Sweetin) and D.J.'s lifelong best friend/fellow single mother Kimmy Gibbler (Barber), along with Kimmy's feisty teenage daughter Ramona, all move in to help take care of D.J.'s two boys—the rebellious 12-year-old J.D. and neurotic 7-year-old Max—and her soon-to-arrive baby," Netflix said in a statement in April.
The VOD company said at the time that discussions with Full House stars Saget, Coulier, Loughlin and the Olsen twins regarding guest appearances in Fuller House were ongoing.
 Netflix has ordered a13-episode season of Fuller House, which is set to premiere in 2016.