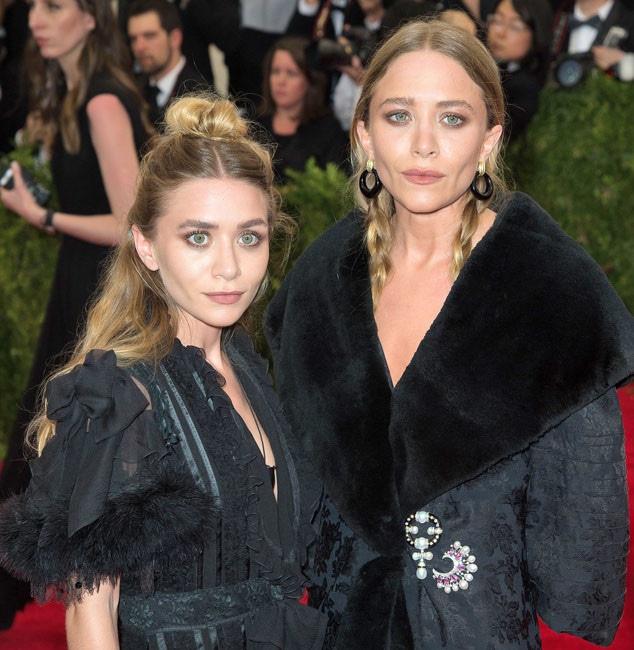 SIPA/ Sipa USA
Have mercy! It's not going to be a true Tanner family reunion on Fuller House because Michelle Tanner, you know, Mary-Kate Olsen and Ashley Olsen, are officially not returning to the fold for Netflix's new series.
E! News has confirmed that the two entrepreneurs are not going to appear on Fuller House.
The Olsen twins initially feigned surprise that Netflix was making a new series with John Stamos and Full House's original executive producers. "I ran into Bob [Saget] the other day and we didn't even talk about it," Ashley told Women's Wear Daily shortly after Stamos announced the new series on Jimmy Kimmel Live. The twins said they heard about it after he made the announcement. "I'm shocked I haven't heard from John [Stamos]," Mary-Kate said.
Then Stamos called them out on Twitter. Then he talked to Mary-Kate and smoothed everything out, but we guess not enough for them to reprise their role for the new sitcom.
"Although Ashley and Mary-Kate will not be a part of Fuller House, I know how much Full House has meant to them and they are still very much considered family," executive producer Robert L. Boyett says in a statement. "It has been exciting to see how they have built their professional careers, and I support their choice to focus on their fashion brands and various business endeavors. I appreciate their support and good wishes towards Fuller House."
Fuller House follows Candace Cameron Bure's D.J. Tanner-Fuller—see what they did there?—a recently widowed mother who invites her sister Stephanie (Jodie Sweetin) and best friend Kimmy Gibbler (Andrea Barber) to move in with her and help her raise her boys. Sound familiar?
Stamos is signed on to guest star, as he's tied fulltime to Fox's Grandfathered. When the show was announced, just Stamos, Barber, Cameron Bure and Sweetin were signed to appear, with Netflix noting Bob Saget, the Olsen twins, Dave Coulier and Lori Loughlin were still in talks to appear. Loughlin took her quest for a proper deal to the press where she spoke openly about her desires.
"I think we would all like to come back if the powers that be are fair to all of us," Loughlin said. "Favored nations would be fair…We want to be there, we want to come back, it's up to them."
And everything worked out for Loughlin, Saget and Coulier. The Tanner family lives on, happily ever after...minus Michelle.
Fuller House is set to debut in 2016.
THR first reported this casting news.