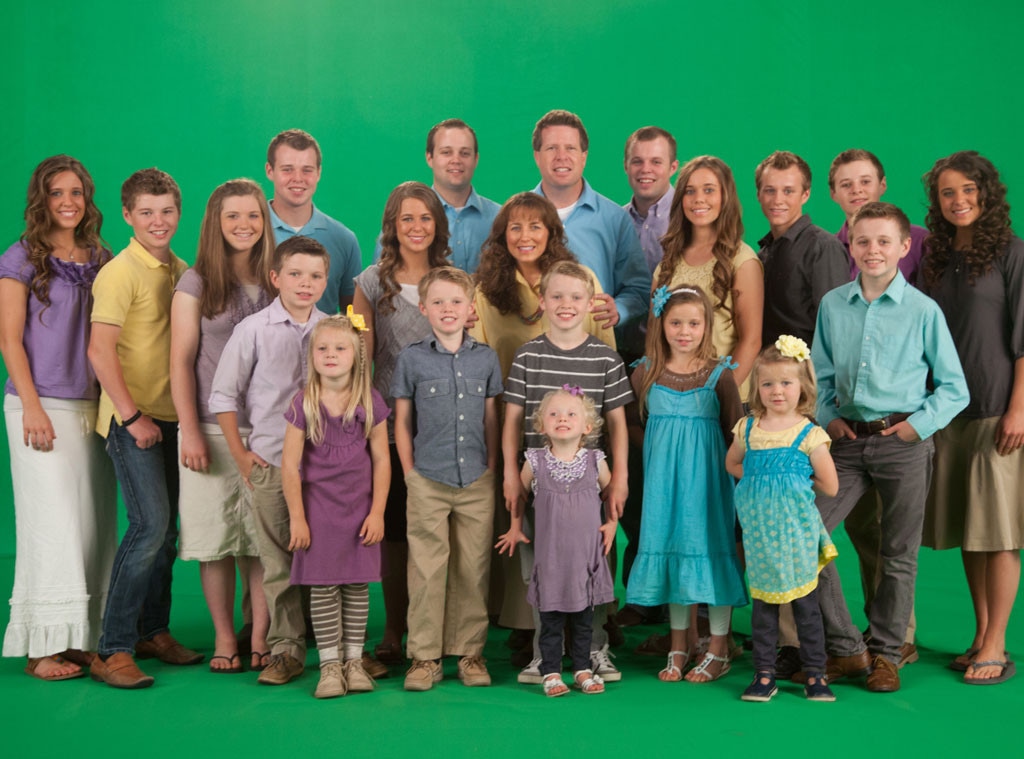 TLC
God giveth and TLC taketh away: 19 Kids and Counting has officially been canceled, E! News has confirmed.
The reality series, which has become a sensation in recent months thanks to various marriages and babies, became embroiled in scandal after reports of sexual abuse by eldest son Josh Duggar surfaced. Josh was underage at the time of the alleged events.
"After thoughtful consideration, TLC and the Duggar family have decided to not move forward with 19 Kids and Counting," TLC said in a statement Thursday. "The show will no longer appear on the air. The recent attention around the Duggars has sparked a critical and important conversation about child protection."
"Over these past weeks, TLC has consulted regularly with leading victims' rights and advocacy organizations in the U.S., including RAINN and Darkness to Light, to discuss how to use this moment to address the issue and make a positive impact," the network's statement continued. "Unfortunately, child sexual abuse is not an isolated issue; it affects many children and families around the world. To that end, we are partnering with both organizations on a multi-platform campaign to raise awareness and educate parents and families about the issue. In the first phase of this initiative, TLC will work closely with both groups and with the Duggar family on a one-hour documentary that will include Jill and Jessa and other survivors and families that have been affected by abuse.
"TLC has been especially concerned for the victims in this situation, including the Duggar family, and it is our hope that this effort will help those in need learn where to turn for information and help," TLC said. "The documentary will be commercial free, and we anticipate it will air later this summer."
The network pulled episodes from rotation in May. News of the cancellation comes months after Josh made a public apology, resigned from his position with the controversial Family Research Council, a conservative non-profit. In Touch first obtained the Arkansas police report that states Jim Bob Duggar and wife Michelle brought Josh in to the Children's Safety Center in 2006 in regards to an accusation he sexually abused underage girls in 2002 and 2003.
"Twelve years ago, as a young teenager, I acted inexcusably for which I am extremely sorry and deeply regret," Josh, 27, said in a statement to People in May. "I hurt others, including my family and close friends. I confessed this to my parents who took several steps to help me address the situation. We spoke with the authorities where I confessed my wrongdoing, and my parents arranged for me and those affected by my actions to receive counseling. I understood that if I continued down this wrong road that I would end up ruining my life."
Jim Bob and Michelle said the incident brought them closer to God. When Josh's apology went public, TLC was airing a 19 Kids and Counting marathon.
Parents Jim Bob and Michelle sat down with Fox News' Megyn Kelly and defended their son and the actions they took following the events. "He was just curious about girls and he had gone in and touched them over their clothes while they were sleeping," Jim Bob said.
Jessa Duggar and Jill Duggar confirmed they were victims of molestation, but they too defended their brother in the interview. "Well, I think in the case of what Josh did, it was very wrong," Jessa said. "I'm not going to justify anything that he did or say it was ok, not permissible, but I do want to speak up in his defense against people who are calling him a child molester or a pedophile or a rapist, some people are saying. I'm like that is so overboard and a lie really, I mean people get mad at me for saying that but I can say this because I was one of the victims. So I can speak out and I can say this and set the record straight here. Like in Josh's case, he was a boy, a young boy in puberty and a little too curious about girls. And that got him into to some trouble. And he made some bad choices, but really the extent of it was mild, inappropriate touching, on fully clothed victims, most of it while girls were sleeping."
The family issued a lengthy statement about the cancellation.
"With God's grace and help Josh, our daughters and our entire family overcame a terrible situation, found healing and a way forward. We are so pleased with the wonderful adults they have all become," Jim Bob and Michelle said on their website. "It is our prayer that the painful situation our family went through many years ago can point people toward faith in God and help others who also have lived through similar dark situations to find help, hope and healing, as well.
"We appreciate the love, support, prayers and kindness extended to us by many of you. You have deeply touched our hearts and encouraged us, during this time," the couple said.
The downfall of 19 Kids and Counting follows a similar trajectory to what happened with Here Comes Honey Boo Boo. TLC canceled the popular reality series starring precocious Alana Thompson, "Mama June" Shannon and their family in October 2014 after news broke that Mama June had been in contact with convicted sex offender Mark McDaniel.