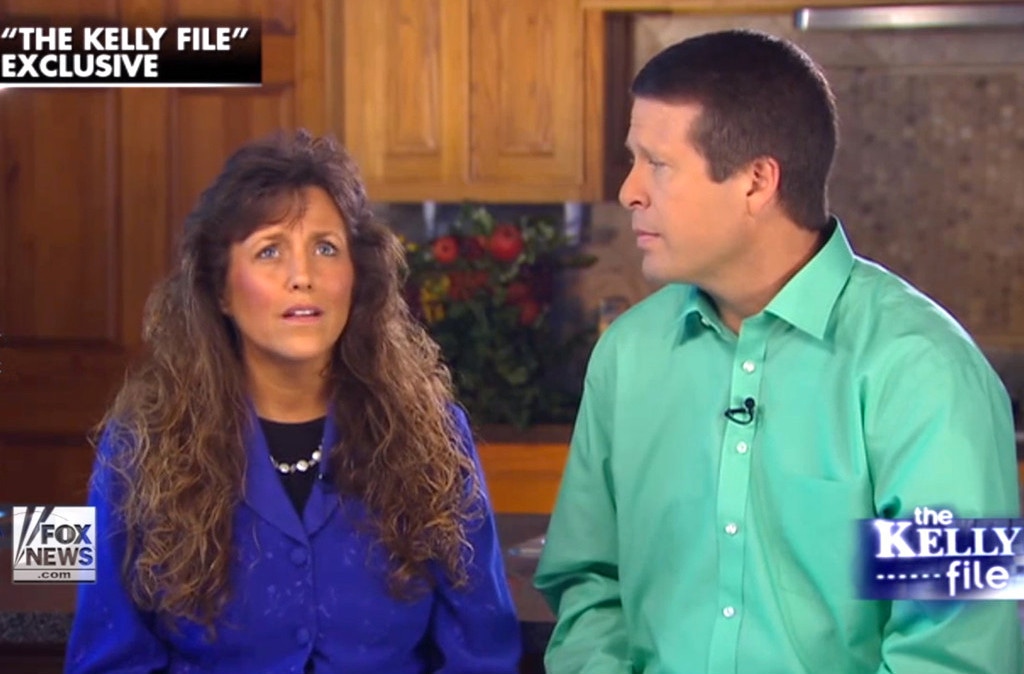 Fox
The Duggars have broken their silence on Josh Duggar's alleged molestation case.

While parents Michelle and Jim Duggar had a lot to say about the scandal, it was the teaser for Friday's hour-long special that really caught the viewer's attention. Kelly explained that she sat with two sisters who identified as victims of Josh's sexual misconduct, and it was Jessa Duggar and Jill Duggar.
The two were extremely emotional while explaining to Kelly that they are victims and having to deal with everything that's going on, but Jessa still spoke in defense of her brother.
During their interview which airs on Friday, Jessa said what her brother did was "very wrong" but added, "I do want to speak up in his defense against people who are calling him a child molester or a pedophile or a rapist, some people are saying. I'm like that is so overboard and a lie really, I mean people get mad at me for saying that but I can say this because I was one of the victims."
In an interview airing tonight on FOX News Channel's The Kelly File at 9PM/ET
During the sit-down tonight, Jim Bob explains that a crying 14-year-old Josh Duggar went to his parents and told them he'd "improperly touched some of our daughters." As Michelle credits their son for being "the one that came and shared on his own," Jim Bob continues to try and explain what happened 12 years ago.
"He was just curious about girls and he had gone in and touched them over their clothes while they were sleeping," the reality TV dad tells Kelly, and the parents say the first plan of action was to protect the girls.
"It was so important to us as parents to talk to the girls and make sure nothing else had happened," Michelle said.
But unfortunately, more happened.
At the time, it was two girls who were victims of Josh's misconduct, which the pair tell Fox News were unaware of what Josh did.
However, Jim Bob and Michelle talk about a second scenario where Josh touched the girls' breasts over their clothes while they were asleep on the couch, and another instance when he touched them under their clothes "but just for a couple seconds."
"Of course this is public shame that our son did this," the parents say, "We thought at first that Josh was on the road to manhood at first. But he was just a kid. He was still juvenile. But there was a couple more times he came and told us what he had done, and we were devastated."
"This was not rape," Jim Bob added.
Kelly also confirmed that one of the victims was extremely young, but wouldn't identify anyone however mentioned they were a "single-digit" age.
"We were trying to protect and watch and make sure they had a safe place to talk," Michelle said. "As parents we were doing the best we could to help this one while protecting [the girls]."
In an interview airing tonight on FOX News Channel's The Kelly File at 9PM/ET
The parents knew their son needed help and Josh was taken to receive treatment from a Christian-based program. When he came back, the last step was to make it right with the law.
"Felt like the last step was to make things right with the law. We felt like it was an important step for Josh to confess to the police what he had done because he'd broken the law. It was terrifying," Jim Bob said.
The two TV stars also shoot down speculation that they chose to go to a police officer who was later arrested for child pornography on purpose, saying they "didn't know anything about this guy…We took a friend with us because we wanted to have a witness that would verify we told everything."
According to the parents, all of their children, including Josh, received professional counseling after the incidents occurred.
And when it came to questions about why they'd agree to have a reality show knowing that they were keeping such a big secret, Jim Bob simply said, "We had nothing to hide. We had taken care of all of that years before…We had no fear."
But they do feel there might have been a personal agenda against them when it came to leaking the sealed juvenile record, and they tell Kelly they have been speaking with attorneys about possibly suing.
"Every victim should have the right to tell their own story, not a tabloid," Jim Bob said. Michelle added, "Every family has things happen in the family and some families may have darker things than others…I know that every one of us have done things wrong, that's why Jesus came. This is more about, there's an agenda and there's people purposing to bring things out and twist them to hurt and slander."
So what's in the future? "We are fine, whether they film us or not, we are going to continue to serve God," Michelle said.
Jim Bob adds, "At this point, our family is trying to regroup from these attacks…Hopefully justice will be served on those who released juvenile records."
Michelle also says their daughters have "been more victimized these past few weeks than what happened 12 years ago because they didn't even know."
"One thing I know is that God is going to use all of this for good."
The Duggar family was making headlines because of a recently unearthed Arkansas police report which states that Josh was interviewed back in 2006 in response to an accusation that he had sexually abused underage girls in 2002 and 2003.
"Twelve years ago, as a young teenager, I acted inexcusably for which I am extremely sorry and deeply regret," Josh, 27, said in a statement to People.
"I hurt others, including my family and close friends. I confessed this to my parents who took several steps to help me address the situation. We spoke with the authorities where I confessed my wrongdoing, and my parents arranged for me and those affected by my actions to receive counseling. I understood that if I continued down this wrong road that I would end up ruining my life."
A special one-hour special reportedly filmed at the couple's home in Springdale, Ark., will also air Friday at 9 p.m. on Fox.