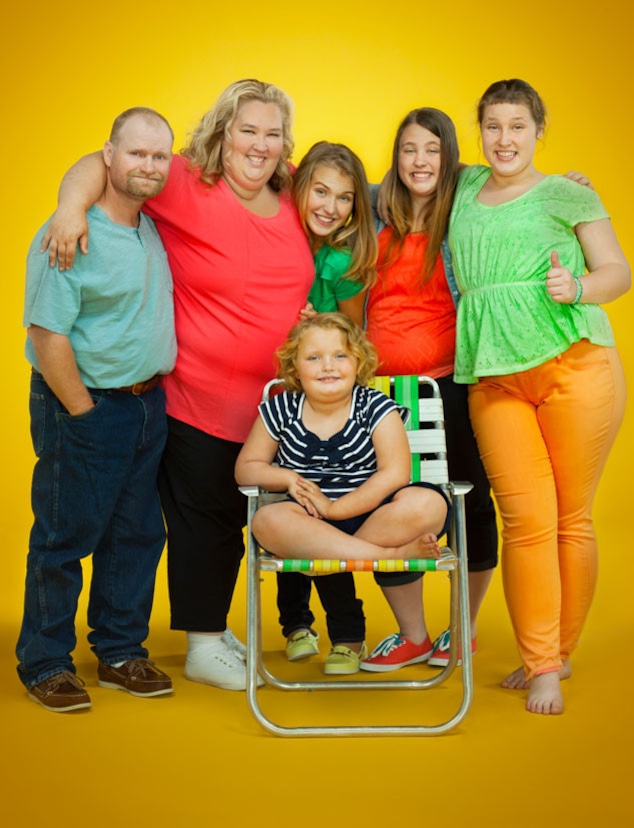 Joey Skladany/TLC
Here Comes cancellation for Honey Boo Boo. E! News can confirm TLC has pulled the plug on the reality series following former kid pageant star Alana "Honey Boo Boo" Thompson and her family. The news comes after reports that Mama June (June Shannon) was dating a convicted child molester.
"TLC has cancelled the series Here Comes Honey Boo Boo and ended all activities around the series, effective immediately," the network said in a statement. "Supporting the health and welfare of these remarkable children is our only priority. TLC is faithfully committed to the children's ongoing comfort and well-being."
Mama June posted the above video on Facebook confirming TLC will not produce any more episode of Here Comes Honey Boo Boo and thanking fans for their support. She also reiterates claims that she is not dating Mark McDaniel.
"Just got a phone call this morning from TLC and as of right now there will be no more production of the show…the statement of me dating a sex offender is totally untrue. Pumpkin has openly said that I did not—that I'm not dating him and also his son," she said. "I would not ever, ever, ever put my kids in danger. I love my kids too much. That is my past. I have not seen that person in 10 years and don't seem to want to see that person."
After a photo came out of Mama June and McDaniel, a man convicted for aggravated child molestation, TLC said it was  "not currently in production on Here Comes Honey Boo Boo. We are very concerned about this new information and are reassessing the future of the series."
Mama June took to Facebook late Thursday night to address the story and said she dated McDaniel 10 years ago, but hasn't been seeing him since. "I promise my kids r #1 priority over anything else and I would never put them in danger period over this or anything else[.] they r my life," she said in a post addressing the rumors.
McDaniel's son, Michael, told E! News his father was not dating the reality star. Mama June's daughter, Lauryn "Pumpkin" Shannon, also told Radar that her mother and McDaniel have not spoken or seen each other in 10 years.
In September, Mama June and Sugar Bear (Mike Thompson, Alana's father) announcedtheir split. Mama June said she and Sugar Bear have remained friends and are civil with each other. "Things happen for a reason in life, and you live and learn," she said.
Here Comes Honey Boo Boo was a spinoff the hit reality series Toddlers and Tiaras. The show finished airing its fourth season in August with 1.8 million viewers tuning in, down from its previous seasons.