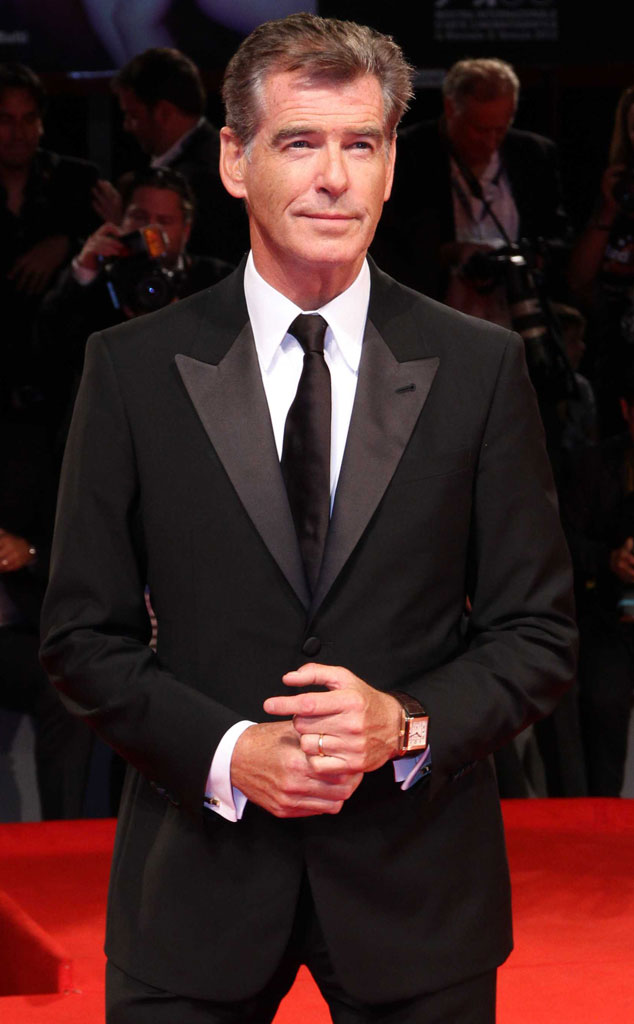 COLLET GUILLAUME/SIPA
A former 007 star has given his seal of approval to the recently floated idea of having Idris Elba play the super spy in a future film.
In an interview with the U.K. magazine Radio Times, published on Tuesday, Pierce Brosnan, who played the iconic character in four films in the '90s and '00s, was asked if the British Luther star, 42, would make a good James Bond.
"Yeah, he would actually," said Brosnan, 61.
In his interview with Radio Times, Brosnan named another actor he thinks could make a good Bond.
"Colin Salmon, also," the Irish star said in the interview.
If either he or Elba, who are both black, were chosen to play Bond, it would mark the first time the character would be played by an actor who isn't white.
Dave J Hogan/Tommaso Boddi/Getty Images
Salmon, a British 52-year-old actor, has in recent years appeared on shows such as Arrow and spy series 24: Live Another Day and has starred in Bond movies before; he played an MI6 aide and ally alongside Brosnan's Bond in the '90s movies Tomorrow Never Dies and The World Is Not Enough and the 2002 film Die Another Day, which starred Halle Berry.
Brosnan made his debut as the double agent in the 1995 flick GoldenEye and is touted as the "deadliest" Bond, having killed a total of 135 characters, a body count larger than his predecessors' Bonds, played by Sean Connery, George Lazenby, Roger Moore, Timothy Dalton, and Daniel Craig, who took over the role after him, making his debut in a 2006 remake of Casino Royale.
Craig, now 46, and reprised the part in Quantum of Solace and Skyfall. He is currently filming his fourth 007 film, Spectre, and is also set to appear in at least one more sequel.
"Daniel has made his mark gloriously," Brosnan told Radio Times, adding, "May the best man get the job and may Daniel bring home the bacon for as long as he wants."
The idea of having Elba play Bond was revealed in emails between Sony execs that were leaked by hackers who launched a cyber-attack against the film studio last year.
The actor, who is known for his great sense of humor on Twitter, posted a funny response. He had said in September in a Reddit AMA Q&A with fans that if the role were offered to him, he would "absolutely" take it but said on the ITV show Lorraine that there was "no truth" to the "rumor" of having him play the character, according to the U.S. newspaper The Guardian.
A 2014 YouGov poll suggested most U.S. viewers preferred Elba to take over the role next, while others named British performers Benedict Cumberbatch, star of Sherlock and a 2015 Oscar nominee for The Imitation Game,  as well as Furious 7 star Jason Statham and Christian Bale, and American actors such as Brad Pitt, Tom Cruise and Denzel Washington as their picks. Some also said they wanted Connery, who was voted the most popular Bond, and Craig to reprise their roles again.