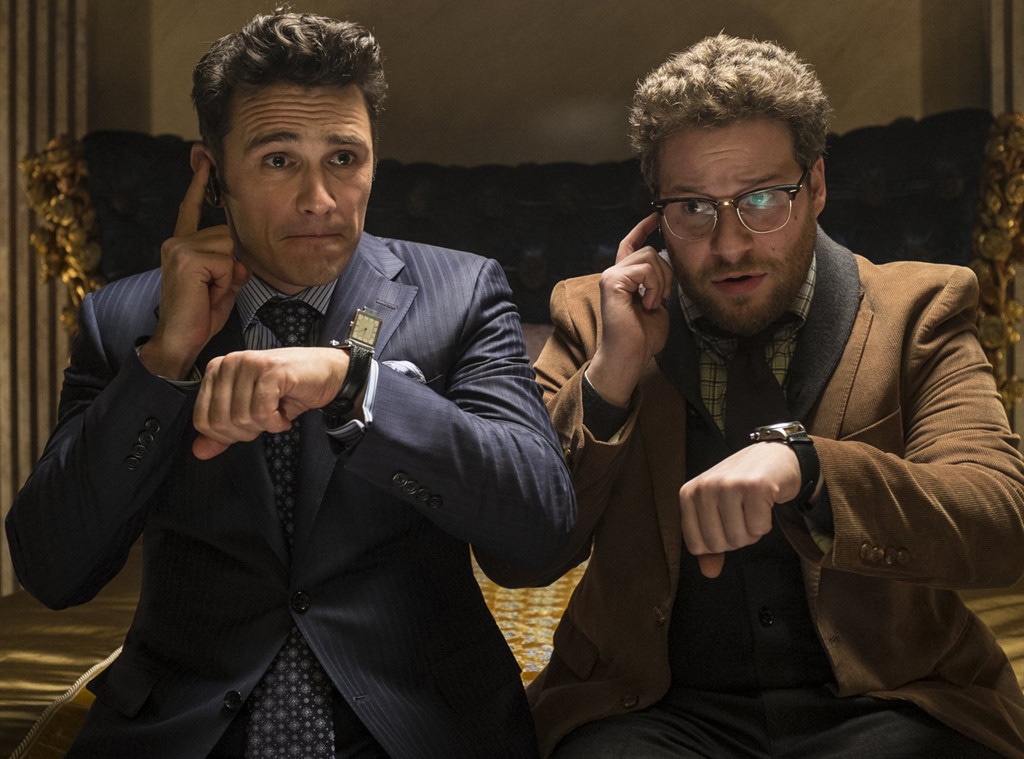 Columbia Pictures
It's official.
The North Korean government was responsible for the Sony hack that released private emails, employee information and caused the cancellation of The Interview, the FBI confirms in a statement obtained by E! News.
The FBI has been investigated the cyber attack since November when Sony first fell victim to the "Guardians of Peace." The investigation, which was aided by other U.S. government departments and agencies, has ultimately pinpointed that North Korea is responsible.
"We are deeply concerned about the destructive nature of this attack on a private sector entity and the ordinary citizens who worked there," the statement reads. "Further, North Korea's attack on SPE reaffirms that cyber threats pose one of the gravest national security dangers to the United States.  Though the FBI has seen a wide variety and increasing number of cyber intrusions, the destructive nature of this attack, coupled with its coercive nature, sets it apart."
The "Guardians of Peace" started their attack with email leaks but escalated their cyber violence when they threatened to hurt moviegoers and attack theaters should The Interview release worldwide on Christmas Day. As a result, Sony pulled the movie after America's biggest movie theater chains decided not to screen it.
Sony's decision to pull the movie sparked outrage from some of Hollywood's elite, saying that Americans have the First Amendment right of freedom of speech.
"Here, we're talking about an actual country deciding what content we're going to have. This affects not just movies, this affects every part of business that we have," Clooney told Deadline. "That's the truth. What happens if a newsroom decides to go with a story, and a country or an individual or corporation decides they don't like it. Forget the hacking part of it."
Cindy Ord/Getty Images for SiriusXM
"You have someone threaten to blow up buildings and all of a sudden, everybody has to bow down," he said. "Sony didn't pull the movie because they were scared. They pulled the movie because all the theaters said they were not going to run it. And they said they were not going to run it because they talked to their lawyers and those lawyers said, if somebody dies in one of these, then you're going to be responsible."
CNBC has confirmed that after Sony pulled that satire from screens, it received another message from the hackers telling the company that it was a "wise" move.
"It's very wise that you made the decision to cancel The Interview, It will be very useful for you. We still have your private and sensitive data," the message said. "We ensure security for your data unless you make additional trouble. Now we want you never let the movie released, distributed or leaked in any form of, for instance, DVD or piracy. And we want everything related to the movie, including its trailers, as well as its full version down from any website hosting them immediately."
Kevin Winter/Getty Images
The FBI's statement continues to criticize the harsh nature of which the North Korean government took and says that anytime actions intend to "inflict harm" or "suppress the right of American citizens to express themselves," it would take action.
"Such acts of intimidation fall outside the bounds of acceptable state behavior.  The FBI takes seriously any attempt - whether through cyber-enabled means, threats of violence, or otherwise - to undermine the economic and social prosperity of our citizens."
The FBI will continue to work with other companies who find themselves at the hands of a hack attack, saying it will "identify, pursue, and impose costs and consequences on individuals, groups, or nation states who use cyber means to threaten the United States or U.S. interests."
White House officials said Thursday that the Sony hacking is a "serious national security matter," but didn't pin the blame directly on North Korea. White House Press Secretary Josh Earnest, per NBC News, said that the U.S. was considering a "proportional response" to the invasion but said it would not be made public.
(E! and NBC are both part of the NBCUniversal family.)