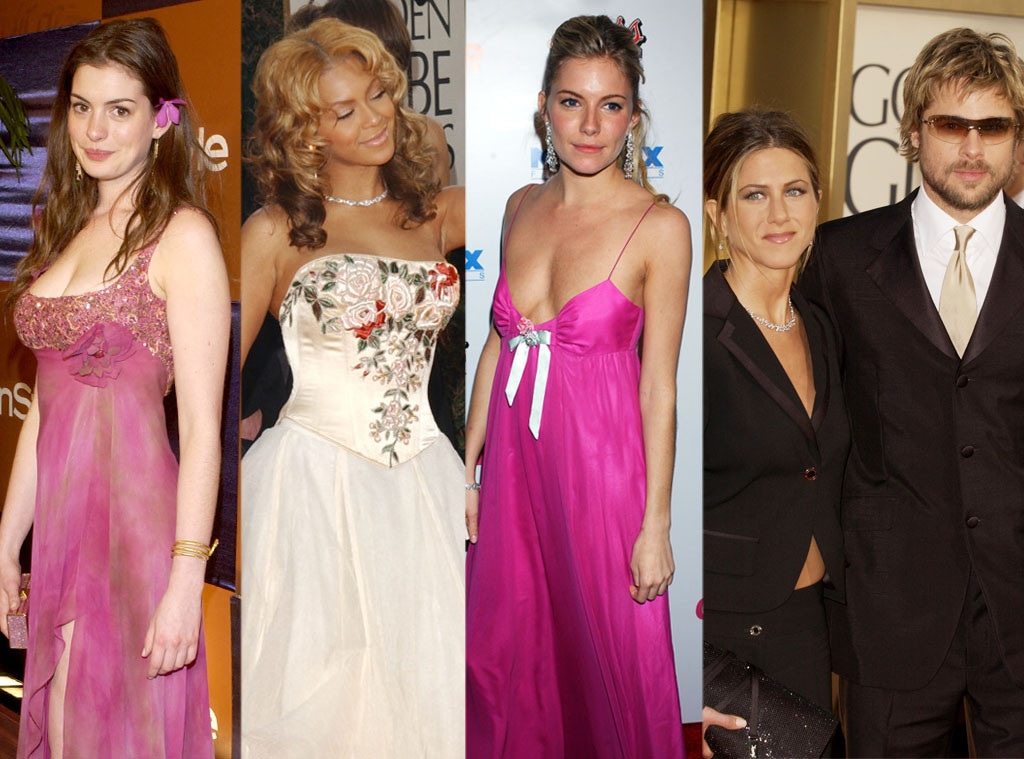 Getty Images
The Golden Globes will be here before you know it, and that means another three hours of watching flawless celebs glide down the carpet in couture gowns and gorgeous ensembles. Everyone takes the fashion at the Golden Globes very seriously, for the most part.
Don't you miss the days when they didn't? We sure do! So we dug deep into the GG vaults and found these 39 amazing photos of your favorite stars from a wonderful era of fashion: 2000 to 2004. These pics will reinvigorate you. Trust us, once you see photos of Beyoncé, Jennifer Aniston and Natalie Portman in their (sometimes tragic) early 2000s choices, it will give you enough energy to take on Sunday's carpet, where everyone sticks to high fashion.
LUCY NICHOLSON/AFP/Getty Images
Is it pajamas? Is it a doctor's coat? With this ensemble, she doesn't have to decide!
2. Kate Hudson
As gorgeous as they come, right? 
3. Jessica Alba and Michael Weatherly
Yeah, Jessica. You wear that all-white suit! Do it!
4. Keri Russell
LUCY NICHOLSON/AFP/Getty Images
You will see this color pink in a lot of these photos.
5. Sienna Miller
Albert L. Ortega/WireImage
See? Nothing says fancy Hollywood after party like the color fuchsia.
6. Denise Richards and Charlie Sheen
Remember these crazy kids getting together?!
7. Jessica Lange
Rocking those shades and flawless in orange. And we can't say "flawless in orange" often.
8. Anne Hathaway
We're pretty sure we saw this dress at our high school senior prom.
9. Jennifer Aniston and Brad Pitt
Jen in a sexy power suit and Brad with frosted hair and tinted shades? Ahhh, the early 2000s. How glorious they were.
10. Katie Holmes
Albert L. Ortega/WireImage
We're more interested in the fact that Coors Light sponsored a Golden Globes party than in Katie's little black dress.
11. Scott Foley and Jennifer Garner
Ron Galella, Ltd./WireImage
This photo might make Felicity fans weep. Sorry about that. 
12. Tyra Banks
Albert L. Ortega/WireImage
Side-eying hard, even back then.
13. Scarlett Johansson
It looks like a slip that goes under a dress, but we're not complaining.
14. Gwen Stefani
Mile-high beehive!
15. Jennifer Love Hewitt
Ron Galella, Ltd./WireImage
We can't deal with those shoes. We just can't.
16. Angelina Jolie and Billy Bob Thorton
Before Brad, there was BBT.
17. Kristin Davis and Cynthia Nixon
Ron Galella, Ltd./WireImage
Hey, Sexy ladies...we like your iridescent fabric choices.
18. Jennifer Lopez and Matthew McConaughey
If you're not dropping everything and watching The Wedding Planner whenever it's on TV, you're not living life right.
19. Reese Witherspoon and Ryan Phillippe
Reese's hair is very Elle Woods, no?
20. Charlize Theron
Oh, my. It's fine to show that much skin because she has a flower on her dress. That's an unspoken rule of the red carpet.
Albert L. Ortega/WireImage
Look at baby Jax! He is definitely too cool for school with that cigarette in his hand.
22. Nick Lachey and Jessica Simpson
When MTV reality stars were red carpet royalty. Those were the days... 
23. Sarah Jessica Parker and Chris Noth
This photo of Carrie and Big makes our heart hurt and soar at the same time.
24. Portia De Rossi
Before she became Mrs. Ellen DeGeneres, Portia apparently was all about about beaded dresses that kind of looked like something a mermaid would wear when she got legs and tried to live a new life on land.
25. Halle Berry
Is that a lace tablecloth she's carrying?
26. Minnie Driver and Josh Brolin
Ron Galella, Ltd./WireImage
Hello, cleavage. How are you? Yowza.
27. Renée Zellweger and Jim Carrey
Elizabeth looks great, but why does her dress immediately make us thing of Limeade? Or Ninja Turtles?
29. Courtney Love
Oof. What happened here?
30. Ginnifer Goodwin
Albert L. Ortega/WireImage
Girl, work those pointy shoes!
31. Beyoncé
Jon Kopaloff/Getty Images
You don't know this, but the paps are yelling out: "You are Beyoncé!" And she's telling them, "thank you."
32. Sean Hayes and Camryn Manheim
Ron Galella, Ltd./WireImage
"Come, rest your silly, tiny head on my bosom," is probably what Camryn said to Sean moments before this photo.
33. Sarah Michelle Gellar and Freddie Prinze Jr.
We think Freddie's hair was this blonde for a role. We hope.
34. Sandra Bullock
Those two-piece dresses with the sparkly top piece were all the rage back in the early aughts.
35. Natalie Portman
So young! So sweet! So brown!
36. Elisha Cuthbert
We call this look: "All lace, no bulls--t."
37. Mischa Barton
Albert L. Ortega/WireImage
This dress was definitely snatched from The O.C.'s wardrobe department.
38. Cameron Diaz and Julia Roberts
We're not sure what's happening here; we're just glad it is happening.
39. Winona Ryder and Matt Damon
If you and your date do the black and white matching thing, you're automatically class as hell. Remember that.