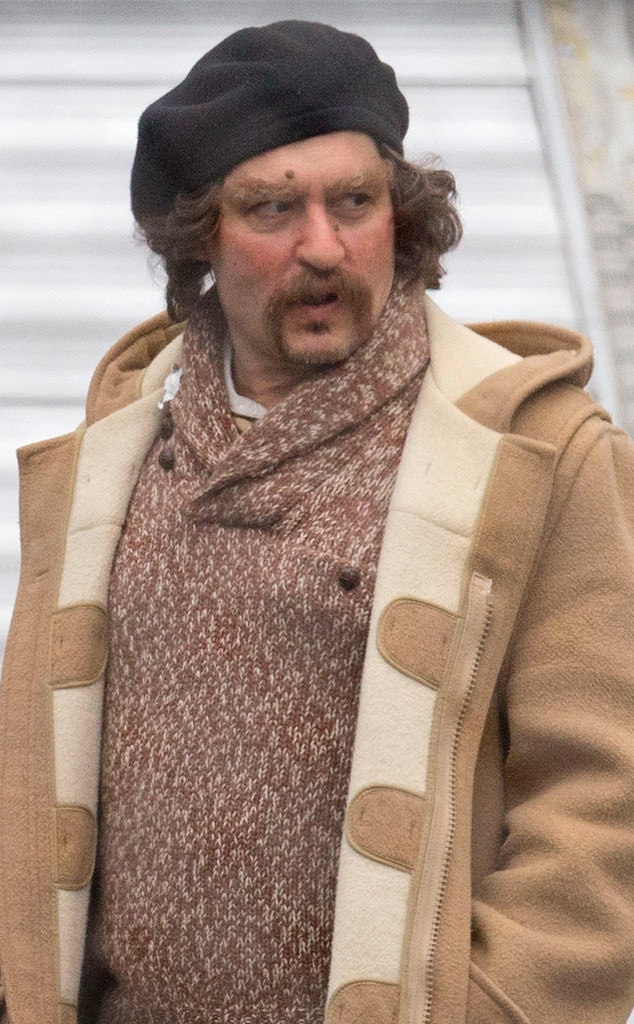 Deano / Splash News
Is that you, Johnny Depp?!
The 51-year-old actor was completely unrecognizable when he was photographed on the set of his upcoming film Yoga Hosers, which also stars the actor's daughter, 15-year-old Lily-Rose Depp. 
Sporting a goatee, bushy eyebrows and what seemingly appears to be a prosthetic nose, the Academy Award-nominated thesp looked nothing like his handsome (and often swoonworthy!) self while filming the upcoming Kevin Smith-directed flick. 
Depp, who was dressed as an older gentleman, appears to have put on weight for his role in the forthcoming comedy, which is a spin off of Smith's horror flick Tusk and is the second installment in his True North trilogy of movies that involve Canadian myths and culture. 
The Sweeney Todd star is reprising his role as Guy Lapointe and will star opposite Justin Long, Haley Joel Osment and his eldest child as well as fellow famous father-daughter duo Kevin Smith and Harley Quinn. 
Yoga Hosers tells the story of two 15-year-old yoga lovers Colleen Collette (Depp) and Colleen McKenzie (Smith), who have an after-school job at a Manitoban convenience store called Eh-2-Zed.
"When an ancient evil rises from beneath Canada's crust and threatens their big invitation to a Grade 12 party, the Colleens join forces with a legendary man-hunter from Montreal named Guy Lapointe (Depp) to fight for their lives with all seven Chakras, one Warrior Pose at a time," a press release previously stated of the film.
Depp, whose fiancée Amber Heard was apparently not on set as the couple continues to face breakup speculation, recently covered Details magazine in which he opened up about his frequent movie flops as of late (while dropping a number of F-bombs). 
"What is really satisfying is, like Marlon [Brando], getting to that place where he just didn't give a f--k," he told the publication, explaining his evolution as an actor. "First, I reached a point where I cared so much and was so diligent in terms of approaching the work. Then you get to where you care so f--king much that it gets goddamn beleaguering, you know? But then a great thing happens. Suddenly you care enough to not give a f--k, because not giving a f--k, that's the total liberation. Being game to try anything."