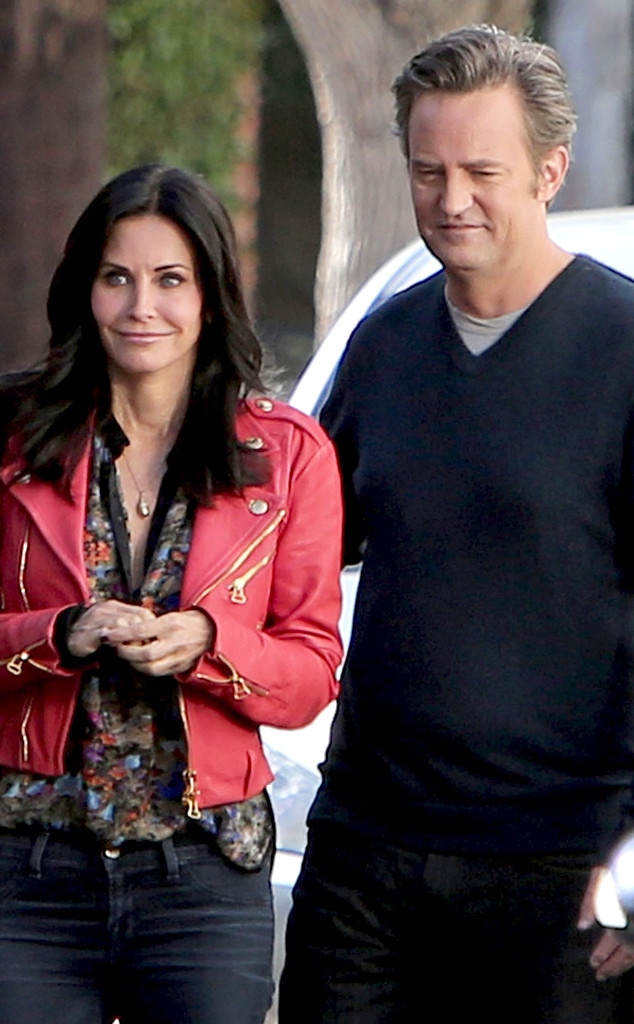 KVS/Andrade, © PacificCoastNews.com
Friends forever!
Your eyes are not deceiving you: These really are pics of Monica Gellar and Chandler Bing—er, Courteney Cox and Matthew Perry—back together! On Wednesday, Dec. 4, the longtime pals reunited on the L.A. set of Cougar Town, but don't get any crazy ideas…
Perry, 44, is guest starring on one episode of Cox's TBS comedy. We don't know much about his role, but it's unlikely he'll be playing a love interest given that Cox's character is married. (Then again, too much red wine can produce some unconventional results, so hey, anything's possible!)
While it's obviously a treat getting to see Mr. and Mrs. Bing back in action, this isn't the first time they've shared the screen since Friends ended its 10-year run in 2004. In April, Cox, 49, played Perry's kinda crazy romantic prospect on an episode of his now-canceled NBC comedy Go On.
In an interview with Access Hollywood, Perry said playing Cox's love interest again was "very surreal." His onscreen other-half agreed, adding, "Nothing has changed! Literally! From the producers coming in to the process of learning the lines, all of it [is the same] except for the way we look!"
Perry pointed out one more difference. "And [now], 30 million people aren't watching, anymore," he quipped. "Other than that, it's the same."  
That's because Monica and Chandler level chemistry is unwavering!