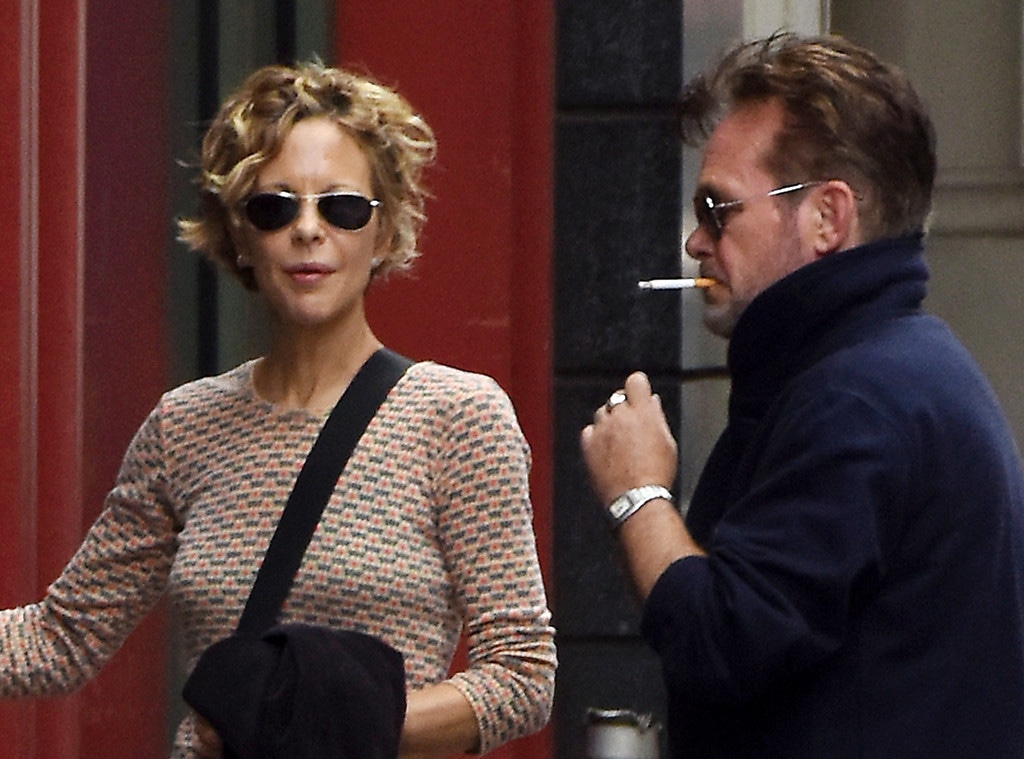 Splash News
Are Meg Ryan and John Mellencamp rekindling their romance?! 
The former couple, who split in late August after three years of dating, were spotted out and about in NYC together on Wednesday afternoon. The pair was snapped in the city's SoHo neighborhood and immediately separated from each other upon discovering they were being photographed. 
Ryan, 52, looked relaxed and casual in a patterned top, jeans and avaitor shades while Mellencamp, 63, rocked a navy pullover and blue jeans as he puffed on a cigarette. The former lovers, who have not been photographed together since late June, showed no signs of PDA for the shutterbugs as they strolled through the Big Apple. 
Just over a month after the actress and the rocker called it quits, the "Hurts So Good" crooner broke his silence on the split, implying that distance was the reason behind their breakup. 
"Meg is an angel. She was just an angel sent to me at the right time," he said on SiriusXM's The Howard Stern Show. "We tried to have a relationship for three years—long distance. We'll see what happens."
The Indiana-based musician and the New York-based You've Got Mail actress dated from January 2011 until August 2014, and Mellencamp has previously spoken about his distaste for the Big Apple. 
"I'm too sensitive to live there," the musician told Rolling Stone in December 2013. "I can't see poor people. I can't see the suffering. I can't see the trash on the streets...I'm not leaving Indiana. I'm going to die here."
Just two days after Mellencamp opened up to Howard Stern, the rocker echoed his previous sentiments during an appearance on the Today show and admitted that he's open to reconciling with the '90s rom-com queen. "You know, nothing's over 'til it's over," he said. 
He later continued to sing his ex-girlfriend's praises in an interview with the Associated Press (via People). "I'm very happy with the time I've spent with Meg Ryan," he gushed. "She's a beautiful girl and I know that I will never, ever, ever be with a funnier girl than her. Not gonna happen. I'm grateful for the three and a half years we've been together.
So is it over? "Nothing's over," he added. "Nothing's over. I never say die for anything. Do you ever quit on anything?"
The notoriously private Ryan, meanwhile, has yet to comment on the duo's split. 
Prior to dating the rocker, the You've Got Mail actress was married to Dennis Quaid from 1991 to 2001, while Mellencamp has previously been married to Priscilla Esterline, Victoria Granucci and Elaine Irwin.