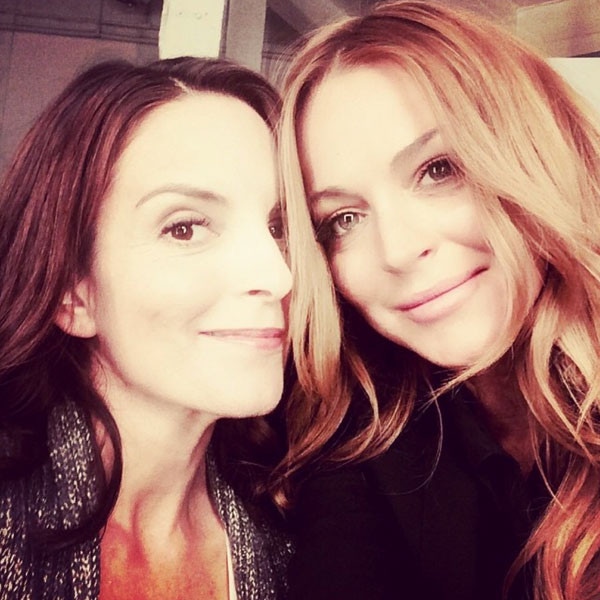 Instagram
Will The Plastics make a return to the silver screen?
Mean Girls celebrated its 10th anniversary in April, and now Lindsay Lohan is championing a sequel. Speaking to Time Out London, she says, "People really love the movie How do you top that? I was with [writer] Tina Fey the other day and I said, 'We should do another Mean Girls, like an older version where they're all housewives and they're all cheating.' That would be really funny. I'll harass Tina to write it."
If a sequel were to happen, Lohan will need to revise her schedule. "In five years I would like to be married and have children, and hopefully be at the Oscars, but that's as far as it goes for now," she says.
Whether Lohan realizes it or not, Mean Girls 2 already happened. The TV movie premiered in January 2011. It starred Nicole Gale Anderson, Claire Holt, Meaghan Martin, Jennifer Stone and Maiara Walsh. Tim Meadows was the only cast member to reprise his role (as Principal Ron Duvall) from the 2004 film.
Last month, Fey and Lohan took a selfie on the set of Entertainment Weekly's Oct. 17 reunions issue.
When Mean Girls celebrated its 10th anniversary Apr. 30, Lohan was the sole cast member who "wasn't available to comment" when The New York Times published an article about the movie's pop culture legacy. The film, which also starred Lizzy Caplan, Lacey Chabert, Rachel McAdams and Amanda Seyfried, was a phenomenon from the beginning, earning $121 million at the worldwide box office.
Fey is currently developing a musical. "It's early in the process," she said. "We've been enjoying trying to write. I wish so badly we could have had it done in some form for the 10th anniversary, but hopefully before the 15th." Earlier that year, Warner Bros. and New Line announced a planned release date of May 8, 2015 for a proposed spin-off, titled Mean Moms, with Jennifer Aniston in talks to play the lead.
In Mean Moms, " The main character's husband gets a promotion, and for the first time in her life, she can be a full-time mom. Her kids go to a suburban public school where the parents are very competitive and hands-on. One of the other characters is that mom who seems to have everything together. The main character gets wrapped up in the insecurity of, 'How do people perceive me as a mother?' We're all more insecure than we let on—that's what locked me into the project," co-writer Sean Anders said.
If a Mean Girls sequel doesn't pan out, perhaps Lohan can make a cameo in Mean Moms.