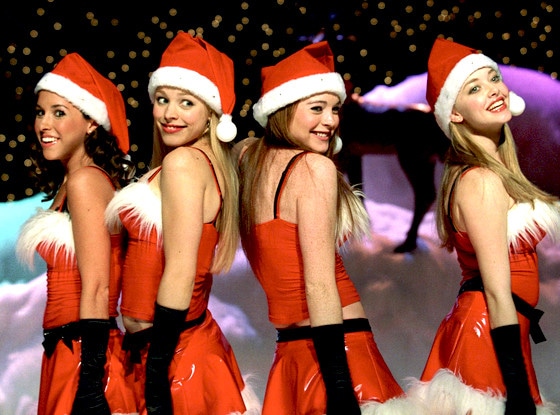 Paramount Pictures
On this day in history, Aaron Samuels asked Cady Heron what day it was.
Thus was born National Mean Girls Day, a day for everyone—unfriendly black hotties, the girls who eat their feelings, the sexually active band geeks and every grotsky bitch in between—to celebrate all things Mean Girls.
Lindsay Lohan and Tina Fey's Criterion Collection classic* has spawned some of the most iconic quotes of any film, well, ever. But it shouldn't be punished for being well-liked. Instead, we're ranking our favorite quotes to determine which is best.
Well, they're all the best. So this scale goes from grool to totally fetch, with totally fetch being the fetchest. This ranking is based on both notoriety and how frequently we use them in our daily life.
(*Mean Girls has not been inducted into the Criterion Collection. But it should be.)
(And yes, she did make it happen.)
19.  "I'm sorry that people are so jealous of me. But I can't help it that I'm popular."
17. "That's why her hair is so big. It's full of secrets."
16. "Get in, loser. We're going shopping!"
15. "One time I saw Cady Heron wearing army pants and flip flops. So I bought army pants and flip flops."
14. "Whatever. I'm getting cheese fries."
13. "I can't go to Taco Bell, I'm on an all-carb diet! God, Karen! You're so stupid!"
12. "Oh my god, Danny Devito! I love your work!"
11. "We only carry sizes 1, 3 and 5. You could try Sears."
10. "On Wednesdays we wear pink!"
9. "I'm not like a regular mom. I'm a cool mom."
8. "Irregardless! Ex-boyfriends are just off limits to friends. I mean, that's just like, the rules of feminism!"
7. "If you're from Africa, then why are you white?"
6. "Oh my god, Karen! You can't just ask people why they're white!"
5. "I can't go out. I'm sick." "Boo! You whore!"
4. "Don't have sex. You will get pregnant and die."
3. "She doesn't even go here!"
2. "'Made out with a hot dog'? Oh my god! That was one time!"
1. "Four for you, Glenn Coco! You go, Glenn Coco!"
And while we have you here, we guess it's as good a time as any to tell you that we're sorry we called you a gap-toothed bitch. It's not your fault you're so gap-toothed.
Love ya!
(Originally published Thu., Oct. 3, 2013 at 1:02 PM PDT)