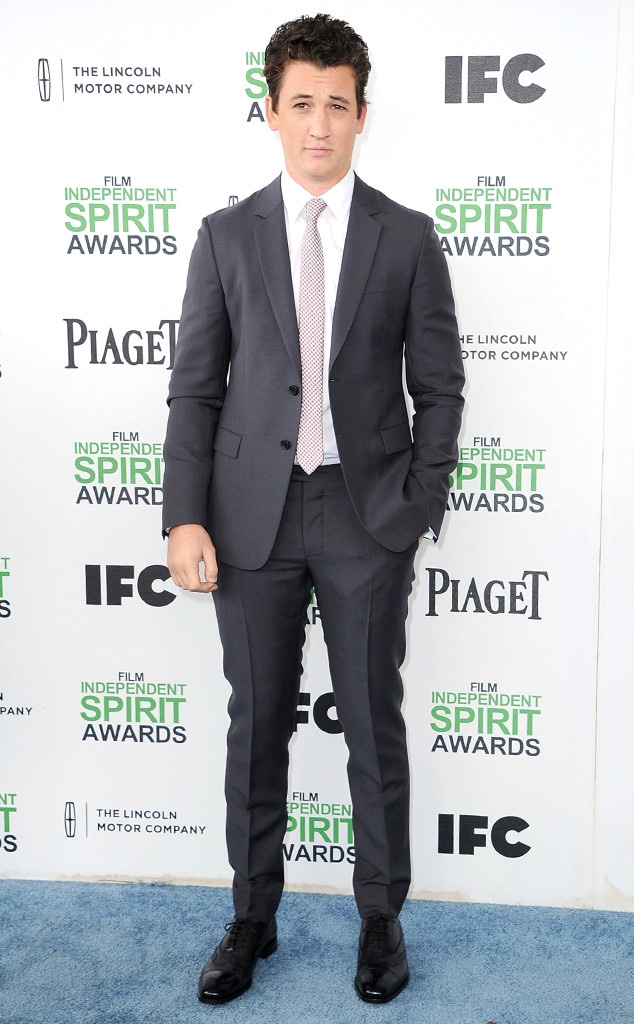 Steve Granitz/WireImage
Curiosity always kills the cat.
So says actor Miles Teller who admitted in the new issue of Elle that he recently tried Viagra in Las Vegas.
"Uh, yeah. I've taken it before," he confesses in the issue. "My buddy in Vegas gave me one. He was like, 'Bro, break it in half and take it two hours before you're ready.' But he was right."
It's pretty honest coming from a 27-year-old. But as it turns out, Teller isn't the first Hollywood star to pop the little blue pill.
From Ashton Kutcher to Rob Kardashian, take a look at five more dudes who have experimented with the drug.
1) Zac Efron: Did he or didn't he? When promoting That Awkward Moment this year, the hunky actor appeared on Conan where he was asked if he tried the drug in real life. "I can't confirm or deny that," Efron said with a straight face before noting, "I had a friend of a friend try it, like a half of a half of a half of a Viagra." Whatever you say, Mr. Zac.
2) Rob Kardashian: In a 2009 episode of Keeping Up With the Kardashians, Rob got a big surprise when he drank Bruce Jenner's coffee. Turns out the cup had a small dose of Viagra in it. "I woke up from a nap and my penis was hard," Rob said on the show. "It would not go away." 
Robert Cianflone/Getty Images
3) Ashton Kutcher: Long before he started dating Mila Kunis, the That '70s Show star experimented with the drug. "I tried it, but I'm not addicted," Ashton reportedly told Glamour magazine back in 2005. "I don't have a hard-on now. I haven't taken it in years." He added, "I took it a few times recreationally. It's illegal, but I've taken it."
4) Ben Affleck: All the way back in 1999, the Armageddon heartthrob admitted to trying the drug with some very serious side effects. "I almost had a heart attack. I had to sit down, and all it did was make me sweat and feel dizzy and really unnerved," he told Playboy magazine. "I felt no sexual side effects whatsoever." He even went on to call it one of his "biggest disappointments."
5) Michael Douglas: Back in 2005, Douglas shared his praise for the blue pill for helping bridge the 25-year age gap with his wife, Catherine Zeta-Jones. "God bless her that she likes older guys," he told the Daily Mail. "And some wonderful enhancements have happened in the last few years—Viagra, Cialis—that can make us all feel younger," he said. The couple would split in 2013 but have been spotted together on multiple occassions sparking reconciliation rumors. Douglas has even been caught wearing his wedding ring. 
Francois G. Durand/WireImage