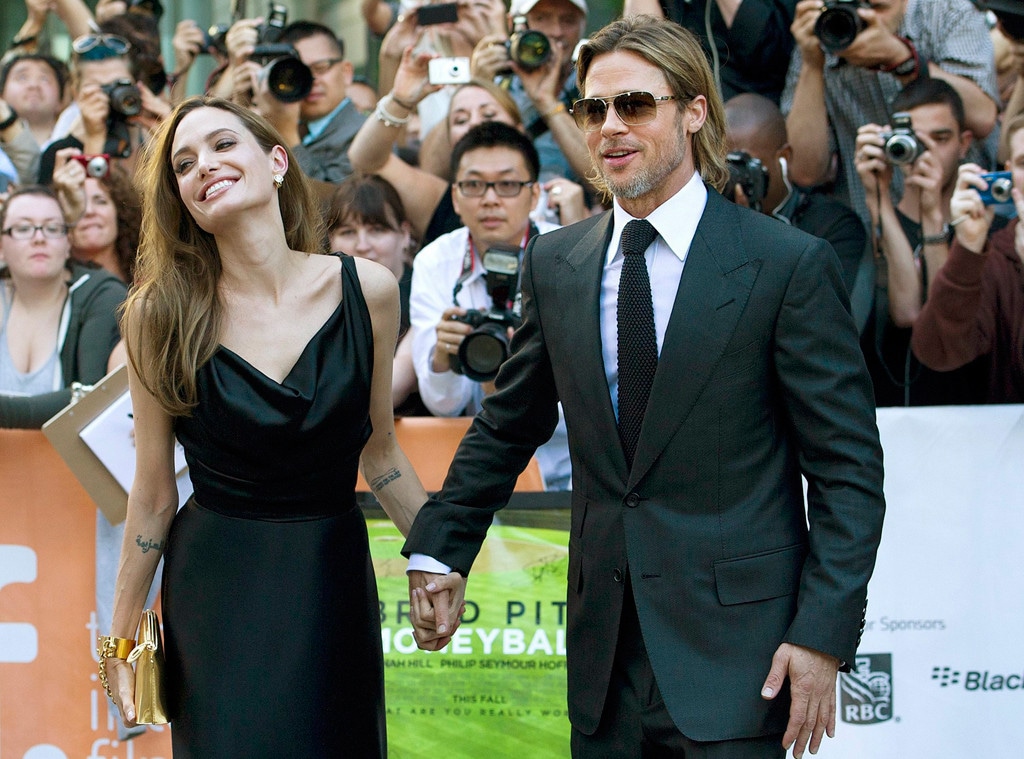 AP Photo/The Canadian Press, Nathan Denette
Warning: Super-romantic details ahead.
Brad Pitt and Angelina Jolie have been together for so long, it's weird to suddenly be referring to them as newlyweds, isn't it?
But though they've been practically married in our eyes for years, that's just what the dashing couple are. The pair familiarly known the world over as "Brangelina" finally tied the knot Saturday at their family's main homestead, the palatial Château Miraval in southern France—and we're hearing that pretty much everyone who knows them thinks this marriage is going to last...and last.
"They are genuinely in love and happy and very, very romantic with each other all these years after they first got together," an insider close to the couple exclusively tells E! News. "They still go on date nights and write love letters and even go on naughty weekends away with just the two of them."
Angelina and Brad have six children—Maddox, Zahara, Shiloh, Pax and twins Knox and Vivienne—who they're infinitely devoted to, but obviously it's understandable just how important their alone time is.
Meanwhile, though they have to spend the occasional weeks apart while they're working, our source says that Brad continues to keep his love close to his literal heart.
"Brad even has one of Angie's love letters, which is inscribed in tiny writing in a gold pendant he wears around his neck," the source says, "and he hasn't taken that off since the day she gave the pendant to him as a present over seven years ago. That's how sweet they are with each other."
We've known about Brad's love letter pendant for a few years now, but it is rather heartwarming to hear that the necklace hasn't budged since then.
And starring in the same movie once again—the indie drama By the Sea, which Jolie also wrote and will direct—should give them a nice chunk of married-couple together time as well.
But aside from the spot-on, under-the-radar timing and the fact that the celeb-fan world has been rather preoccupied with the future nuptials of one George Clooney and Amal Alamuddin all summer instead, what compelled Pitt and Jolie to become husband and wife at this particular time, more than two years after getting engaged?
"They see each other as family and never even argue these days," the insider gushed. "They're both serious about spending their lives together. There's talk of them both changing their names to Jolie-Pitt to match the kids. They love that idea and are very likely to go ahead and do it officially very soon."
We have no doubt that Mr. and Mrs. Brangelina will accomplish every single thing they set out to do together, co-partners in a forever venture.