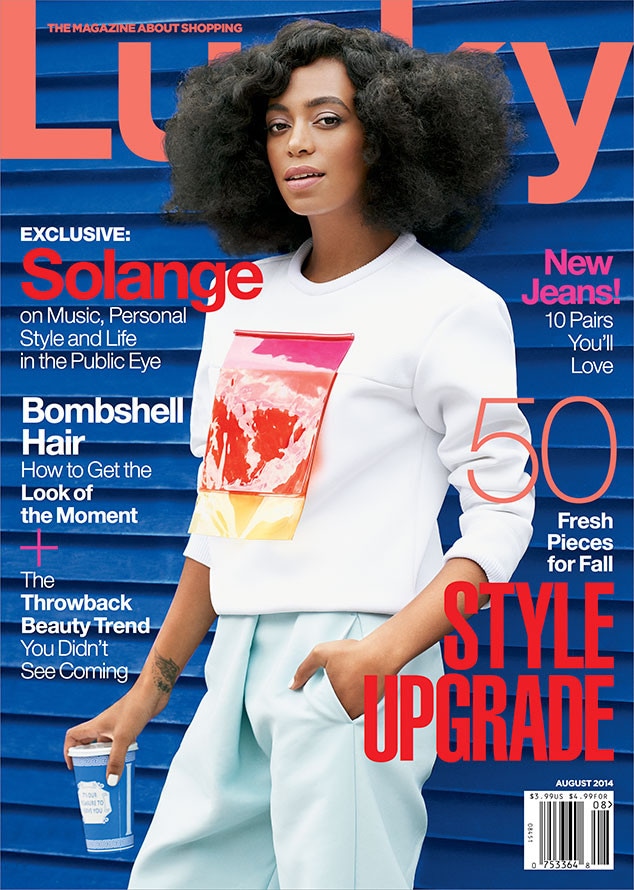 Todd Cole for Lucky Magazine
It's been just two months since Solange Knowles attacked Jay Z in an elevator at the Standard Hotel in New York City, but given the choice, the singer would prefer to never discuss "that thing" again. "What's important is that my family and I are all good," Beyoncé's sister says in Lucky's August 2014 issue. "What we had to say collectively was in the statement that we put out, and we all feel at peace with that."
The trio issued a statement 10 days after TMZ published leaked surveillance footage of the family fight.
"At the end of the day families have problems and we're no different," they said May 15. "We love each other and above all we are family. We've put this behind us and hope everyone else will do the same."
Regarding her famous sister, she tells Lucky, "We've always held each other down no matter what," she says. "That's something I'm drilling into [my son] Juelz now." She adds, "I think about all of those phases that I went through, and the ridicule and whatever that I experienced. And I can't think of one time where I ever felt like I was going to break. That's because I had confidence instilled in me by my parents. They didn't always like it—in fact, most of the time they didn't—but they never asked me to change."
Solange and Beyoncé couldn't have been more different as children. Though they were both raised on Motown, Solange developed different musical tastes than her family. "Any time you're a kid and you're told, 'You're gonna love Donny Hathaway,' naturally you're like, 'No, I love Fiona Apple,'" she recalls.
The "Sandcastle Disco" singer got her start as a backup dancer for her sister's group, Destiny's Child. "I had no idea how to dance hip-hop at the time," Solange admits. "I was trained in classical ballet! But it sounded chill and I was going to make a little weekly check and be with my whole family, so I said okay."
"I loved traveling. We were in Europe for a month, and that's when my musical eyes opened up. There, Björk was on pop radio," she says. "She wasn't some obscure underground thing like she was in America." Years later, an injury forced her to take a hiatus. "Dance had been my everything since I was a little girl and all of a sudden I couldn't do it," she says. "Some beautiful things came out of that year but also some painful things. I started writing songs because I had all of these emotions that were so real."
With longtime friend Kelly Rowland's encouragement, Solange decided to pursue a career in music.
"I was nervous to talk to my parents. Part of my mom was like, 'Please be normal and get a regular job,' because she had gone through so much with my sister. She knew how strong-willed I was and how the industry was probably not going to be the most supportive thing for a 15-year-old girl," she recalls. They gave her their blessing and Solange signed a record deal with Columbia. In 2003, she released Solo Star.
The album underperformed. In hindsight, it taught her a valuable lesson. "I was serious about my songwriting but not necessarily too gung ho on all the other elements of being an artist—the public nature of things, the lack of privacy, the feeling of always needing to be on," she says of the music business. "I also felt really misunderstood by my peers and the musical landscape that I was in."
In 2004, she married her high school sweetheart Daniel Smith and gave birth to Julez soon after. The pair moved to Idaho, where Smith played football for Boise State, and Solange focused on songwriting.
"It was chill," she remembers. "I got to be at home with Julez all the time."
After divorcing Smith in 2007, she decided to re-launch her music career—but this time, she would be doing it on her own terms. "I had written all of the songs [on 2008's Sol-Angel and the Hadley St. Dreams] and I believed in them," she says. "I felt I was strong enough to put them out specifically how I wanted to. I identify with Sade and Kate Bush and Erykah Badu, who are artists but on their own terms." Her last EP, True, "was about the overall vibe—the message was fun," Solange explains. When her next album is released, she says, "I really want you to hear what I'm saying. I want you to hear me."