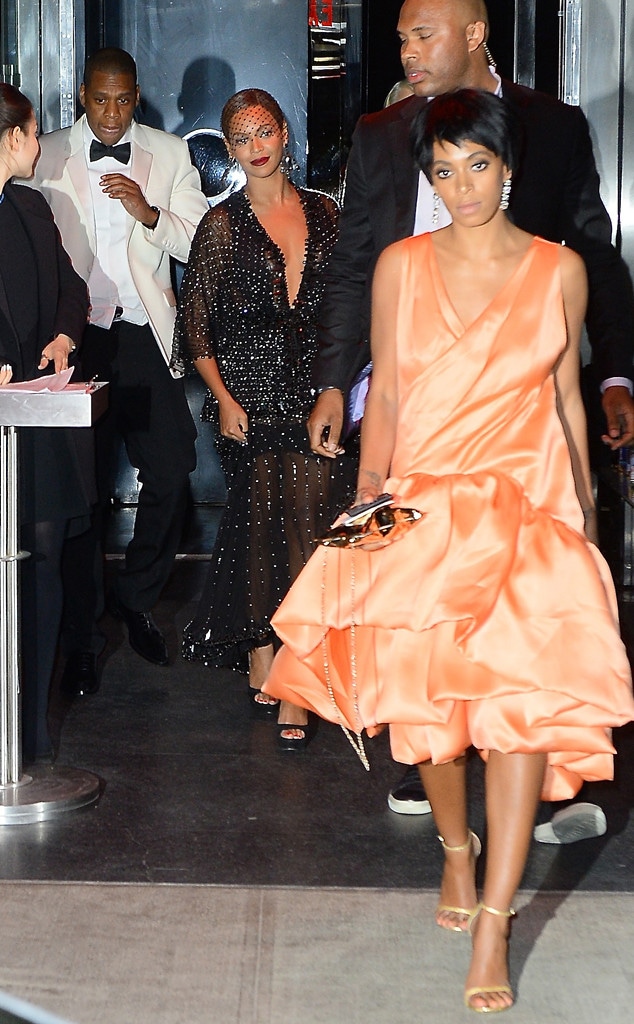 Splash News
After the show it's the after-party, then, after the party it's the hotel lobby—but Jay Z, Beyoncé and Solange Knowles didn't get there without some drama.
Elevator surveillance footage, obtained by TMZ, shows what appears to be Queen Bey's kid sister throwing punches and high-heeled kicks at her brother-in-law in a violent attack.
The clip, reportedly recorded May 5 at the Standard Hotel after the 2014 Met Gala, shows a larger man, presumably a bodyguard, restraining the aggravated woman. But said female (purportedly Solange) is feisty, and still manages to make contact with the gentleman in white a handful of times, despite attempts to hold her back. The man under attack (who appears to be Hov) holds the woman's foot in place to prevent her from kicking him, but at no point attempts to strike her back.
As all this is going down, a woman who very much resembles Beyoncé stands motionless amidst the chaos, remaining unscathed. It appears that the larger male pushes the emergency stop button (most likely in an attempt to keep the brouhaha from spilling into the lobby where onlookers could see what was happening).
This clip concludes with the restrained woman appearing to shout something at her previous target. And while this footage doesn't show the individuals leaving the elevator, another video shows Bey, Jay and Solange making their way out of the hotel. Solange doesn't exactly look thrilled, but Bey puts on a brave game face and smiles for the bodyguard, getting into the same chauffeured car as her sister.
It appears, though, that Jay quietly says something to security before making his way to another car.
Jay Z, Beyoncé and Solange's reps did not immediately return E! News' request for comment.