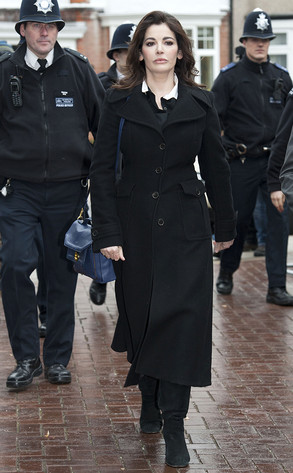 Mirrorpix / Splash News
Nigella Lawson is temporarily barred from entering the United States after U.S. officials stopped her as she tried to board a flight from London to Los Angeles on Sunday.
U.S. embassy spokeswoman Lynne Platt told NBC News the 54-year-old celebrity chef was stopped at Heathrow airport and had subsequently been invited to the embassy to apply for a visa. Platt explained these types of applications are generally handled "routinely and expeditiously."
The embassy did not explain the reason why Lawson was unable to enter the U.S.
Lawson admitted of past cocaine and marijuana use during the fraud trial of her former assistants, sisters Francesca Grillo and Elisabetta Grillo.
The sisters were eventually found not guilty on Dec. 20 and London's Metropolitan Police force said at the time Scotland Yard would not investigate claims Lawson took cocaine, but will review the decision if new evidence comes to light.