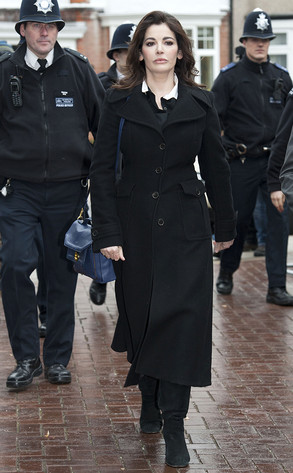 Mirrorpix / Splash News
Nigella Lawson admitted that she has used cocaine and cannabis while testifying on Wednesday, Dec. 4, during the fraud trial of her former assistants, Francesca Grillo and Elisabetta Grillo.
Per Central News, the English celebrity chef told the Isleworth Crown Court in London, during her extremely detailed testimony, that she has used cocaine several occasions in her life, including six times when her first husband, John Diamond, was battling cancer.
"One time was when my husband knew his cancer was terminal, and he was introduced to it by a friend who thought it would help," she told jurors about one episode of using the drug.
"I did on maybe six occasions and joined in with him—it was a small amount," she added. "It gave him an escape, but I didn't want an escape because I had to look after him and the children."
The 53-year-old then explained she used the drug in 2010 because "I was having a very, very difficult time, I was being subjugated to intimate terrorism by Mr. Charles Saatchi." She said she visited with her doctor following this incident.