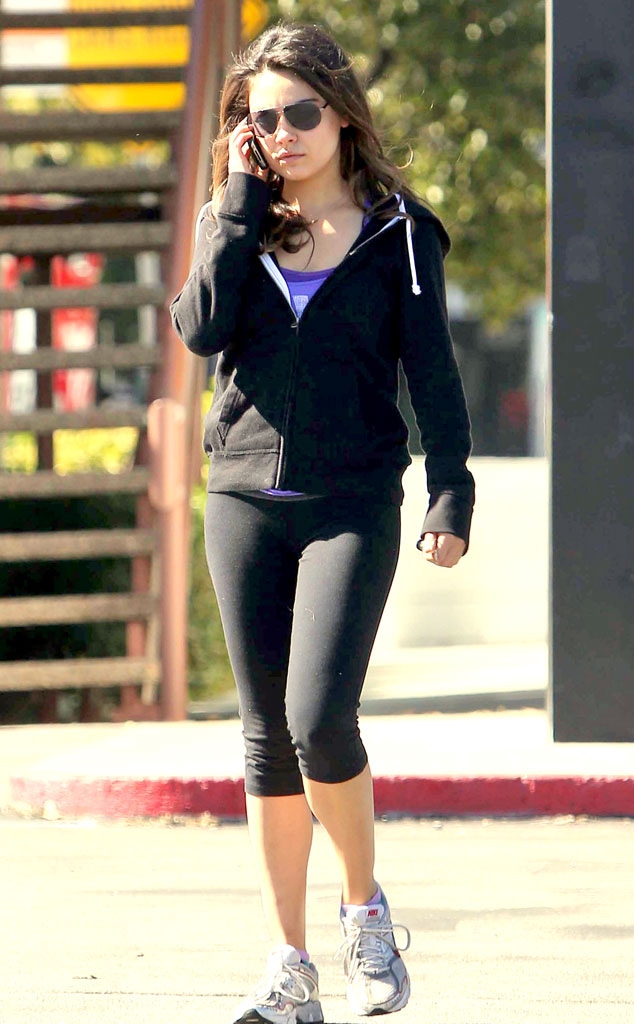 AKM-GSI
Mila Kunis is pregnant! She and fiancé Ashton Kutcher are expecting their first child together, a source exclusively confirmed to E! News on Sunday. We've adored Mila's cool style since her days on That '70s Show, and we're eager to see the beautiful star debut her bump in the months to come.
The Black Swan actress is known for her petite frame and commitment to health and fitness, often seen leaving the gym with a healthy drink in hand or taking it outdoors for an invigorating (and fun!) workout like Jet Skiing or snowboarding.
Over the years, she has enlisted the help of trainers like Brian Abercrombie to gear up for her roles, often relying on intense circuit training to whip her hot bod into tip-top shape.
With a bun in the oven, we're confident that Kunis will continue to stay on track to ensure a healthy and fit pregnancy.
Here are five ways to achieve just that: 
1. Try Pregnancy Yoga: Mila has already been spotted at prenatal yoga classes in L.A.—and for good reason! Celebrity nutritionist Kimberly Snyder swears by the calming practice because it relaxes nerves, decreases the chance of depression and improves mobility in moms-to-be. She also explains on her site that yoga builds strength and confidence and is effective for preventing excessive weight gain since it often eases stress, thereby eliminating unconscious snacking or overeating.
Best of all, yoga prepares the body for labor. "It teaches you to stay in touch your body, to breathe through discomfort, stretch and relax."
2. Hydrate: Michelle Lovitt, who has trained A-list moms like Courteney Cox and Julianne Moore over the years, says that drinking water is essential for pregnant women and encourages a sweat session for at least 20 to 60 minutes per day. "Water helps keep your energy up. It's important to stay hydrated during your pregnancy so that cells function effectively within metabolism and prevents dehydration. Dehydration in the third trimester can cause pre-term labor," she explains.
Lovitt also recommends packing smart snacks like hard-boiled eggs and Svelte organic protein shakes when you're on the go. 
3. Start Slowly: Sophie Jaffe, mom and nutritionist of Philosophie, advises easing into an exercise routine. "If you don't work out regularly pre-pregnancy, start slow with a new fitness program. I suggest walking 30 to 60 minutes a day when beginning. Swimming is an excellent form of exercise and is an amazing release for mamas' back and hips!" 
Karena and Katrina of Tone It Up recommend jump-starting your day with a workout before anything else. "Our best fitness advice to moms is to make time for you. Our recommendation is to exercise first thing in the morning because studies show that after just a couple weeks of exercising in the morning, you will increase your overall energy, decrease stress and you'll be more awake first thing." Might as well get used to it now!
4. Mix It Up: "Interval training is fantastic for pregnant ladies! Alternating between cardio and strength intervals is the most effective way to train and get everything in at once. While pregnant, you want to keep the intensity of your workout at a moderate level and not allow your heart rate to spike too high," added Anna Kaiser of AKT Motion, who has developed her Expecting More Boot Camp specifically for pregnant women, and also famously trains Shakira, Kelly Ripa and Naomi Watts, just to name a few.
"Listen to your body and do what feels good," she emphasized.
5. Fuel Your Body: Kaiser also recommends eating several small days to keep energy up. "Eat five to eight meals at around 300 calories each. This will boost your metabolism, fend off the dreaded food coma, and keep you from getting so hungry that you give in to temptation," she says. "Plus, the size of your stomach will shrink as you progress through your pregnancy to allow room for the baby, so starting this eating plan early will help you maintain good habits as you get to the third trimester."
Looking for a quick and nourishing snack on the go? Jaffe loves superfood smoothies packed with vitamins, proteins and good fats for the body. "Nutrients are essential to healthy development for the growing baby, the brain, organs and body weight. Adding green leafy veggies can help pack in extra vitamins and nutrients, while almond butter or an avocado can add healthy fats, and a superfood blend like Philosphie Green Dream or Berry Bliss can add plant based protein and bonus nutrients for mama and baby."