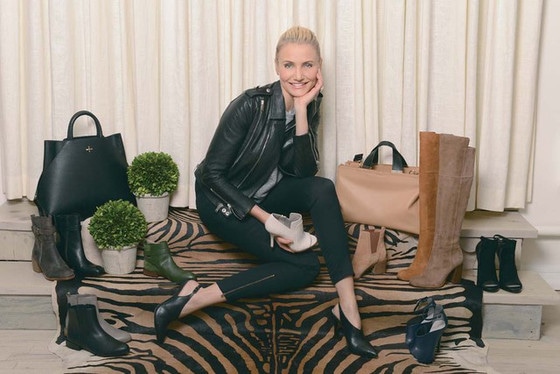 Steve Eichner/WWD
Is there anything Cameron Diaz can't do?
The gorgeous actress, who stars in The Other Woman, has been busier than ever lately promoting The Body Book, her first venture in publishing, and has been making the rounds ensuring that women everywhere are totally in tune with their bods for optimum health.
As if that wasn't impressive enough, the leggy lady has also signed on as Pour La Victoire's artistic director and has been hard at work behind the scenes finessing her first-ever footwear collection.
According to Footwear News, Diaz has been taking her new role seriously, working fast to acclimate to the fashion world's fast-paced schedule, charged with a mission to "refine" and "pare down" the existing line and give it a Hollywood-approved twist. 
"When I first came to PLV, I saw the potential in it because it was a brand that didn't really have its own identity. It was a little bit all over the place," the star said. "I looked at it as an opportunity to help create that."
So what does the collection look like?
Seriously sexy with a down-to-earth edge—much like Cameron, herself.
There are a number of slick peep-toe booties with contrasting color patterns and cool textures and fabrications, like suede, for added excitement.
All in all, the line is totally wearable and best of all, versatile for a gal on the go, who's a little bit laidback with an appreciation for high style.
Interestingly enough, Diaz will not be featured in any marketing materials, nor will her name appear on any of the product.
The brand hopes the messaging will evolve organically, and they're simply hoping for Diaz's creative expertise to lead this new direction for the company.
How clever!