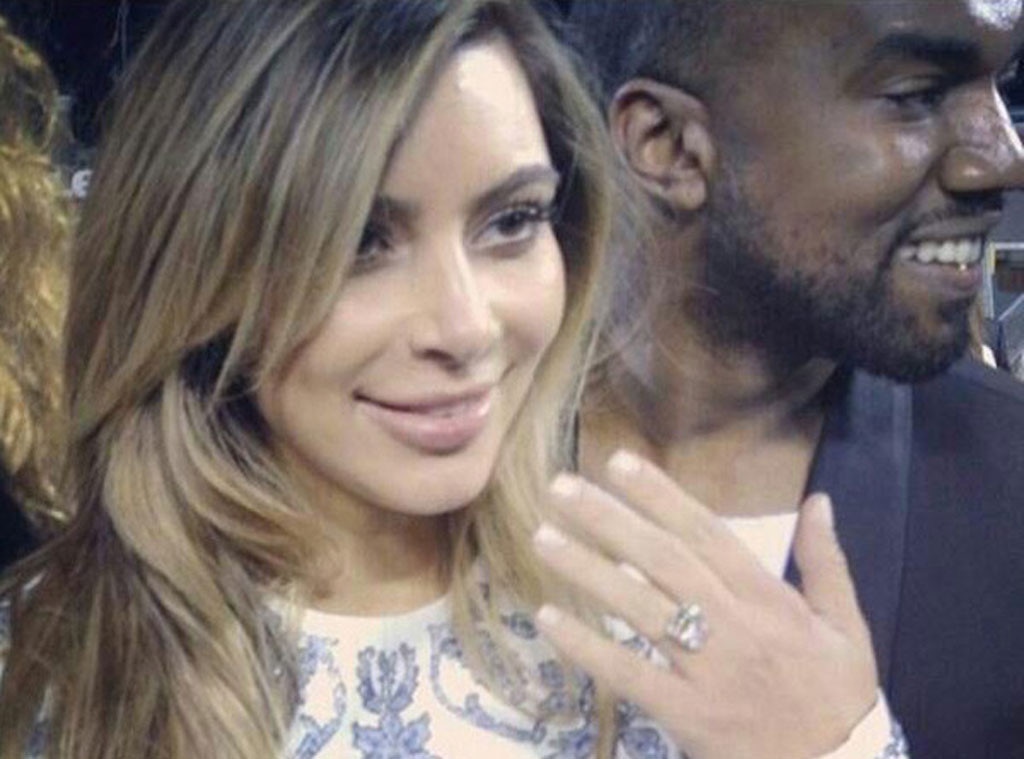 Twitter
It was one of the biggest and (grandest) proposals of 2013.
Kim Kardashian thought she was going to have a birthday dinner with her main man, Kanye West, in San Francisco. Little did she know that the fall evening would turn into one of the most romantic nights of her life.
From a 50-piece orchestra to a stunning 15-carat Lorraine Schwartz engagement ring, Kanye's proposal to Kim was nothing short of amazing.
Before we relive the extra sweet evening on this season's Keeping Up With The Kardashians, we've decided to take a look back at Kim and Kanye's road to becoming engaged. It's safe to say this season is going to be pretty romantic!
April 2012
Rumors of a romance begin to surface when the rapper releases a new track with DJ Khaled. In the single, West raps, "I'll admit I fell in love with Kim around the same time she had fell in love with him / Well, that's cool, baby girl, do yo thing."
A few weeks later, Kim steps out in New York City wearing diamond-studded earrings in the shape of the letters K and W. Hmm…wonder what that could have stood for?
October 2012
After taking their romance public, the couple quickly faces engagement rumors when Kim is spotted leaving a Christian Louboutin boutique in Miami Beach with a huge gemstone ring.
Mom Kris Jenner later confirms her daughter is not engaged. She's just wearing some blingtastic jewelry.
Dec. 2012
Just a few days before 2013 begins, Kanye makes a big announcement at his Atlantic City show. His girlfriend is pregnant!
"Keeping secrets is hard with so many family members! Especially when you are so freaking excited!!!!!" Khloé Kardashian tweets. "LOVE is everything!!!!"
June 2, 2013
It's baby shower time! Kim and 100 of her closest friends celebrate the upcoming arrival of baby North West in Los Angeles. The "ladies brunch" features handmade wildflower wreaths worn by all guests as well as an emotional toast from Kris Jenner.
As seen on Keeping Up With The Kardashians, Kanye and his family were also able to attend the celebration.
June 15, 2013
Five weeks before her due date, Kim Kardashian arrives at Cedars Sinai Hospital in Los Angeles to deliver her first child. With Kanye right by her side, Kim is able to welcome a healthy "Kardashian mini me."
October 2013
Talk about a birthday surprise! On Kim's 33rd birthday, the E! star arrives at AT&T Park for what she thought was a nice, romantic dinner. Instead, Kanye is ready to propose.
"I am the luckiest girl in the world!" Kim gushes to E! News. "I get to marry my best friend!" Ahh! We can't wait to see it!
Watch the two-night season premiere of Keeping Up With the Kardashians on Sunday, Jan. 19 and Monday, Jan. 20 at 9/8c only on E!