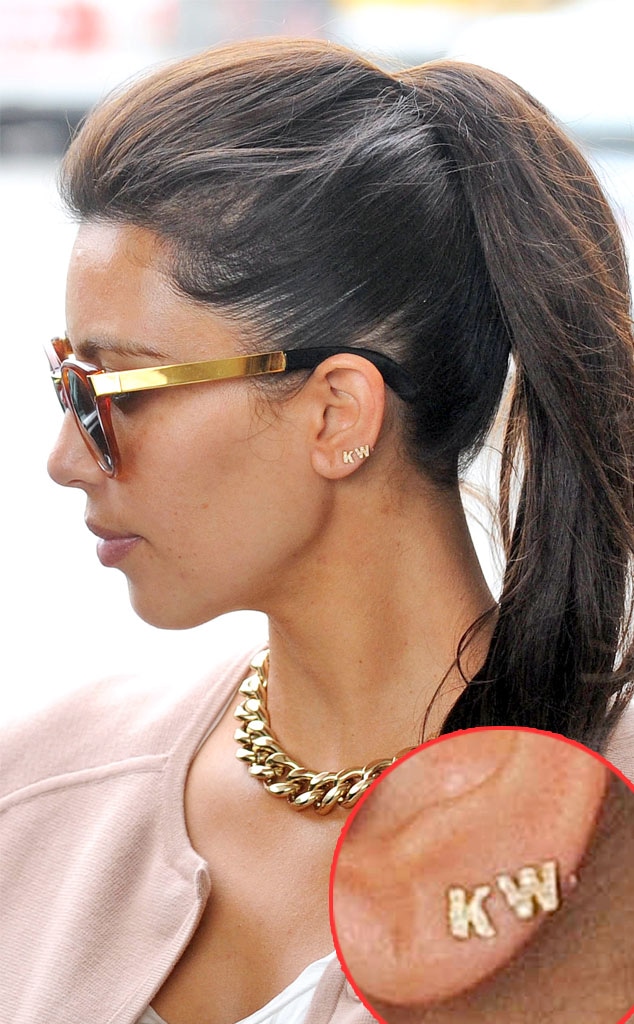 Splash News
It looks like Kim Kardashian is giving us a subtle answer to our question about her and Kanye West.
After the rumored couple were seen hanging out together again this past weekend in New York City, we noticed that Kim's ponytail revealed two gold and diamond-studded earrings in the shape of the letters K and W.
Hmm...wonder what that could stand for?
This is kind of the equivalent of doodling Kanye's initials on her binder or hand, but in a much more fashion-forward (and less messy) way. So we're thinking this Kimye thing is for real.
And Khloé Kardashian Odom's interview last night with Bravo's Watch What Happens Live host Andy Cohen only further proves that there's something romantic going on here.
Lamar Odom's other half confirmed that Kanye spent the weekend with the family, where they had a "double, triple, foursome date…whatever. He's great with the family, but again we've known him for so long, it's easy. It's not like some stranger getting into some hurricane."
As for the situation with Kim...
"I don't think it's serious; I think it's too soon, but because they're friends for so long, that it's just so easy, and that's something that I love seeing about Kim—the easiness and how happy she is. It's just more of like a great friendship, and friendships make the best relationships."
Do you guys think Kim and Kanye are good together? Let us know in the comments!