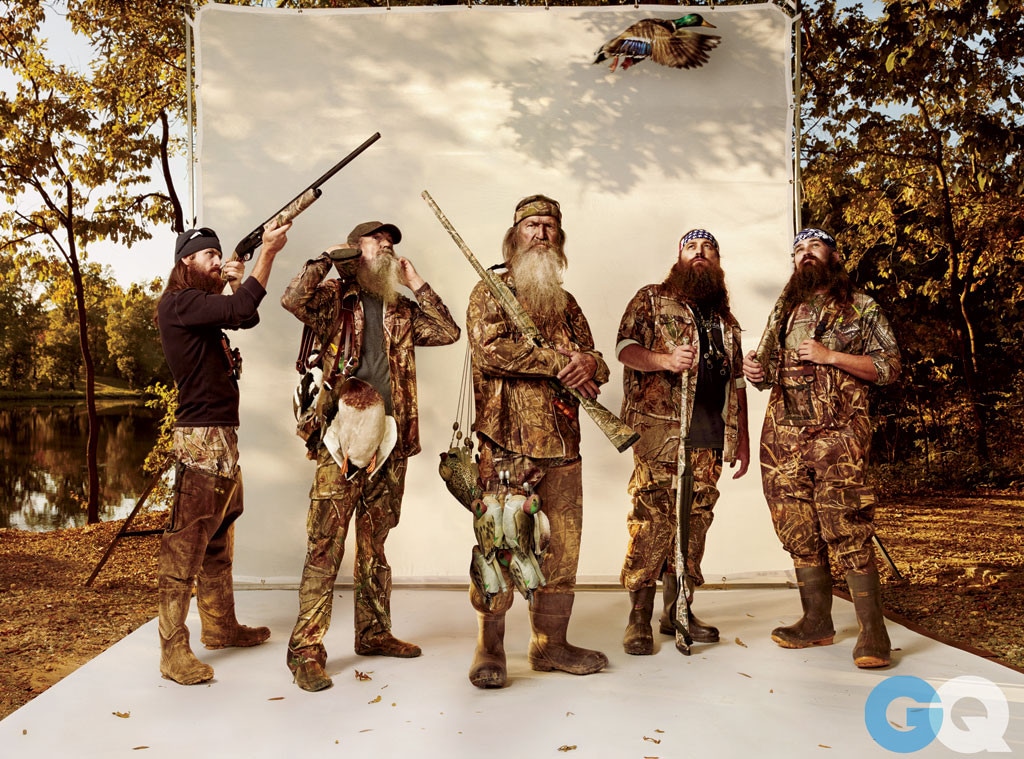 GQ
Do we have another Paula Deen situation on our hands?
Duck Dynasty star Phil Robertson's controversial comments may cost him and his family a lot more than he bargained for. Forbes estimates that the Robertson family's merchandise empire is around $400 million from deals just in the past year alone, and in light of his recent remarks, this fortune may be in jeopardy.
And that decision is in the hands of Walmart.
Nearly half of their $400 million is thanks to the large retailer, mainly due to apparel. Walmart announced at their annual shareholders meeting that the best-selling item of apparel for both men and women this year was the reality show's T-shirt.
"When I was down in Arkansas for this Walmart meeting, you really do marvel at the amount of people who are wearing these Duck Dynasty T-shirts and hats," Forbes staff writer Clare O'Connor said.  "There are kids pajamas, there is camo bedding and you probably won't be surprised to hear that they sell Duck Dynasty prayer devotionals."
This also includes the No. 1 country album on Billboard for the month of November, Duck the Halls.
 
"They've been so smart so far until yesterday's disaster at marketing themselves as this wholesome family. They hit every single retail category and every demographic for their viewer. However, you probably won't see a whole aisle at a Walmart in Boston devoted to these people, but you go down South and you do."
So it's easy to assume that Walmart, a company that dumped Deen during her N-word controversy, would do the same for the Dynasty crew, right? Not so fast.
 
"It's so early. What I do think is that Walmart will have to make some sort of statement. With the Paula Deen situation, they dumped her publicly. I think for this demographic, anti-gay rhetoric is not considered as much of a huge sin as racism.
"The ball is in Walmart's court. They are going to have to make some sort of decision on this. The only way this retail empire will be at stake is if Walmart decides they are not going to sell these items anymore and I really cannot see that happening. Other smaller brands will probably wait for Walmart to take the lead on this," O'Connor said.
However, if the family did lose Walmart, their duck-calling business will be a terrific fallback. O'Connor said the family sold 50,000 duck calls back in 2012 and that number grew to a million sold in 2013. That in itself is around $50 million in added revenue.
 
"They are going to be OK. They are killing it with their own company and I don't personally think this will affect them in the long-run. Walmart is going to do what their shoppers want them to do," O'Connor said.
The Robertson family patriarch has been suspended from their hit A&E reality show in light of anti-gay remarks he made in an interview with GQ, released yesterday, in which he grouped homosexuality in with bestiality as deviant behavior.
Duck Dynasty's fifth season is currently set to premiere on Jan. 15.