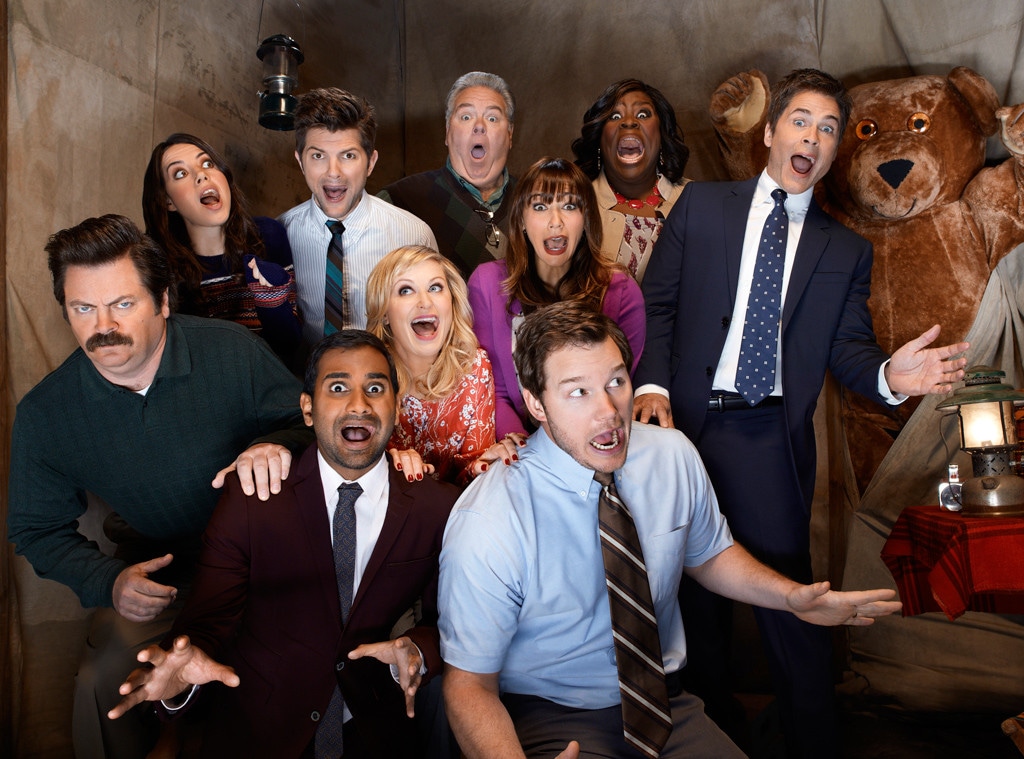 NBC
NBC's Parks and Recreation finally scored its very first Golden Globes nomination, and it is literally the most incredible thing that has ever happened to the human race ever in the history of mankind!
This morning's best (and most unexpected) surprise has us talking like Chris Traeger (Rob Lowe), and we aren't even going to apologize. So there.
Parks, a fan favorite (and critics' darling) for six years strong now, scored its first nod for comedy series, and it even had some super-cool-kid company:  Fox's Brooklyn Nine-Nine, which comes from the same genius mind of executive producer Mike Schur. (The show's leads, Amy Poehler and Andy Samberg also got nods.)
We just chatted with Mike Schur himself about what the nomination might mean for Parks' future (Do we definitely get a seventh season now?) and what's coming up next on Brooklyn and Parks. Hint: We will meet Ron Swanson's baby soon!
Are you just a pig in poo today, Mr. Comedy King of the moment?
It's great. It's really wonderful. I was making breakfast for my son and looked down and I had 71 emails, so I knew it was either something really good or really terrible. And it's really good.
Were you expecting the nods?
No. There are so many good TV shows on TV right now. It's really ridiculous and so I never think at all that anything I work on is ever going to be nominated for anything. That's the only safe way to play it, is you don't have a chance. I really didn't think either show would get it and, for Parks, we're in season six and it's never been nominated, so I thought that ship has sailed. It wasn't on my radar for either show at all. So doubly delightful.
Why do you think Parks finally got recognized?
I don't know why any of the awards organizations vote for anything they vote for. Obviously, it can't hurt that Amy [Poehler] just destroyed as a host last year. That' maybe a big part of why the show got more attention from them. I don't know why, I'm just happy that it did.
Are the Brooklyn and Parks casts all up in each other's grills like the Sharks and the Jets since they are competing against each other for Comedy Series?
Ha! Things are about to get super ugly, I think! No, the trademark of both shows is that everybody is incredibly nice who works on them. Amy and Andy [Samberg] both have the same amazing quality that Steve Carrell also had, which is that they're happiest when other people are being funny and it's a very rare thing in a TV star. And all of Andy's texts and emails are about the TV show and he's so happy about the show. Which is such a nice quality in a person. Amy is the same way.
The news that Parks was going off the air for a while royally upset the fans. Do you think Parks is in danger of getting canceled? And will today's Globe nomination help?
I think it was a little bit of panic over nothing. It was reported as a hiatus, but it wasn't actually a hiatus. It was NBC trying to make their 8 pm Thursday hour feel really big and special. Obviously, The Sound of Music Live! was the ultimate eventy-type thing they did. There was an SNL Halloween special and part of that was making our show into an hour long two night thing. It wasn't the same situation as normally when shows are off the air for a few weeks. But again, perception is reality, so people got upset. And it's nice when people get upset because they care about your show. But, you know, we are coming back in January and it's our 100th episode and we're going to be on at 8:30 instead of 8, which is nice. The answer is I have no idea if the nomination will help, but it's always nice to be nominated and it can't hurt as far as perception.
Are we going to see Andy Samberg on top of a mountain singing "The Hills Are Alive"? Or live musical episodes of Parks or Brooklyn?
Oooh, yes! Listen, whatever helps us keep making episodes. He would probably be thrilled to be doing that. We'll work on it.
I want to know everything you can tell me about Ron Swanson ever. I'm still bent out of shape about Nick Offerman's snub, again, so ease my pain with some scoop. Will we meet his baby this season?
Yes, you will indeed. His child will be born, which is very exciting. And terrifying. Although he's not a guy who gets easily ruffled by things. So I don't think it's going to materially change the way that he goes about his business. His child will be born.
What else are you excited about Parks?
The 100th episode is very special. Obviously to the show, but we have some really cool fun surprises that we shot for it. And we just finished the episode where we say farewell to Rob and Rashida, which is really sweet and nice. There's gonna be a lot of fun stuff in January and the rest of the year.
Would Leslie Knope from Parks and Jake from Brooklyn ever meet up in a crossover?
I would love to! But the biggest problem is that they're on different networks. They exist in different network realities so I'm not sure people would be thrilled with that.
Are you planning this May's Parks finale as a series finale or season finale?
We always approach it the same way, which is we just tell the story that we want to tell. And in the second half of the season we have an arc that is big juicy arcs for Leslie and her life and her professional life and so we're going to tell that story and that story will have a big ending at the end of the year. And then we'll just sort of see what happens.
What's in store for the Brooklyn Super Bowl episode?
We're shooting it now. It's very fun. There's a lot of Terry Crews and Andre Braugher together, which I love. The two of them have a big storyline together and they're really, really funny together. And then there's some Super Bowl specific stuff, but we really just tried to create a really just big bright funny juicy comedy story that we're hoping a lot of people check out the show for the first time because the entire universe watches the Super Bowl. And so we really just wanted to sort of introduce the characters to a wider audience; we tried to just build a couple stories that are really explaining in the funniest way who everyone is.
Does Parks feel different now that Rashida and Rob are gone?
Well, you know, we miss them a lot. I'm now editing the last few episodes that they were in and I have this feeling every time I see them of like, 'God damnit, Rob Lowe is so funny." We focus on them and their stories are mostly with each other because they're preparing for this big move. They really are just great in the episodes leading up to the departure. We do some big fun stories with them. It feels different in a bittersweet way because we miss them a lot. I just talked to Rashida the other day and I had to stop myself from begging her, 'Come back!'
Rob was nominated today for his role as JFK and let's be honest, Chris Traeger is the bigger political figure or our time.
Ha! I think you're right. I think Chris Traeger may have had a bigger impact on the people of America.