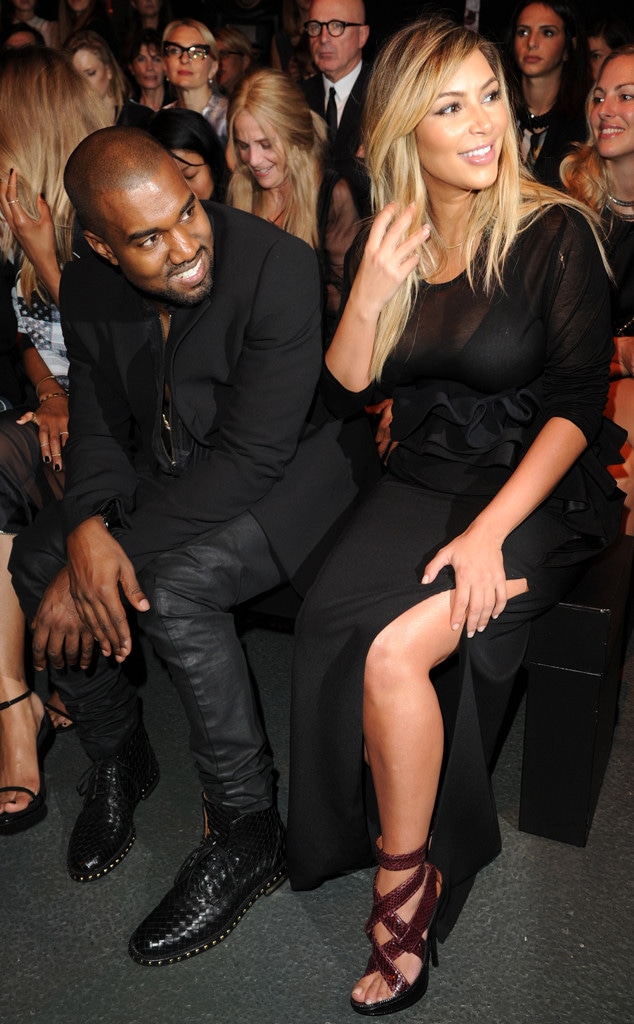 REX USA/David Fisher/Rex
Kim Kardashian got the birthday surprise of a lifetime tonight.
The E! star is engaged to longtime love Kanye West, the rapper popping the question in front of their friends and family at AT&T Park in San Francisco.
Kanye, whose Yeezus Tour touches down in nearby San Jose tomorrow night, rented out the stadium for the occasion. (For all the details on Kim & Kanye's surprise engagement, tune into E! News Tuesday at 7 p.m. and 11:30 p.m.)
And here we thought Kim's 33rd birthday bash at Tao this Friday was going to be the major event of the week. Kanye sure figured out a way to top last year's chocolate cake!
Earlier tonight, in fact, Kanye was hanging out with director Steve McQueen at the 2013 Hollywood Film Awards and was the first presenter of the night, making it all the more surreal when he touched down in the Bay Area just a couple hours later. (Way to keep 'em guessing!)
But remember, that's how these kids roll—with style and spontaneity. It was just last December that baby North's proud papa revealed to an arena full of people in Atlantic City that he and Kim were expecting a child together.
They welcomed their daughter on June 15 and it's been nothing but onward and upward for the happy couple ever since.
Kim laid low for a couple of months, keeping both herself and North out of the public eye, but once she was back in the spotlight, it was as if she'd never left. And not long after Kim and Kanye were spotted out toting a baby carrier, North West made her long-awaited debut in August when daddy showed off a picture of her on Kris Jenner's talk show.
Asked by Kris if he remembered it being "love at first sight" when he first saw Kim years ago, Kanye said, "Oh yeah, definitely."
The couple have actually been the subject of marriage rumors for over a year, with Kris telling E! News all the way back in August 2012 that the family "adored" Kanye and "we think they make an amazing couple. We just want them to be happy."
"[Marriage] is something I know that we both want in our future, but I don't have this sense of urgency about it," the twice-divorced Kim herself said in the February 2013 issue of Cosmpolitan. "I have this best friend who understands me and helps me through all my tough experiences, and vice versa, you know? It just feels like this is it for me."
For the complete story on Kim & Kanye's engagement, tune into E! News on Tuesday at 7 p.m. & 11:30 p.m.