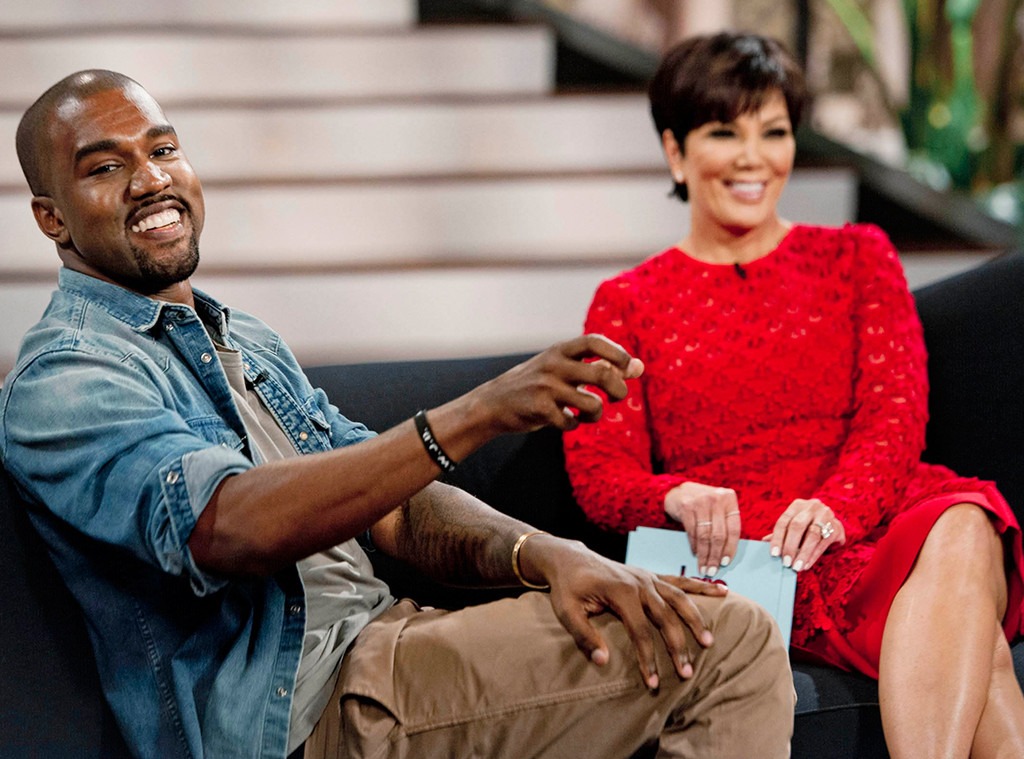 Barry J. Holmes/FOX
Kanye West may be a rap mastermind, but he's the first one to admit he's still finding his footing as a father.
Appearing on the season finale of Kris Jenner's talk show on Friday, where he unveiled the first public photo of he and Kim Kardashian's 10-week-old daughter, North West, the hip-hop superstar opened up about the moment he first laid eyes on his ladylove and the challenge of being a father to Nori under the harsh glare of the media spotlight.
When asked by the Kardashian family matriarch why he agreed to come on the gabfest, an uncharacteristically emotional West said that, as Nori's grandmother, Jenner offered the perfect comfort zone.
"As everyone knows, it's sometimes difficult for me to deal with the press. And at this point, it's almost an agenda to write me into a certain type of story," replied Kanye. "And I felt that this was a place I could express myself with love, with no agenda. Just sort of be safe."
The two subsequently chatted about when he and Kim first met—the exact moment which the Grammy winner admitted he had trouble recalling but noted the encounter happened when Kardashian was working for R&B songstress Brandy.
"I've tried to remember if the first time we met was her being in the studio when she was Brandy's assistant," responded West. "She brought us in something to drink that you can't drink on daytime TV. Or it might have been when I was doing Brandy's video and I remember asking my manager, 'Who's that girl, right there?'"
Whatever the case, when asked by Kris if it was "love at first sight," he added, "Oh yeah, definitely."
West also dished on the difficulties he's had as a parent given the constant presence of pesky paparazzi.
"For me as a dad, I'm supposed to be this musical genius and everything, but I can't work the car seat very well," the rapper admitted. "So I think, OK, what if I'm not working the car seat and lets add on top of that 20 grown men screaming at me in front of my child…and then taking photos and then putting it on 20 media outlets. And 20 million Americans screaming at me saying, 'You don't know, you're supposed to be a genius working a car seat, and I'm in a cold sweat…but if you think you got enough things to deal with as a new parent and you add that layer on top of it, it becomes really intense."
But West was quick to state that he's more than willing to put up with the press scrutiny because of Kim, whom he called "my joy."
"I love this person. She's worth it to me," he remarked.
Discussing his wilder bachelor days and how having a family has changed him, the "Jesus Walks" rapper couldn't resist raising the now infamous incident when he interrupted Taylor Swift at the MTV Video Music Awards a few years back.
"The last thing I would want to happen to my daughter is some crazy drunk black guy in a leather shirt to come up and cut her off at an awards show," he told Jenner about what he wants for Nori.
Kanye also acknowledged that some of his bad behavior was in part a reaction to the 2007 death of his mother, Donda West, who was his closest confidante.
"There were times [after her death], I would put my life at risk," he said. "I didn't have something to live for. Now I have two very special people to live for, a whole family to live for, a whole world to live for."
Jenner wrapped up the sit-down by giving Kimye fans their very first image of Nori, which she flashed briefly on screen and also later tweeted.
Check out the clip of Kanye revealing the baby photo below.