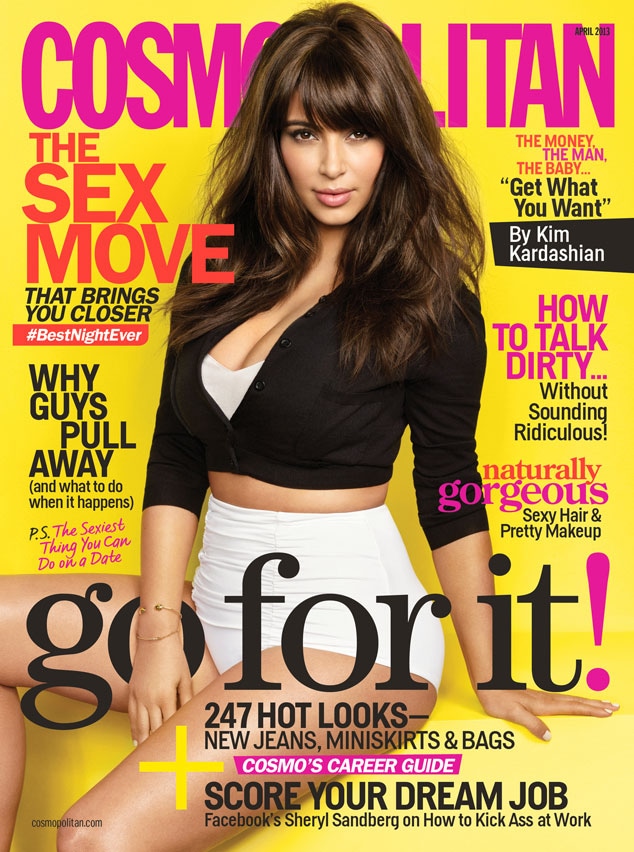 Cosmopolitan
Pregnancy sure suits Kim Kardashian.
The mama-to-be stuns on the April cover of Cosmopolitan magazine—which was shot just days before she announced her baby news—and dishes on beau Kanye West, having it all in a relationship and of course, baby Kimye.
"I've always said that I wanted kids, but I don't think I ever would have been ready until now," Kim said of her baby-on-the-way. "Sometimes you're just not ready. A person could have it all, and you're not ready for it all. But this is where I probably always should have been," she added, referencing her relationship with her rapper beau. 
Kim continued, gushing over her baby daddy and admitting marriage is no longer a must for the E! star:
"[Marriage] is something I know that we both want in our future, but I don't have this sense of urgency about it," she revealed. "I have this best friend who understands me and helps me through all my tough experiences, and vice versa, you know? It just feels like this is it for me."
Aw, so sweet! But Kim admits her easygoing attitude wasn't always the case, and she confessed she judged big sis Kourtney when her sibling got pregnant back in 2009: 
"I was like, 'You're not married! How could you do this?' I was really firm and strict. But she was like, 'Marriage isn't what I want.' And later, I realized she had a better family life than I did."
And not only has Kim learned life lessons from her sisters, but she's also grown from her past relationships:
"I saw fast marriages like Khloé and Lamar's and that was what seemed to work. [Now] I say give it a good six months before you commit. Feelings change, even if it seems so lustful," she explained. 
But regardless if Kimye ever decides to take the plunge, the reality star couldn't be happier in her relationship:
"I used to think, Well, can you really have it all? The truth, the excitement, and the passion? Now I know you can." 
Don't miss new episodes of Kourtney & Kim Take Miami Sundays at 9 p.m. on E!