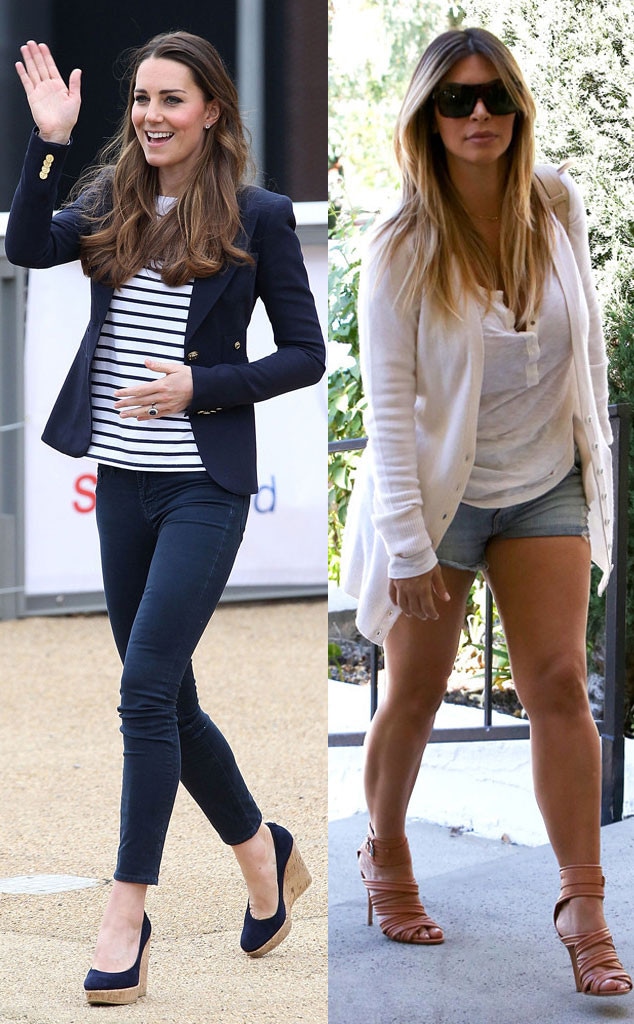 Mariotto/INFphoto.com, Danny Martindale/WireImage
Whoa, hot mamas!
Our favorite new moms Kim Kardashian and Kate Middleton both stepped out to show off their hot postbaby bodies this week, and it's safe to say that we're in utter amazement at how good they both look in such a short amount of time.
After all, they each just gave birth in June and July, respectively, meaning they wasted no time at all in taking care of themselves in terms of fitness and diet.
We're totally impressed.
Kate showed off a lean and toned figure in a signature look all her own that included a sharp navy Smythe blazer, J Brand skinny jeans, striped top and Stuart Weitzman wedges, proving that some girls really do have all the luck!
Trim and slender, the duchess looked flawless while attending the SportsAid charity event in London this week and even showed off her abs of steel while playing a bit of volleyball for fun.
We're told by a source that she maintains her figure by taking regular walks, running and hitting the gym, while also snacking on healthy treats like fruit smoothies and muesli bars for a nutritious boost after her workouts.
 Smart!
As for Kanye West's ladylove, Kim is looking equally radiant this week, and there's no telling what she'll wow us with next!
Yesterday, the reality star flaunted her sculpted legs in denim shorts paired with a simple white tee, long cardigan sweater, tan Gianvitto Rossi heels and a Balenciaga bag, proving that she's been hard at work to show off her famous curves for the cameras, just months after giving birth to baby North.
Earlier this week, she shocked us all with a jaw-dropping white swimsuit photo that certainly left little to the imagination, and we know that she's been sticking with the Atkins diet to drop weight safely and effectively.
One thing's for sure—this new mom is loving her hot bod and is exuding killer confidence right now—as she should!
Finally, we have to say that given Kate and Kim's two different body types, both gorgeous girls bounced back beautifully and are shining examples of how to embrace motherhood while in the spotlight.
Well done, ladies!