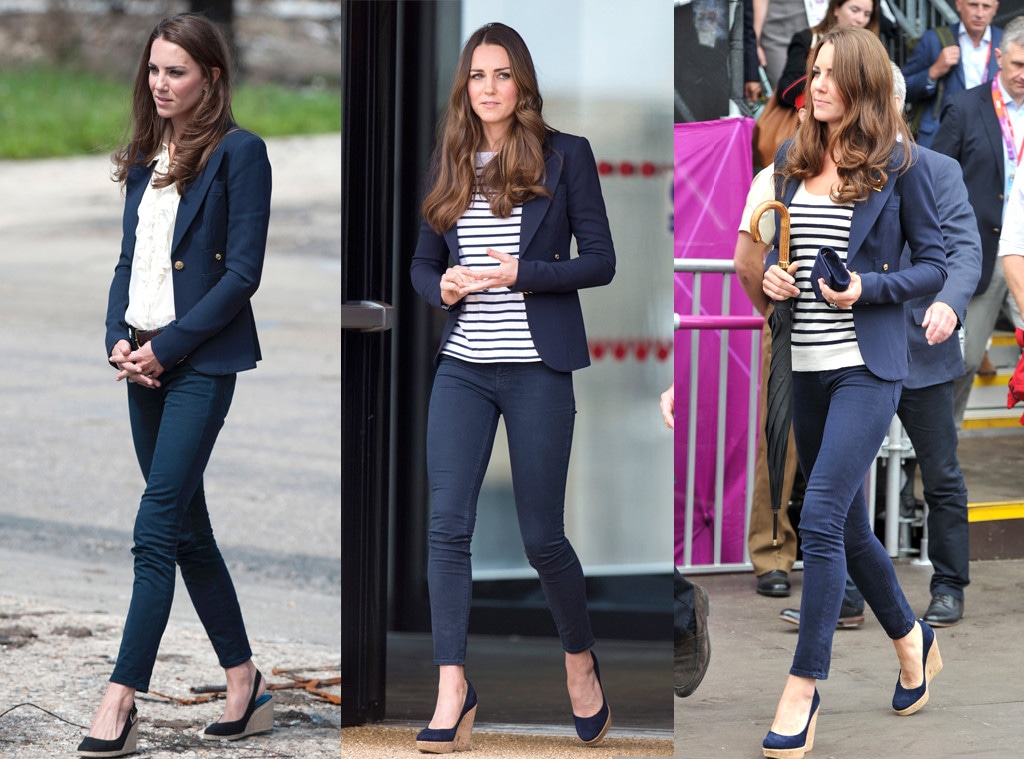 Getty Images
It's official: Kate Middleton has a favorite outfit.
Sure, we all know the Duchess of Cambridge likes to repeat looks, but considering she's worn her go-to J Brand skinny jeans, navy Smythe blazer and Russell & Bromley wedges more than thrice now—it's clear the ensemble is her top pick. 
In the last three years, the new mom has chosen to wear the look while fulfilling her royal duties. First in 2011, she stepped out in the pieces—pairing them with a ruffled blouse—while visiting Canada with husband Prince William. Then a year later while attending a London Olympics event with Prince Harry, she topped the look with a blue-and-white-striped shirt. This year, she opted to wear an almost identical outfit with a slightly different Ralph Lauren top (the only real different being in the brand and neckline, if we're being honest) while attending a SportsAid charity event in London.
The denim and jacket may only come out once a year but the wedges are a whole other matter. The cork heels are second only to her beloved nude L.K.Bennett pumps. She's worn the wedges on countless occasions and even has a pair in black.
As much as we love Kate's gorgeous frocks and gowns, there's something so modern about a royal choosing to throw on a pair of jeans (skinny ones at that!) every once in a while. If it's possible, we love Kate and her continued low-key style even more now.
What do you think of Kate's go-to outfit?