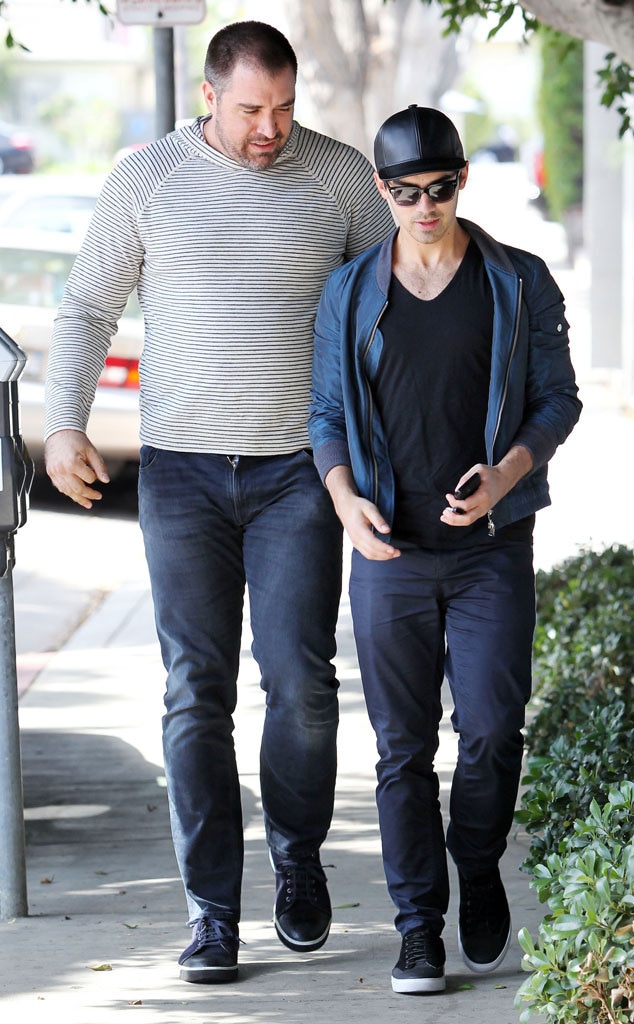 XPOSUREPHOTOS.COM
Joe Jonas was spotted with Demi Lovato's recovery manager in Los Angeles on Thursday.
The boy-bander was leaving a meeting in West Hollywood, Calif., and appeared to be in good spirits.
It's still too early to tell if the singer is employing Mike Bayer as his sober companion, or if the two are simply just friends.
Bayer is the CEO and founder of Cast Recovery, a rehabilitation facility located in Santa Monica.
Lovato has spoken about her experience with Cast, and even has a scholarship set up to help those with "mental health and addiction issues."
The X Factor judge told E! News that she started the scholarship to honor her father—who passed away over the summer.
"My dad suffered from mental illnesses…He was suffering so bad that he couldn't function in society normally and he couldn't get the help that he needed. So, when he passed away, I thought myself, 'I wish there was something I could have done,'" Lovato told us.
"And now, because he's passed away, I felt like it was too late and then I realized, 'Actually, it's not too late.' He wasn't a bad person, I didn't have the best relationship with him, and for so many years, I was mad at him, but when he passed away, I realized none of it was even his fault. He had mental illnesses."
Stephen Lovekin/Getty Images for Mercedes-Benz Fashion Wee
Bayer and Lovato appeared on Katie Couric's talk show last year to discuss her struggles over the years.
Interestingly, Joe has remained close to ex-girlfriend throughout her very public health issues and her decision to enter rehab in 2010.
"I wish her the best," Joe previously told Details magazine.
And during a guest appearance on Andy Cohen's Watch What Happens Live over the summer, Joe confessed that he and Demi "are very cool now."
Jonas and Bayer's outing comes on the heels of the Jonas Brothers announcing that they canceled their tour earlier this week.
E! News confirmed that the boy band had decided to cancel their upcoming tour two days before it was set to begin due to "a deep rift within the band," their rep told us.
"There was a big disagreement over their music direction."