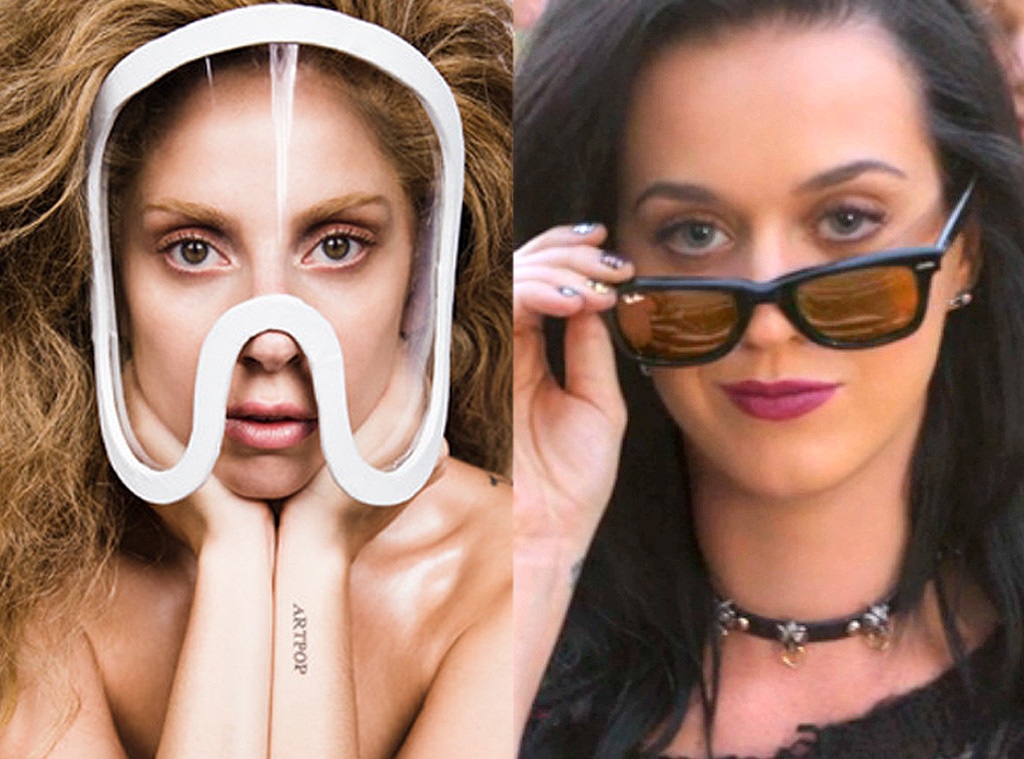 Facebook, Vevo
Katy Perry and Lady Gaga have teamed up—and it's not for a duet.
Both singers' respective new songs leaked online over the weekend, and the popsters jointly vented their frustration while tweeting their support to each other.
A snippet of Mother Monster's new track, "Applause," which is still due to drop on Aug. 19, found its way online on Saturday. Meanwhile, Perry's hot new ditty, "Roar," also leaked on Saturday, ahead of its planned Monday release.
Although Gaga is still keeping her full song under wraps, Perry's "Roar" leak forced her to release the song early.
The purported hacking didn't leave Gaga amused.
"Lord, in HEAVEN WHY," the 27-year-old songbird tweeted over the weekend, seemingly in response to the leak, before adding: "YOU JUST COULDNT WAIT THIS IS TOO MUCH FOR ONE SATURDAY."
She then sent a passionate tweet to Perry.
"Wanna grab some shovels and f--k up some hackers?" Gaga wrote. "@katyperry excited to hear your ROAR, sorry to hear about your truck!" Mother Monster added, referring a fender-bender involving Perry's promotional truck for her upcoming album, Prism.
Gaga's Twitter support did not go unnoticed.
Early Sunday, the 28-year-old Perry wrote her back: "@ladygaga what a WILD weekend so far...claws out, paws up! Looking forward to puttin my hands up & making them touch too!"
Perry also retweeted Gaga's earlier missive calling for fans to focus on artists' music instead of firing up feuds: "Let's make 2013 a year where music/talent/artistry is more important than gossip/fanwars I respect all fanbases 4 their passion #BeTheChange."
John Mayer's ladylove has steadily been building buzz for "Roar" by unveiling a slew of teaser videos that show her chucking her frothy Teenage Dream persona. In one, she burns her blue "California Gurls" wig, and in another, she attends a funeral featuring a casket laden with pink flowers and spinning candy-cane wheels.
Perry's new album, Prism, drops on Oct. 22, while Gaga's latest effort, ARTPOP, hits stores on Nov. 11