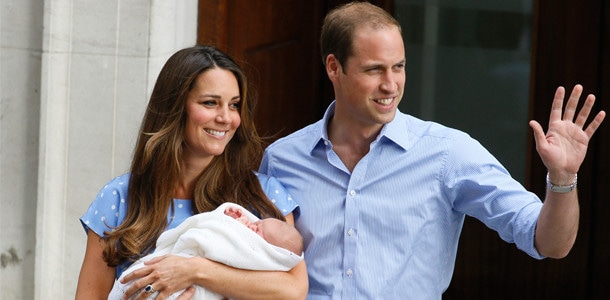 AP Photo/Kirsty Wigglesworth
Meet the Prince of Cambridge!
Prince William and Kate Middleton proudly debuted their son on the steps of St. Mary's Hospital today just before heading to their home at Kensington Palace. 
The new mother told the crowd, "it was very emotional, it is such a special time."
Will, who cradled his son, told reporters that the baby takes after his mother, saying, "He's got her looks, thankfully."
Afterwards, Will loaded the newborn into a car seat and the new family (with the help of one aide) drove off.
The Duchess of Cambridge gave birth to her first child on July 22 at 4:24 local time after going into the early stages of labor and checking into the hospital in the early morning.
The couple took part in a tradition that has been going on for ages. In fact, Princess Diana and Prince Charles showed off their newborn son on the same exact steps in June of 1982, just one day after she gave birth.
Watch:
William and Kate Show Royal Baby!
Back then, Princess Diana clutched her first child tightly as she introduced the Prince of Wales to the entire globe.
The late princess took part in the same ritual in September 1984, when her second son Prince Harry was born.
This is an iconic moment for the new parents and symbolizes their child's entrance into the world of royalty.
Kate gave birth to the Prince of Cambridge in the Lindo Wing of St. Mary's, the exact same wing William's mother gave birth to both sons.
The medical team that was assigned to deliver the child was led by Dr. Marcus Setchell, Queen Elizabeth II's former gynecologist, who was assisted by Dr. Alan Farthing, the queen's current gynecologist and surgeon.
The Middletons arrived at the hospital earlier this morning and greeted fans as they went to visit their first grandchild.
Carole, Kate's mom, told reporters that the baby is "absolutely beautiful" and that both mother and newborn are "doing great."
"We are so thrilled," she added.
After an official statement was released on Monday, a birth announcement written on Buckingham Palace letterhead was placed on the same easel that was used to announce Will's birth 31 years ago.
Today marks the start of a new chapter for the gorgeous couple, as well as a new era for the royal family altogether.
Congratulations are in order for the happy and healthy family of three!
Tune in to E! News for continuing coverage of the royal baby!
(Originally published on July 23, 2013 at 11:17 a.m. PT)