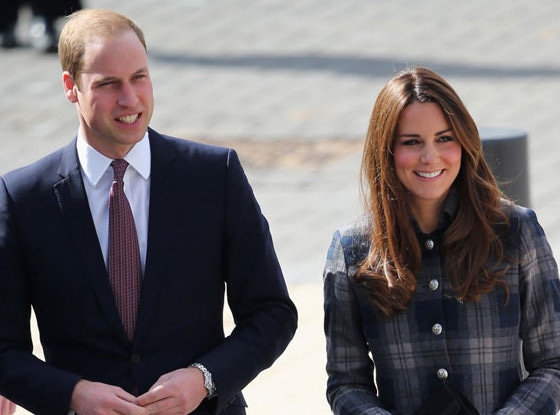 Chris Jackson/Getty Images
Kate Middleton and Prince William are parents to a baby boy!
The Duchess of Cambridge gave birth to the couple's first child together today at St. Mary's Hospital in London.
A royal aide announced the good news with a proclamation signed by the doctors who delivered the wee HRH Prince of Cambridge.
Kensington Palace announced that the couple's firstborn weighed in at 8 lbs 6 oz. and arrived at 4:24 p.m. local time.
"Her Royal Highness and her child are both doing well and will remain in hospital overnight," a statement read.
A Buckingham Palace spokesman said: "The Queen and Duke of Edinburgh are delighted at the news."
Middleton arrived at the hospital at 6 a.m. local time after going into labor. She was joined by her hubby, who was by her side every step of the way. The two entered the hospital through a side door and were driven from Kensington Palace via a two-car convoy. 
The palace announced that it was making a last-minute change to the birth announcement plans. Traditionally, news of the arrival was posted on an easel by a palace aide—the same easel used when William was born 31 years ago—just inside the front gates for the press. This time, however, a formal announcement was made prior to the formal signed bulletin being posted on display.
The notice will still be seen and remain on the easel for 24 hours before it is sent to the Privy Council (the queen's formal body of advisors, made up of members of parliament). 
Kate and Will's baby is the first grandchild of Prince Charles and he or she is Queen Elizabeth II and Prince Philip's third great-grandchild.
On what happened to be Kate's 31st birthday this year, the queen paved the way for the child to have an equal shot at a title regardless of gender with a Letters Patent stating: "All the children of the eldest son of the Prince of Wales should enjoy the style, title and attribute of Royal Highness with the titular dignity of Prince or Princess prefixed to their Christian names."
The decree overturned the previous rule set in place by Elizabeth's grandfather, King George V, that would have prevented a daughter—even a firstborn one—from being a princess. (Well, an official princess, anyway.)
Kate gave birth in a private suite in St. Mary's exclusive Lindo Wing, the same place where Princess Diana had Will and Harry.
It's highly likely that the first glimpse the world gets of Kate and Will's baby will be right outside the hospital, which is where Will also made his debut in his mother's arms.
The press have a specially designated area to wait it out—which they may be doing until the entire family of three head for home.
Tune in to E! News for continuing coverage of the royal baby!
(Originally published on July 22, 2013 at 12:32 p.m. PT)