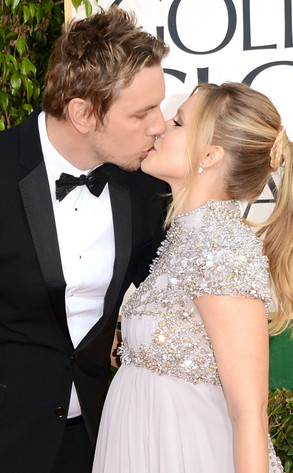 Jason Merritt/Getty Images
UPDATE: Kristen Bell's rep said in a statement to E! News:
"They have been engaged for 2 1/2 years and have been waiting for this day so they can officially wed. They are beyond thrilled for their friends in the gay community."
________
Love is in the air!
Bell was so excited by today's monumental news about gay marriage that she proposed to her fiancé, Dax Shepard, via Twitter.
Upon learning that the Supreme Court had ruled that the Defense of Marriage Act was unconstitutional, Bell gleefully posted the following message to her beau: "@daxshepard1 will you marry me? Xo #marriageequality #loveislove"
Bell also tweeted her support for today's ruling, saying, "You're damn right DOMA is unconstitutional!! #equalitymatters"
While Shepard has yet to directly respond to the romantic proposal, he did hint that his wedding to the loveable actress is in the near future with the following tweet: "DOMA is dead. Prop 8 is dead. Now let's bring my big, gay marriage to @IMKristenBell to Life!!!!"
The adorable couple has been engaged since 2010 and have been public with their decision to withhold from marrying until their gay friends were able to as well.