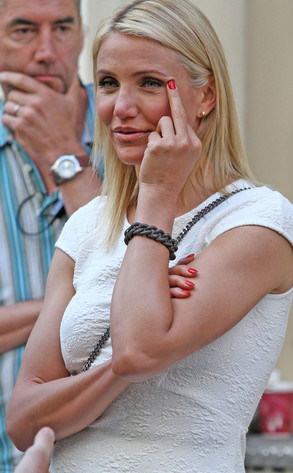 Lenny Abbot, PacificCoastNews.com
Feeling bold, Cameron Diaz?
The blond beauty was spotted in NYC on the set of her upcoming flick, The Other Woman, where she was snapped subtly flipping the bird for the camera.
The stunning actress was filming scenes with costar Nikolaj Coster-Waldau, and apparently, Cam flashes her middle finger for the flick, which tells the story of a woman (Diaz), who, upon finding out she's not her boyfriend's (Coster-Waldau) primary lover, teams up with his wife (Leslie Mann) and other mistress (Kate Upton) to plot revenge.