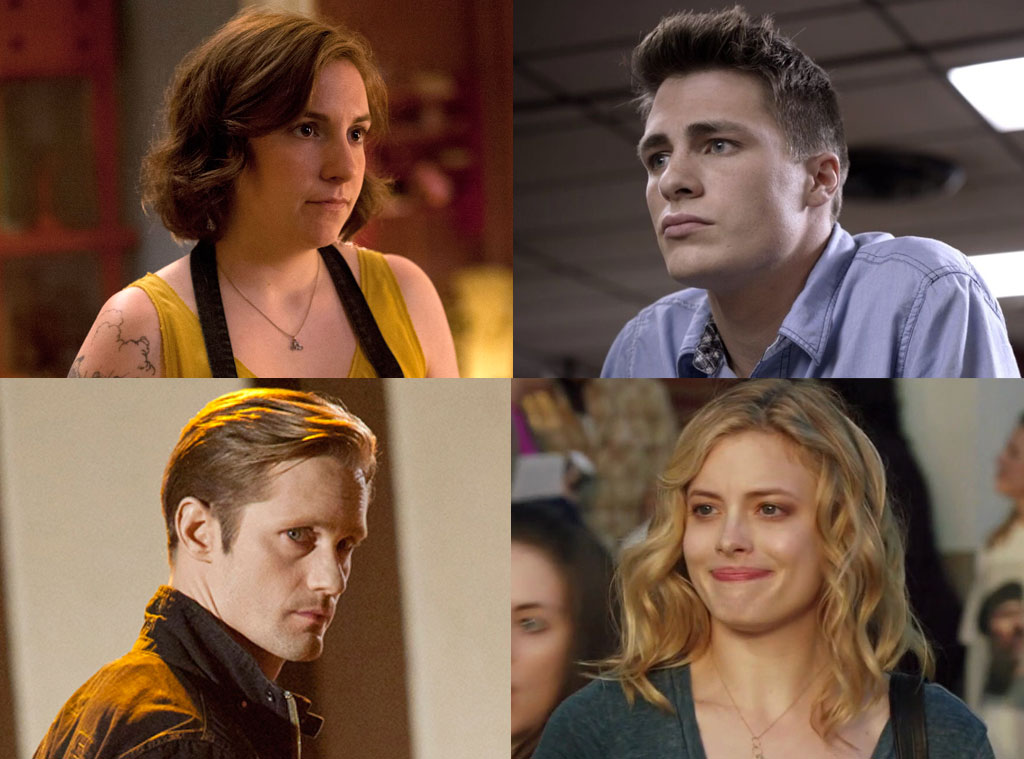 NBC, MTV, HBO
The bromance is over!
Of course, we are talking about the always-delicate friendship between Eric and Bill on True Blood, which Alexander Skarsgård was happy to tease for us in today's Spoiler Chat, which also includes scoop on an upcoming fight on Girls that fans will be quoting for some time and the lowdown on what a fan-favorite Community couple will be up to in season four. Plus, we've got scoop on Jackson's exit on Teen Wolf, The Walking Dead, 90210 and more.
Nicole F.: Regarding the baby blind item...will the father of the baby be happy when he finds out?
He will definitely be taken by surprise, but it's hard for this character to carry a grudge for too long about anything. Both mother and father will learn to embrace their future-parenthood duties, which is when things get really funny!
Evan: Loving this season of Girls! What can you tell us about Sunday's episode?
Hannah and Marnie have another epic fight! Well, it's sort of one-sided, considering Hannah finds out about Marnie and Elijah's quick tryst and confronts her BFF, after taking a certain substance for the first time and with her ex-junkie neighbor/admirer in tow. Cue one of Girls' best and funniest scenes ever.
Maya: True Blood scoop? Particularly of the Eric variety?
"We just started True Blood season six two weeks ago," Alexander Skarsgård reveals to us. So where are the naked on-set photos? We kid. Sort of. Skarsgård also spilled that the Bill-Eric dynamic will be more explosive than ever in the new season. "Bill is kind of dangerous now, even for an old, strong vampire like Eric," he tells us. "So he's got to be real careful." As long as he's shirtless while he's careful, we're onboard.
Brendan: How will Colton Haynes' exit be addressed when Teen Wolf returns?
Thanks to a handy-dandy four month time-jump, Jackson's absence in Beacon Hills won't be weighing down any of our characters that much and we'll learn what happened to him thanks to a quippy explanation from Lydia. In the same vein, look for Isaac to have more of a presence in season three now that Jackson is gone.
Jess: Got any 90210 scoop?
What do a sexy attorney, a judge and a prison security guard all have in common? No, this isn't the set-up for a punch line, it's what fans can expect to see in 90210's 20th episode of the season. Yep, seems like someone is going to the big house. Yikes!
Ashleigh: Can you tell us about what's coming up for Troy and Britta when Community returns?
Coupledom, Community-style! What does this mean? Lots of handholding, water fountain fights and tip-toeing around the whole Abed of it all. In the third episode, Troy feels threatened (in a totally jealous girlfriend way) when Abed makes a new friend, but Britta is totally there for him. Seems like these two might just make it through senior year!
Eric: Any updates on Walking Dead?
Check out the new trailer that showcases the inevitable showdown between Rick and the Governor. War is coming!
Alex R.: It's hard for me to admit this publically, but I'm a Whitney fan. Can you give me spoilers?
Someone in Whitney's life is thinking seriously about changing her appearance. OK, it's a bit more extreme than that: A member of Whitney's family will be meeting with doctors to start the sex change process. And although Whitney is supportive of their decision, the trip to the doctor's office does not go well at all.
—Additional reporting by Jenna Mullins and Tierney Bricker

Want your TV questions answered in our next Spoiler Chat? Email them to tvdiva@eonline.com or tweet at @KristinDSantos!