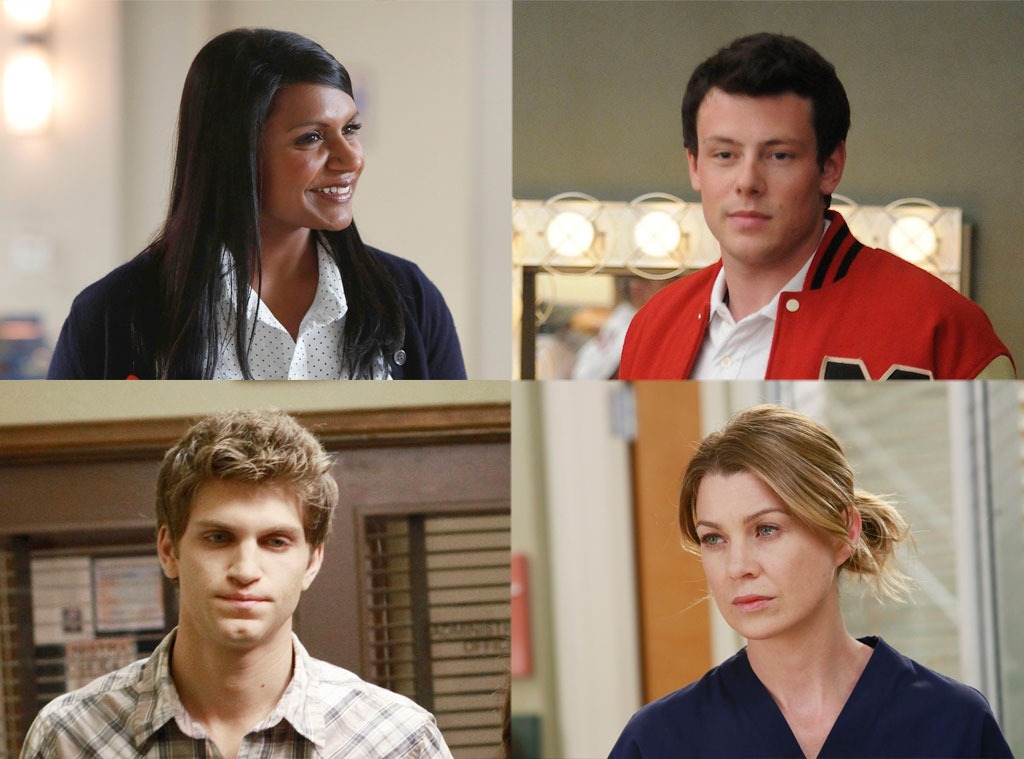 FOX; ABC; ABC Family
Breaking news: Glee's back! It's finally back!
In honor of the Fox hit's return, we've got scoop on a fan favorite couple...who currently isn't together. But will they be reuniting soon? Also in today's Spoiler Chat, we've got scoop on Pretty Little Liars' Spencer now that she's learned the truth about Toby and new info on season eight of Dexter courtesy of Michael C. Hall. Plus, we've got inside intel on Grey's Anatomy, The Mindy Project and more...
WesleyPomatto: If Don't Trust the B is canceled does that mean Happy Endings is gone too? Say it ain't so!
Totally woulds if we coulds! An ABC source tells us that a decision has yet to be made on Happy Endings' future, but stresses that the network's president Paul Lee is a huge fan. So right now it has about a 50-50 chance for a renewal. Impromptu prayer circle in the comments is in order, no?
CoryConquersAll: What is next for Finn on Glee?
A reunion with his ex-lady! Alex Newell tells us that Finchel fans just need to be a little bit more patient, because the couple will be reunited soon. "They're in two different states [right now], but they have some stuff coming up," she reveals. Bonus tidbit, Newell spilled that Lea Michele and Cory Monteith are "lovey-dovey" off-camera whenever they are together. Awww…isn't that sweet?
Rachel in Philadelphia: Is it possible to get some Grey's spoilers out of you?
Only if you send us chocolate. Or money. Or chocolate-covered money. Once the goodies arrive, we will tell you that one of Seattle Grace's finest will deal with a patient who is battling a fatal disease and thus, wants the doc to help him participate in an assisted suicide. This particular doctor (no, we can't reveal who) will have trouble going through with it, which puts them at odds with the patient they truly care about. It turns into quite the emotional episode, and no one can make us cry like Shonda Rhimes. Do your worst, Grey's boss!
Geena: Love me some Danny on The Mindy Project. What's coming up for him?
If you wanna know all about Danny's past, then episode 18 is the one for you. We'll get to hear about Danny's eating habits when he was a kid (read: he was fat), plus his dating history (spoiler: he was quite "progressive" in his lady choices). But if that doesn't tempt you, then a moment between Danny and Mindy at the end of the episode might do it for you.
Madison: I need to know what's next for Spencer now that she knows about Toby on Pretty Little Liars! I felt so bad for her!
Spencer is about do take a dark turn! Creator Marlene King teases, "When she accepts that Toby is in the 'A' Team she has nothing left to lose, so she does things that we we would never expect Spencer to do." Bonus PLL scoop: King says fans will learn how the Uber "A" assembled the team's members in the finale. Blackmail or recruitment? Hmmm…
Jason in Anderson, S.C.: I miss Dexter, so any bit of info you have will be appreciated. Thanks!
What a coincidence! We just chatted with Michael C. Hall about the new season, which started preproduction this past Tuesday. "In mid-February we will start shooting," Hall reveals. And about that cliffhanger that we ended on...that situation is going to get worse before it gets better. "The writers manage to put the guy in hotter and hotter water," he teases about the season premiere.
Mary Anne: Parks and Rec spoilers!
Lots happening as Parks and Recreation's season winds down, and not just with Leslie. Dennis Feinstein, Tom's hero in the cologne world, returns for more shenanigans. April is thisclose to her dream job (hint: it involves animals). Chris, the healthiest human ever, has a little mishap that puts him in a cast, and Ron's health might be in danger! (Phew). Of course, all those goings-on equal Parks and Rec hilarity, so it all works out.
—Additional reporting by Jenna Mullins and Tierney Bricker

Want your TV questions answered in our next Spoiler Chat? Email them to tvdiva@eonline.com or tweet at @KristinDSantos!