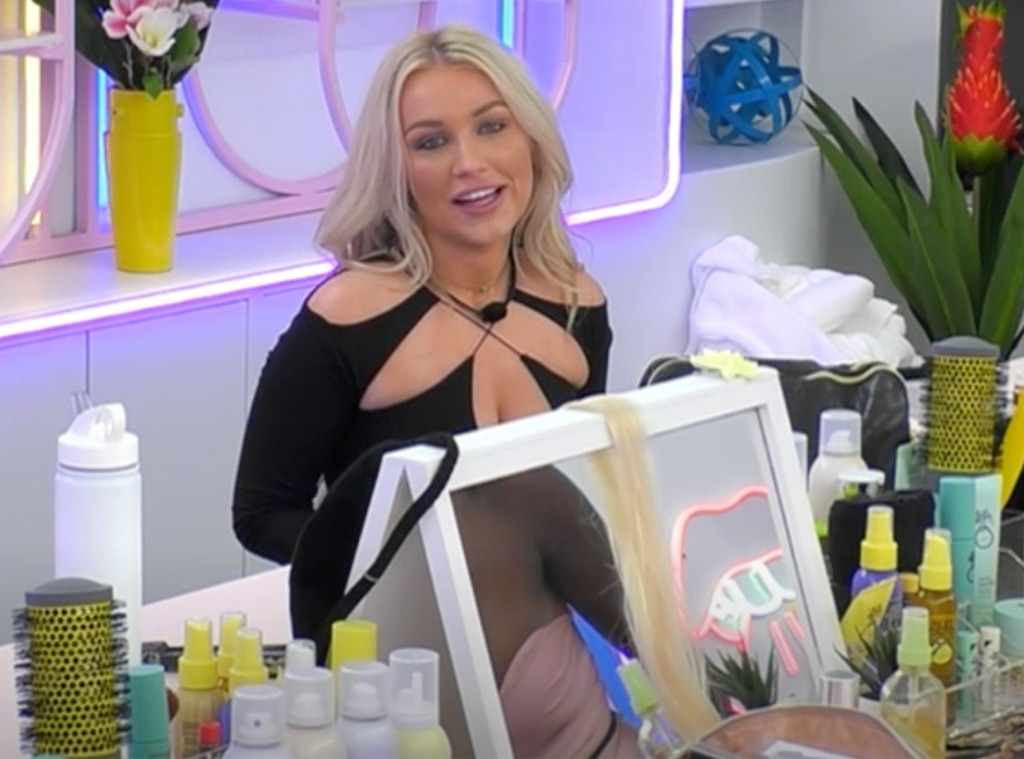 Peacock/Love Island
These products are partners of NBCUniversal Checkout. E! has affiliate relationships, so we may get a commission if you purchase something through our links. Items are sold by the retailer, not E!. Prices are accurate as of publish time.
Peacock has gifted the viewers with six Love Island USA episodes every week. That's a lot of camera time for the Islanders, which means we've seen a ton of swimsuits, printed shirts, sunglasses, and under-eye gels throughout the season. If you want to turn your reality TV viewing into a shoppable experience, you are in the right place.
All season long, we will track down the Love Island must-haves, like those iconic neon signs, the plush beach towels, and the villa umbrellas. This shoppable moment is all about the glam room. It's where the girl chats happen, tea gets spilled, and of course, it's where the getting ready takes place. If you're wondering how the Islanders have maintained their glam throughout the season, we examined the glam room. Shop the Sun Bum skincare, sunscreen, makeup, and hair products that the cast has used this season.
The Love Island USA Glam Room
Sun Bum Hair Products from Love Island USA
Sun Bum Revitalizing 3 in 1 Leave-In Conditioner Spray Detangler
Don't waste your time brushing out the knots in your hair. Instead, just make your life easier with this Sun Bum detangler. This is actually a three-in-one product that conditions and protects your hair in addition to detangling, according to the brand. 
This spray has 7,700+ 5-star Amazon reviews, with one shopper raving, "I'm not one to leave written reviews. Stars, sure, but that's about it. This review is totally worth my time... I was skeptical... My hair has never been more silky, soft, shiny, and light! Under that hot Caribbean sun, my hair was healthy and protected. Oh and the smell?! AMAZING. So amazing, I want a drink to match it. My hair SMELLS great, LOOKS great, and FEELS great! This is not just a product to protect your hair from sun, chlorine, and environmental damage. I've literally used this after every single wash since I bought it and not just because I'm addicted to that delicious beachy scent. This is now a staple for me. Must. Have."
Sun Bum Sea Spray
If you're looking for an effortless beachy look extra body, waves, and texture, just spritz this texturizing and volumizing spray in your hair. It provides heat protection, a medium level hold, and a matte finish, according to the brand.
This texturizing spray has 3,200+ 5-star Amazon reviews, with one shopper gushing, "Since 2008 I have tied so many sea sprays. I am in the hair industry so I am always looking for the best professional products. I thought what is the harm trying not a "drug store" product this time. This is better than most professional products out there. It didn't make my hair greasy which is easy to do. It is light weight and perfect for fine and low density hair. I personally love the smell and will tell my client to get this product!! Hope this helps you!"
Lip Care Products from Love Island USA
Sun Bum Tinted Lip Balm
Get hydration, sun protection, and a subtle wash of color with this tinted lip balm from Sun Bum, which comes in six colors.
The Sun Bum Tinted Lip Balm has 4,200+ 5-star Amazon reviews, with one shopper sharing, "This is my 2nd sun bum tint color I have tried. I got my first stick in Colorado on vacation when I was in the sun and my lips were DRY. I keep going back for the moisturizing effect, the scent & flavor, and the beautiful hint of color. This shade is bon fire and I love it! It's got a bit more pink in it then I expected but it's got a natural look that goes with a day or night look. Purchase it!"
Sun Bum Ocean Cocobalm
Treat your lips with this hydrating balm infused with aloe and coconut oil.
This product has 2,300+ 5-star Amazon reviews, with one shopper writing, "The amount of moisture that comes out of this pocket sized tube is mind blowing!"
Skincare Products from Love Island USA
Sun Bum Skin Care Hydrating Face Serum with Niacinamide and Vitamin E
This moisturizer is super hydrating and it absorbs into your skin quickly, which is perfect for anyone on the go.
An Amazon shopper raved, "This product offers excellent moisturizing cream that replenishes what the the sun, wind and salty ocean water depletes.
The pump dispensers easily and the bottle travels well. The scent is not overwhelming as there's barely any at all. The cream is a light weight cream that blends into your skin easily and quickly. It doesn't cake or clog your pores. I highly recommend if you spend any time outside."
Sun Bum Skin Care Hydrating Under Eye Cream
If you have tired, puffy eyes with dark circles, add the Sun Bum Skin Care Hydrating Under Eye Cream to your daily routine. This product is hydrating and it's great for day or night, per the brand.
A fan of the eye cream said, "A little definitely goes a long way, and I definitely saw an improvement in the circles and darkness under my eyes. I know that's not necessarily what the it's for but it helped me not to look so tired. I have very sensitive skin but noticed no aggravation or irritation, or burning of my skin when I put this on. very happy with this."
Sun Bum Skin Care Restoring Night Cream
Get the most from your beauty sleep with the Sun Bum Skin Care Restoring Night Cream. According to the brand, the formula has "antioxidant-rich Banana, Niacinamide and Vitamin E and works hard to help soothe, nourish and replenish" skin. Just put a dime-sized amount on your face and neck before bed, go to sleep, and let this product do its thing.
A fan of the cream said, "I have tried different products from Sun Bum brand and I personally really like their skin products and this night cream is one of my favorite products from this brand. It's very light weighted and gentle but very effective at the same time. This night cream comes in a simple design packaging and for the quality, I think the price is good. The texture is creamy but not very rich and heavy so just a small amount of it would be enough for entire face and neck."
Sun Bum Skin Care Restoring Facial Mask
If your skin is craving hydration, try this mask. According to the brand, it provides moisture in addition to calming redness and irritation. Just leave it on for 10-15 minutes and rinse it off. Take your routine to the next level and follow this up with the Restoring Night Cream.
Sun Care Products from Love Island USA
Sun Bum Original SPF 50 Sunscreen Spray
If you prefer a spray-on sunscreen, this is one has 5,200+ 5-star Amazon reviews, with one shopper gushing, "I will tell you I am very fair and on medication that makes me sensitive to the suns rays. I read review after review till I found this product which came with such high reviews from my fellow Amazonians, so I purchased it. LOVE, LOVE AND LOVE THIS PRODUCT! I was in the sun for about three hours and every where I put this product it did its job. My go to sunscreen this day going forward. My 5-year-old grand daughter used this product as well, same results after three hours and tons of pool time in Orlando Florida."
Sun Bum Skin Care SPF 30 Daily Sunscreen Face Mist
And, of course, you need a spray-on sunscreen for your face as well. This one is formulated with Vitamin E.
A fan of the product said, "If you are contemplating buying this, just do it. Bought this initially to wear at the beach, and it has turned into an everyday routine. The product is super light and dries fast! Sun bum impresses again."
Sun Bum Cool Down Aloe Vera Lotion- Vegan and Hypoallergenic After Sun Care with Cocoa Butter to Soothe and Hydrate Sunburn Pain Relief
Even with the best sunscreen routine, sunburn can happen sometimes. Use this after sun lotion on irritated skin to feel relieved, comforted, and refreshed. This product has 4,300+ 5-star Amazon reviews, with one shopper sharing, "A LIFE SAVER!!!" Another said, "Sun Bum is magical."
Sun Bum Original SPF 50 Sunscreen Lotion
This is such an iconic product with a devoted following, with 19,300+ 5-star Amazon reviews. This sunscreen is vegan, reef-friendly, oxybenzone-free, and it's moisturizing.
A shopper said, "My whole family loves this sunscreen so much that I had to by extra bottles for everyone. I love how this smells.. It goes on smoothly, quickly sinking into your skin without any white tint. It makes a wonderful summer moisturizer too! I love that this is mineral based and easy on the environment. If you try it, you'll be stocking up too!"
Sun Bum Original SPF 50 Sunscreen Face Lotion
This SPF 50 sunscreen is formulated for your face. It's a great everyday sunscreen that's oil-free, water-resistant, and reef-friendly. This sunscreen has 7,900+ 5-star Amazon reviews, with one customer sharing, "I know this product works because one time I passed out drunk on the beach and my friends used it to write 'loser' across my chest. The sunscreen made the insult set in significantly while I slept. All the while the rest of me burned so badly I had a three week peeling sunburn. It's been months and the "loser" on my chest is still obvious. Honestly I deserved it. I was a real piece of work earlier that day and ticked a lot of people off. One of those people happened to have this sunscreen on them that day and used it to seek justice."