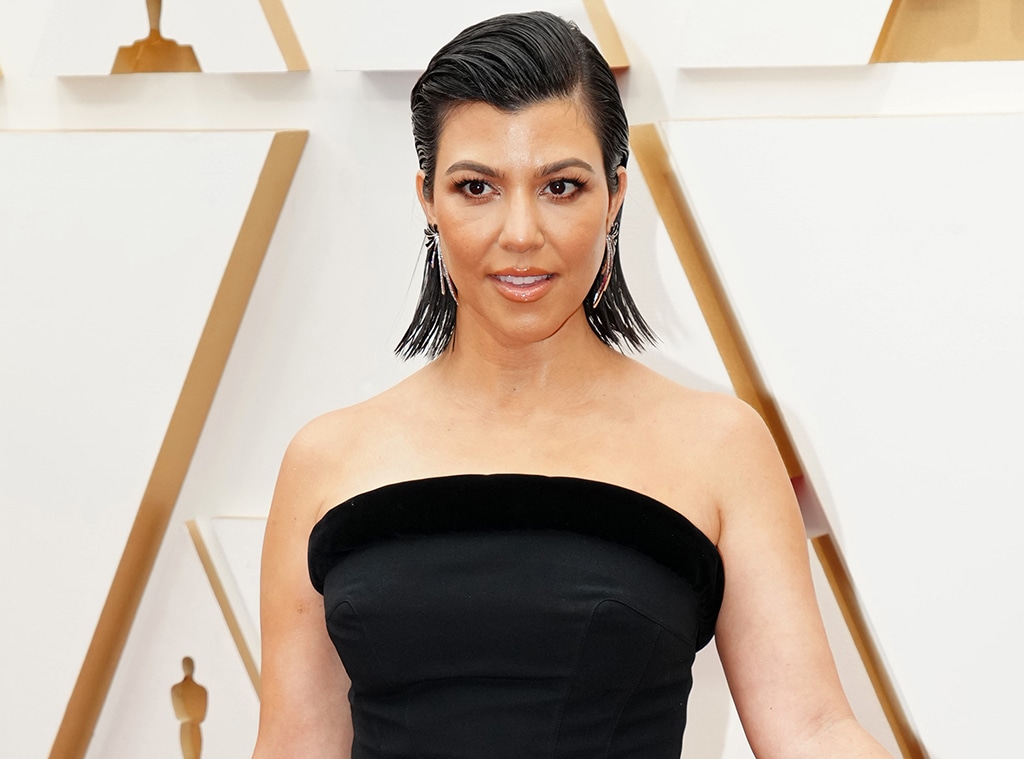 Jeff Kravitz/FilmMagic
We included these products chosen by Kourtney Kardashian's Poosh because we think you'll like the picks at these prices. E! has affiliate relationships, so we may get a commission if you purchase something through our links. Items are sold by the retailer, not E!. Prices are accurate as of publish time.
Kourtney Kardashian and Travis Barker tied the knot in May 2022 (twice) and in April 2022. The new Mr. and Mrs. Barker had a Las Vegas "practice" wedding, legal nuptials at a courthouse in Santa Barbara, and a glamorous long weekend in Portofino, Italy. If anyone knows how to make the most of a wedding, it's Kourtney. She is truly living her best life these days, with the biggest smile on her face. 
We can all channel that positive energy during wedding season with this roundup of essentials from Kourtney's lifestyle site Poosh. These are must-pack items for everyone in attendance, from the bride to the bridesmaids to the plus ones. You will be prepared for fashion emergencies and feel your best for a weekend full of photos with these Poosh-approved picks, including some items from Kim Kardashian and Kylie Jenner's brands. 
Kourtney Kardashian's Poosh Wedding Hacks
GoGoHeel STOPPERS Heel Protectors - Stops Sinking into Grass
You picked out your wedding guest outfit months ago, an ensemble complete with coordinating accessories and show-stopping shoes. However, there's just one problem: you're attending an outdoor wedding with a ceremony on the grass. Do you swap out your compliment-getting shoes for a more sensible option that won't get stuck in the grass? Nope. Just bring these with you. They fit onto your heels and prevent you from sinking into the ground.
These are also smart to have on hand at your wedding. If you're having an outdoor event, put these out. Your guests will definitely use them and they will be so appreciative. There are four sizes to choose from.
Braza Flash Tape - Double Sided Clear Adhesive Clothing, Fabric and Body Tape,
If you're prepared for a wedding, you can just focus on having fun. If you bring double-sided tape to a wedding, it will be used, for sure. Whether you're hemming a dress, making a neckline more modest, filling in for a button that popped off, or just making sure your outfit stays put on your body. This is an essential for weddings, vacations, and, in all honesty, every night out.
Lilac St. Simple Starter Kit
If you want eyelash extensions, but you don't want to spring for an expensive appointment, this DIY at-home kit is just what you need to feel glammed up for a special occasion. This set has lashes, glue, and an applicator so you can create a special, yet natural-looking look.
A shopper declared, "GAME CHANGER!! I absolutely love Lilac St. products. They are easy to apply, gentle on my lashes, not itchy, AND they look absolutely gorgeous! It is so easy to upgrade your lashes from a natural every day look to a Friday night out with the girls look! If you are hesitant about purchasing, don't! You will not be disappointed!"
Kora Organics Turmeric BHA Brightening Treatment Mask
Brighten and smooth your skin with this detoxifying exfoliating mask from Miranda Kerr's brand Kora Organics. This is a 2-in-1 product that you can use as a scrub or a leave-on mask to resurface your skin.
A shopper raved, "I love this mask! It's the only one I use. I use it at night twice a week and keep it on for about 10 minutes. It makes my oily skin dewy and clear. I've never experienced irritation or breakouts which is amazing since I can have somewhat sensitive skin. After I rinse the mask off, I follow up with the Turmeric Glow Moisturizer and the Radiant Eye Oil. I love Kora Organics, the products work!" This product has 37.5K+ "Loves" from Sephora shoppers.
Rahua Voluminous Dry Shampoo- Voluminous Long-lasting Dry Shampoo Spray for Clean, Refreshed Hair without Water; Makes Styling Effortless, Adds Instant Texture and Volume
A reliable dry shampoo is a must-have for a wedding weekend. This is just what you need to get rid of excess oils, add volume, and refresh your hair before you style it for the next wedding event. This one is a non-aerosol, which is an environmentally conscious option.
A fan of the dry shampoo shared, "I found this dry shampoo to be a great help on those days when you don't have enough time for a shampoo and blow dry. It did not weigh down your hair and worked well with styling."
Kylie Cosmetics Setting Powder
A good setting powder is an absolute must for long day with a lot of photos The Kylie Cosmetics Setting Powder locks your makeup in place, mattifies and gets rid of excess oil and shine. It feels super light on my skin and gives this weightless "filter in real life" effect.
"Amazing," an Ulta shopper wrote, elaborating, "This powder makes you look so airbrushed. It does not cling to dry patches! Melts beautifully into the skin. It's my all time favorite!"
SKIMS Solution Short
If you're wearing a dress with a slit, but you still want to wear some shapewear, SKIMS came through with an amazing option for us all. These shorts are comfortable, smoothing, and they don't ride up.
A bride said, "LOVE THESE! I wore them under my wedding dress, and would by them time and time again!" Another SKIMS shopper reviewed, "This product is amazing and the price is unbeatable! I've never purchased shape wear because they were impossible, but Kim has figured it out!"
Oxygenetix Oxygenating Foundation
This foundation's formula has 2% salicylic acid, which is a great ingredient for acne control, according to the brand.
A shopper raved, "This is my Holy Grail foundation! I have rosacea and extremely sensitive skin that can't usually handle foundation without getting irritated and/or breaking out. But this foundation causes NO irritation plus it covers my redness! It provides a good amount of coverage and can be layered for full coverage if wanted. Plus it lasts all day--no touch ups needed. Highly recommend--worth the price!"
C & The Moon Malibu Made Glow Oil
Use this body oil for hydration and a beautiful glow. You can even use it to tame flyaways and frizzy hair. E! Shopping Editors adore the body scrub from C & the Moon too.
An Amazon shopper gushed, "I have been a die hard fan of C & the Moon scrubs for years and equally love this new oil product! I have bumpy arms and this product totally calms them and I love the light smell which is great layered with my perfume. Totally worth the price, it lasts forever!"
Living Libations Best Skin Ever Face Oil - Sea Buckthorn
It can be tough to stick to skincare routine during a long wedding weekend, which is why multi-tasking products are essential. This is great as a cleanser, a makeup remover, a moisturizer, and a cleanser. You can even use it to exfoliate when you apply it with a washcloth.
An Amazon shopper said, "This totally helped me. It helped with acne and hyperpigmentation I also like to combine it with dew dab (a product from their line as well) if I'm having breakouts and it's like extra strength... I've been using this product for 3 years now literally non stop and I love it I make sure to always have the money for this it's my staple product." 
NuFACE Trinity Facial Toning Device
Are you concerned about fine lines, wrinkles, puffiness, and loss of elasticity? You should try the NuFace Facial Toning Device. It's a microcurrent facial-toning device that helps visibly improve some of your biggest skin concerns, according to the brand. This set includes the toning device, a power adaptor, and a gel primer. All you need is five minutes to perform your beauty routine, any time anywhere.
This set has 23.2K+ "Loves" from Sephora shoppers. An Amazon shopper said, "This device saved my skin! It was the best thing I could buy for rejuvenation, now after about a month of every day use my skin looks much more firm an lifted. Thank you for inventing this device!"