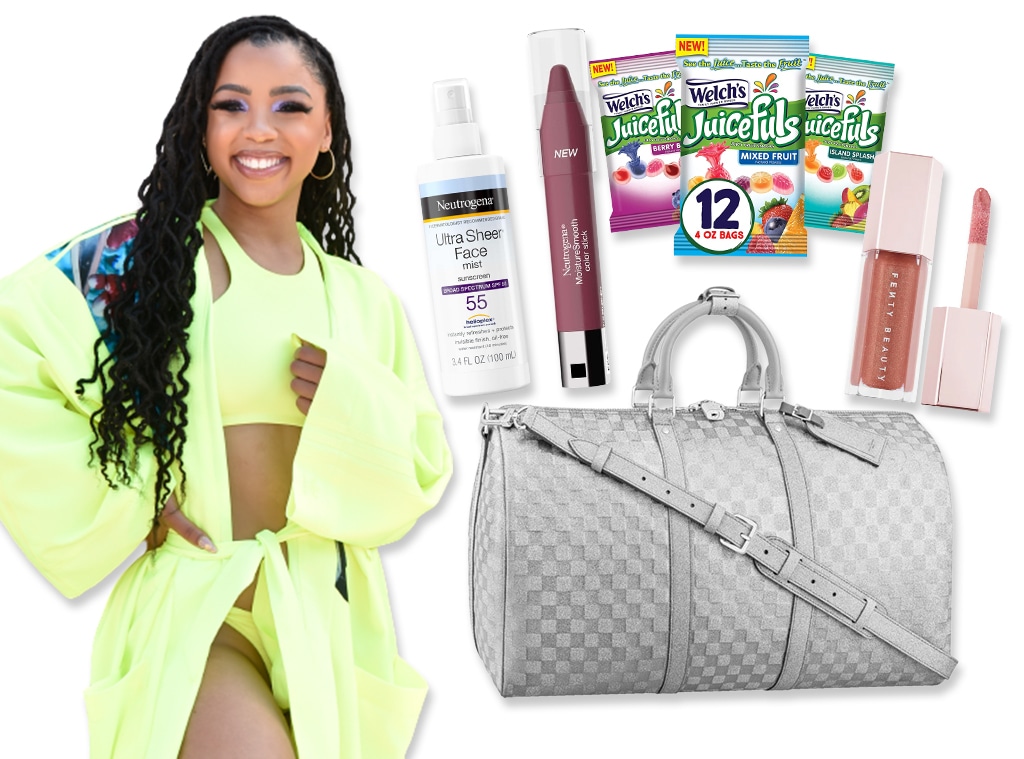 Rodin Eckenroth/Getty Images
We interviewed Chlöe Bailey because we think you'll like her picks at these prices. Chlöe is a paid spokesperson for Welch's and Neutrogena. E! has affiliate relationships, so we may get a commission if you purchase something through our links. Items are sold by the retailer, not E!. Prices are accurate as of publish time.
Singer Chlöe Bailey always comes through with the red carpet looks, but what about the essentials we don't normally get to see, like the products she keeps in her bag? In a recent E! News interview, she talked about her favorite beauty products, including some application tips. She revealed her go-to makeup removal combination, which is so essential. She even shared her go-to skincare products and snacks that she loves to carry in her bag.
Speaking of snacks, Chlöe talked about her love for Welch's Fruit Snacks, remarking, "I've always loved these snacks since I was a little girl and I've never really let my addiction go. It was a no-brainer to collab because I love them so much."
The "Have Mercy" singer shared the must-have products that she keeps in her bag, and, thankfully, they're all very budget-friendly.
Chlöe Bailey Shares What's in Her Bag
Fenty Beauty by Rihanna Gloss Bomb Universal Lip Luminizer
E!: Name a beauty product that you never leave the house without.
CB: My Fenty Beauty lip gloss and brown lip pencil.
This lip gloss has 816.7K+ "Loves" from Sephora customers.
Neutrogena Moisturesmooth Color Lipstick
Chlöe keeps this Neutrogena Moisturesmooth Color Lipstick in her bag. According to the brand it "moisturizes lips while conditioning them in just three days."
Chlöe shared, "Sometimes I'll use it for a brow pencil if it's the only thing in my bag."
Welch's Fruit Snacks & Juicefuls Juicy Fruit Gushers, Mixed Fruit Combo Variety Pack (Pack of 52)
E!: Do you ever bring snacks in your bag since you are so on-the-go and what is your favorite?
CB: Yes!! Always love a good granola bar, my Welch's Juicefuls Fruit Snacks, always pack gum so there's no smelly breath.
Neutrogena Ultra Sheer Dry-Touch Water Resistant and Non-Greasy Sunscreen Lotion with Broad Spectrum SPF 70
Viva Naturals Organic Coconut Oil, Cold-Pressed - Natural Hair Oil, Skin Oil and Cooking Oil with Fresh Flavor, Non-GMO Unrefined Extra Virgin Coconut Oil
E!: Is there a product that you've used forever that doesn't get the hype it deserves?
CB: Coconut oil! It's the best skin moisturizer and makeup remover.
This one has 50,000+ 5-star Amazon reviews.
Neutrogena Makeup Remover Cleansing Face Wipes
Louis Vuitton Virgil Abloh X Louis Vuitton Silver Glitter Damier Leather Keepall Bandouliere 50