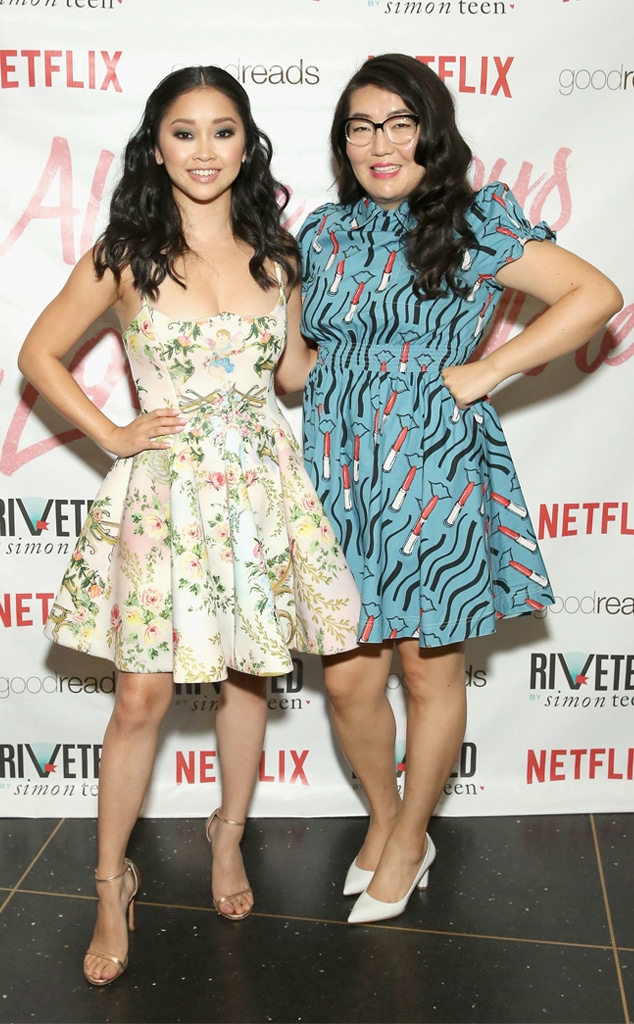 Monica Schipper/Getty Images for Netflix
No one can disagree that Jenny Han's To All the Boys book series has made for movie magic.
The YA rom-coms—To All the Boys I've Loved Before, P.S. I Still Love You and Always and Forever, Lara Jean—follow Lara Jean Song Covey and Peter Kavinsky, an unlikely pair who fake a romance until, as it so often does, it turns into the real deal. The books are undeniably charming, relatable and do the impossible: Actually make readers miss high school.
So, it surprised just about no one when Netflix's 2018 film adaption became an Internet obsession, with leads Lana Condor (as Lara Jean) and Noah Centineo (jock Peter, of course) seeing their meager social media followings skyrocket into the millions overnight.
But, behind the scenes, Han almost pulled the plug on the project well before it landed on Netflix's screens. After all, as she revealed, Hollywood producers were set on whitewashing the film, erasing Lara Jean's Asian American heritage—and, with it, a large part of her character. "It should've been a home run," Han exclusively recalled to E! News of green lighting the movie. "The stumbling block was the fact that the main character is Asian, her family is Asian and people weren't interested in making that movie with an Asian lead."
Moreover, producers seemed to be completely unaware of their mistake. "When casting would come up in early conversations I would be like, 'Who are you thinking?' And then they wouldn't name Asian names," she said. "It would be white actresses who were already well known. They were surprised when I was like, 'Oh no, that's not going to be it.'"
She won the battle and the war, with Condor's arguably perfect casting decision shining bright over the course of the three cult-favorite movies. And now, in the final installment, To All the Boys: Always and Forever, Lara Jean and Peter find their relationship at a crossroads as they wonder, what comes next after high school?
So, turn on Vitamin C's "Graduation" and keep scrolling as Han—an adaptation of her latest, The Summer I Turned Pretty, is now headed to Amazon Prime Video—tells E! about saying goodbye to her franchise.
E! News: Unfortunately, we don't see many Asian American leads, but you stood your ground when it came to Lara Jean and her family. How does it feel to know you created an icon for many women?

Jenny Han: It's such an honor, honestly. I feel really lucky that people connect with Lara Jean, that they connect with the story. Fans, sometimes even older ones, say to me they've never seen themselves onscreen or that they wish they had this when they were in high school. To be able to give that moment to somebody who maybe didn't even realize they needed it is really moving for me.
E!: What made Lana your perfect Lara Jean?
JH: She first came on my radar when she was cast in the X-Men movies. I checked out her Instagram and she had posted this picture of herself at a soda fountain. It was this retro 1960s photo. And I thought, "She's so sweet. There's something just so Americana about the photo." So when I went meet with Awesomeness, who made the movie, I immediately was like, "Let's really consider her."
When she came in to read, she blew everybody away. She has this magnetic energy to her. If you meet Lana, she's very confident. She'll say whatever she's thinking. In many ways, she's very different from Lara Jean, but she brought this sparkle to her that just worked.
E!: What about Noah? How did you know he was your Peter?
JH: It took longer than it did to find Lara Jean. I liked Noah from the get-go, but it literally wasn't until I saw him with Lana that it was like, OK, these two are it. Now, they've been able to share this crazy experience together. It's not an easy to become an overnight success. Noah literally went from, like, 400,000 followers to 15 million in the course of a weekend. It's crazy for a young person to have that level of attention. So, they have weathered that together and been there for each other, honestly.
E!: Did you see a difference in them heading into the second movie?
JH: People joke how hard it is coming in after the success of the first. People want to go on to do different things or and they feel like they've moved past the character that made them famous. But it really wasn't that way for Lana and Noah. It was this reset that made them feel normal. It was this little moment, like respite, away from all the business stuff. They just dug in and continued with the story.
E!: How involved are you on set?
JH: I was on set the most with the second. The third movie, I was in Korea, in New York and in Vancouver, so I was involved. But my main priority with this third film was just making sure the fans felt they were getting what they had been promised. So, my biggest contributions were really talking out the story and the characters. 
E!: Was there anything from the book you regret not making it into the movie?
JH: I would've loved if the movie had been set in Virginia the way the book is just because it ended up being a huge plot point in terms of colleges. I have a lot of North Carolina and UVA alums who are like, "Why didn't you set it like in the book?" But because they had decided to film in Vancouver for the first film, everything else had a bit of that ricochet effect. I also would've loved to have done the beach week scenes. But there are so many different locations in this third movie and putting another one in would've been too much. Especially because we want to focus on the story between Peter and Lara Jean.
E!: The third book came out in 2017, so the movie doesn't include current events. How do you think Lara Jean and Peter would handle quarantine?
JH: Lara Jean would've thrived. She would be scrap booking, baking and knitting. But Peter is so extroverted that I think it would be really hard for him to stay home for that long. At first, he'd be bouncing off the walls and then he'd be curled up in a ball. 
E!: What do you have to say to kids today who aren't getting the quintessential high school experience because of COVID?
JH: I mean, what can I even say? We have all lost something and I feel really sad for the teens who have lost out on that experience. I will say that, like New Year's Eve, prom is not as great as you imagine it to be. You've got so many nights ahead of you that this will not be the end all be all. I don't say that to diminish how hard it is to lose that, but what keeps me going is just trying to think that next year will be better. The Roaring '20s came after a bleak pandemic and depression and then people were dancing and drinking champagne. So, I would say, look toward the future.
Watch:
Lana Condor Teases "To All the Boys 3" With Noah Centineo
E!: It's been four years since the book was released. Where do you envision Lara Jean and Peter now? Do they make it through college together?
JH: I cannot tell you that. I really feel like my thoughts are irrelevant because I want people to imagine what happens next. Life can go in so many different ways and they're both so young. I just like to imagine them having these really exciting lives where they go places. Maybe together, maybe not. The main point for me is just that they're doing well.
E!: What about John Ambrose McClaren [Jordan Fisher]? We don't see him in the final movie...
JH: His and Lara Jean's paths will cross again. Whatever that may look like. Some people you just feel connected to in life and they'll pop back up for you again. 
E!: Would you ever consider continuing the franchise with a spinoff book or movie?
JH: Never say never. If I was going to do a spinoff series, I've always thought it would be Kitty [Lara Jean's younger sister, played by Anna Cathcart] because she is so different from her sisters. I think it would be fun to explore that. But I also have so many other projects I'm working on. And I've always said, if I'm going to revisit these characters, I have to be very excited by the story because you're putting a lot of yourself into it. It's a lot of time, energy and creative effort, so it has to be coming organically from the storyteller.
To All the Boys: Always and Forever is now streaming on Netflix.
(This interview has been edited for length and clarity.)