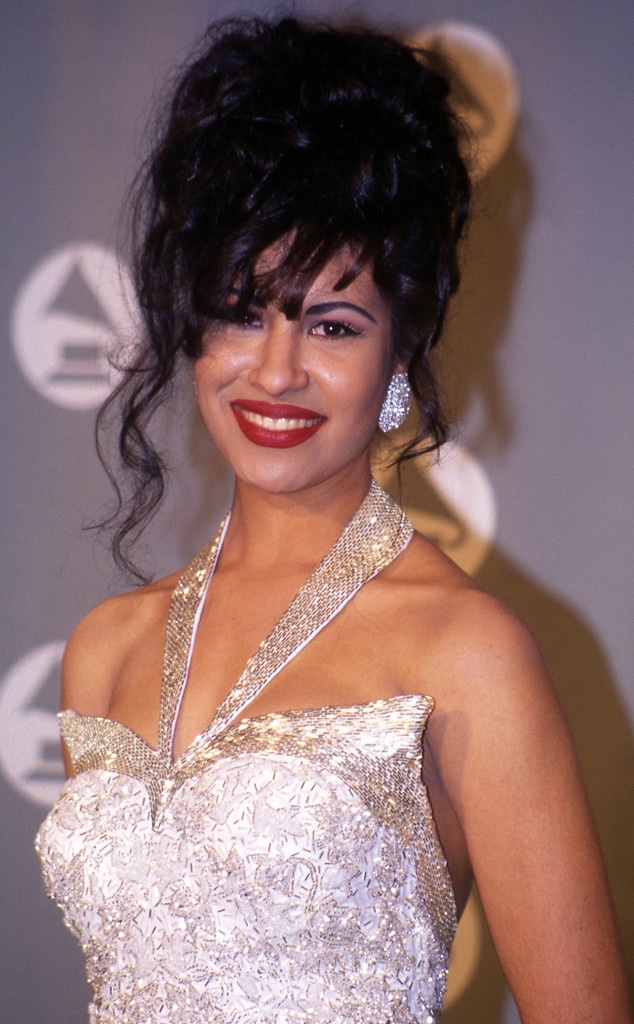 Vinnie Zuffante/Getty Images
We love these products, and we hope you do too. E! has affiliate relationships, so we may get a small share of the revenue from your purchases. Items are sold by the retailer, not E!.
Selena Quintanilla's impact still transcends music 27 years after her tragic death.
The Tejano superstar's life was cut short in March 1995 at the age of 23 years old. But despite her untimely passing, she left an indelible mark in music, fashion and beauty.
Take one look at recent pop culture moments and you'll notice Selena was the subject of conversation throughout.
Not only did Netflix release Selena: The Series—which debuted to much success in 2020—but toy company Funko created several Pop! figures of Selena that instantly sold out. And let's not forget that MAC Cosmetics released a second Selena collection in April 2019.
For many fans, Selena was the first significant Latinx celebrity they could connect with and relate to.
And while many have celebrated her voice, record milestones and extraordinary eye for fashion countless times, it's important to share how she's cemented her status as a beauty icon.
Selena was a rare gem who radiated beauty from the inside out. From her infectious smile, which she famously accessorized with a bold lip, to her fabulous acrylic nails, the star's signature glam has stood the test of time even after all of these years.
Watch:
Chris Perez Remembers the "Amazing Soul" That Was Selena
In an era when being wafer-thin or "heroin chic" was considered the ideal beauty standard, the Texas native embraced everything that made her different—especially when it came to celebrating her Mexican-American heritage. Because unlike the trends we see today, big lips and curves weren't en vogue in the early '90s.
"Even though there were Latinas on TV, they had blonde hair and blue eyes," Suzette Quintanilla, Selena's sister, told Refinery29 in May. "There was never that representation of who we were, with darker hair and being fuller on the hips. Selena has made an impact in the beauty space by representing Latinas."
AP Photo/Houston Chronicle, John Everett
Like a true Aries, Selena was fiery, confident and vivacious. So it makes sense that her signature makeup style was equally as bold.
When the singer stepped on stage and swayed her hips from side-to-side in one of her iconic outfits, she always wore an electrifying red lip to go with it. In fact, many of her microphones were stained with the crimson color, including the mic she used for her record-breaking Houston Astrodome concert in 1995.
One of Selena's go-to reds was Chanel Beauty's lipstick in the shade Brick. Sadly, the brand has since discontinued the product. However, according to Allure, MAC Cosmetics' Russian Red ($19) and So Chaude ($19) were also some of her faves. And luckily, they are still available to shop.
To get the perfect application, the magazine reports Selena used MAC Cosmetics' Lip Pencils in Cherry ($18) and Mahogany ($18).
Although the "Si Una Vez" singer was known for wearing red lipstick, Suzette revealed to E! News in April 2020 that her sister also gravitated towards "lighter tones." Suzette pointed out, "If you look at her older pictures, where she's got her hair pulled back, she's got the lighter, normal, everyday makeup on. That was her everyday look."
One lighter shade the Tejano star frequently used, per an Instagram fan account that shared pictures from the Selena Museum in Corpus Christi, Texas, was from the drugstore: Revlon Softsilver Rose ($4.97), a frosted pink. It's a color she donned at the Houston Astrodome in 1993.
Revlon wasn't the only drugstore brand the star kept in her personal collection. According to the fan account, Selena's go-to mascara was Maybelline's Great Lash Mascara ($6.99).
She also used inexpensive nail polishes when she didn't have on her long acrylics, including L'Oreal's Sangria, which has since been discontinued. You can get a glimpse of this hue in the 1997 biopic film, starring Jennifer Lopez, who wore the wine-colored product on her nails to authentically emulate Selena. The "Cobarde" singer also used several O.P.I. nail polishes. Although, it's unclear the exact shade names she had.
"She didn't care if it was Chanel or Maybelline. It didn't matter to her," Suzette previously explained to E! News about the beauty products her sister kept in her makeup case. "If she liked it, that's what she would wear."
In an interview with Hola! USA last April, Suzette revealed that Selena was her own makeup artist.
"Whenever we had to do a TV show, on-air performance or red carpets, Selena did her own makeup," Suzette shared. "She didn't have a dedicated makeup artist... She would pull out her brushes and do everything herself, and once we arrived on-set a makeup artist would touch her up here and there."
"They would usually just add powder to keep her fresh," she mentioned, "but honestly everything you see in print, everything you see on TV, yes, that was all Selena."
AP Photo/Houston Chronicle, Dave Einsel
The star's glam wasn't her only form of armor. She loved her perfume, and her signature fragrance was by Boucheron Eau de Parfum ($106), a decadent floral scent. She would also spritz on Chanel's Cristalle ($115)—another fragrance with floral notes. In 1994, the superstar revealed she was planning to launch an eponymous perfume. But sadly, she passed away before it came to fruition.
It's clear that Selena knew the power of beauty, so much so, that her sister previously revealed to E! News she was also in the early stages of creating a makeup line. While it's become the norm for celebrities to enter the beauty space, it truly was unheard of in the early '90s.
"I don't know if a lot of people truly understand that my sister was actually working on a line of makeup with a company and getting samples," Suzette shared. "She had samples in her makeup case of things she was testing and looking at the colors. She was working on three things when she passed away: a makeup line, a perfume line and a clothing line."
Before her passing, some of Selena's dreams did become a reality. She opened up her namesake boutique in 1994, which was both a salon and clothing store. So while people shopped for her designs, they could also get their hair and nails done.
It goes to show just how much of a trailblazer Selena was in everything she did.
(This story was originally published on Friday, Dec. 11, 2020 at 7:00 a.m. PST)